Sanna Cottage, Ardentinny, Loch Long, Argyll PA23 8TR
Enquiries to 07885 211787 (7 Days)
A beautiful detached self catering holiday Cottage by Loch Long with partial Sea Views and enclosed Garden in the peaceful village of Ardentinny, Argyll. Sanna Cottage is within a stones throw of Loch Long and it's jetty offering wonderful views and a place to safely launch your boat. Ardentinny has the best safe sandy bay in this area. You can also enjoy a drink or meal in the newly revitalized Ardentinny Inn just 100 metres away, beautiful forest and Loch side trails (perfect for dogs) and perhaps a trip on The WAVERLEY paddle steamer along Loch Long.
Sanna cottage offers modern comfortable self catering comforts with en-suite facility and stands in its own enclosed pretty little garden with patio furniture. The brand new interior is bright, modern and simply furnished, warm and welcoming at any time of year for those seeking a relaxing break or romantic retreat in a very peaceful environment. Ardentinny runs along the shore and is an ideal base for exploring the Cowal Peninsular – Dunoon is 9 miles away with its many leisure and shopping facilities. Enjoy wonderful scenic walks in the Argyll Forest (great for dogs), a very safe sandy beach, as well as a host of other outdoor activities, including sailing, golf, sea angling, cycling, bird watching, indoor and outdoor bowling in the village.
Detached Cottage, Sleeps 2, Traditional, Close to the Sea, Partial Sea Views, Pets Welcome, Car Parking, Enclosed Garden, Bedding and Towels, Washing Machine, TV / DVD, Fridge Ice / Box, No Smoking.

Your Accommodation Local Area Information Enquiries Bookings Travel Directions Local Mountain BikingLoch Eck and Fishing Fantastic Day Trips The Cowal Peninsula

Loch Long Wildlife and Fishing
Ardentinny once home to Viking invaders nestles by the shore of majestic Loch Long a remarkably deep sea Loch extending nearly 20 miles from the Firth of Clyde to the east of the Cowal peninsula, to Arrochar in the North just 2 miles from Loch Lomond. Loch Goil also forms a branch on its western side. Loch Long width of between one and two miles is essentially a flooded valley carved out in the last ice age. Very close in by the shore the waters are deep. The fjord like appearance of Loch Long is emphasized by the name of the shoreside village "Ardentinny" once home to Viking invaders. Wildlife overflows in this area expect to see a variety of Marine animals from Common Grey Seals and Porpoise, Bottlenose Dolphin, Basking Shark and even Minke Whale. Bird life from many Herons and Mute Swans to Gannets, Herons, Eider Ducks, Guillemots, Black Guillemots, Manx Shearwater, Kittiwakes, Shag, Common Terns, winter Wigeon, Oyster Catchers, Curlew, Lapwings. For the fisherman stocks of Sea Salmon, Brown trout, shoals of mackerel and some Pilchard.
Why visit Argyll, Cowal and Bute?
Why not head North to Oban and Fort William? 90% of Scotland's most appreciated tourist do just that…year after year. Yet Argyll, Cowal and Bute offer you the most populated area of lochs and walkways, spectacular scenery, botanic gardens, castles and wildlife in Scotland and because it is off the beaten tourist track, a very peaceful and relaxing place in which to stay. The very best of Scotland in miniature and packed into an area of only 35 x 25 miles and all within 60 minutes Drive of Sanna Cottage, Loch Long. "If you want to see all the best highlights and delights of Scotland… stay in Cowal for a week or two"
The Cowal peninsula offers you "Scotland in Miniature" the most populated area of Lochs, Forest Trails, Walkways, Spectacular Scenery, Gardens, Castles and Wildlife in the whole of Scotland, all crammed into a area of just 35 x 25 miles! Making touring the attractions simple and economical, so treat yourselves to a great value holiday of Relaxation, Walking, Fishing, Golfing and Bird watching.

The Benmore botanic Gardens and it's Giant Redwoods (a short drive away)
Discover the true beauty and history of Scotland
The Cowal peninsula and Argyll Forest Park, some 54,000 acres, offer you a wide range of sporting activities including golf, fishing, various pleasure cruises, mountain-biking, cycling, organised horse riding and of course sailing and other water-based sports. For the walker choose from Seaside / Loch side trails to Woodland forest trails through what is accepted as the most beautiful scenic area of Scotland, notably Pucks Glen, Glenbranter and the magnificent world renowned "Benmore Botanic Gardens".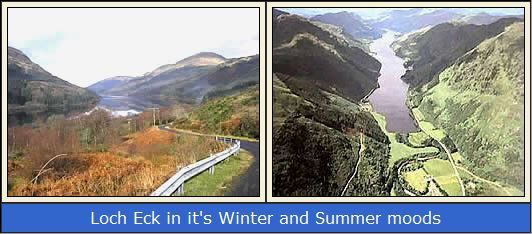 Your Accommodation Local Area Information Enquiries + Bookings Travel Directions Local Mountain BikingLoch Eck and Fishing Fantastic Day Trips The Cowal Peninsula
Loch Eck and Argyll
Magnificent Loch Eck just over 6 miles long and 67 feet above sea level, scythes through the centre of the Cowal Peninsula, surrounded by high, forested hills. The loch epitomizes Cowal – rugged and spectacular but at the same time peaceful, where you can while away the hours walking, taking in the scenery and fishing in Loch Eck for Salmon trout, the Gwyniad or fresh-water Herring and a remarkably translucent fish 4 or 5 inches long called the Goldie. Captivating Bute, once the island retreat of Scottish kings, lies at the heart of the Firth of Clyde, and is the favorite destination of the famous 'Waverley', the last seagoing paddle steamer in the world. The area abounds in wildlife. Seagulls, Cormorants, Gannets, Eider Ducks and Swans and Seals are frequent passers-by.

The Coylet Inn by Loch Eck and Autumn views of Loch Eck
Activities on your doorstep or less than 1 hours travel
There are numerous scenic forest walks and loch side trails with signposted footpaths, in particular to Carrick Castle on the shores of Loch Goil and through the sprawling Argyll Forest Park area. There are 3 local golf courses within easy reach of you accommodation Innellan and Blairmore (both competitive 9 hole course) and the Cowal golf course, Dunoon (18 holes). Fishing and sea angling is available on your doorstep either from the banks of the Clyde below the front garden or the old pier. Numerous nearby rivers offer Brown Trout, Salmon and Sea Salmon. For those wishing to cruise on Loch Eck, motor or rowing boats are available to hire.
Toward Castle is now a residential training centre operated by Actual Reality Scotland and offers fantastic days out for bored restless children, Castle Towards outdoor education activities include catwalks and a high jump, as well as gorge walks and hill walks. The castles long history has led to a number of ghost stories. As well as outdoor education, the house is used for residential courses for young people in music and art. The Glasgow Schools' Symphony Orchestra and West of Scotland Schools' Symphony Orchestra visit regularly. The children's BBC TV series Raven also use Castle Toward as a film location. You can contact Actual Reality Scotland Tel: 01369 870249 Fax: 01369 870337.

In Dunoon there is an excellent new indoor swimming pool. Around the area lie quaint lochside villages. Further north is Strone, Ardentinny and Strachur…further north still is Inverary, Lochgoilhead and Oban all with extensive facilities. The Arrochar Alps… gloriously rugged peaks for the more serious hill walker, stand high above Loch Long, looking onto the 'Rest and be Thankful', a fine viewpoint where cattle drovers once enjoyed a well deserved break after a tough climb. To the East, Loch Lomond and the Trossachs – Scotland's first National park.

The Benmore Botanical Gardens
The Benmore Gardens is a specialist garden of the Royal Botanic Garden Edinburgh, is a magnificent woodland garden set amidst the mountains of the Cowal Peninsula. Its 140 acres are renowned for the wide collection of trees and shrubs, which includes over 250 species of rhododendrons. One of the most spectacular views is the avenue of Giant Redwood trees (pictured below) which greets every visitor on entering the garden.

Throughout there are waymarked walks, which lead to a beautiful pond and formal garden which display a wide variety of Himalayan and Oriental plants. Continue up the richly planted hill slopes, which rise to 450 feet to a dramatic viewpoint overlooking the Eachaig valley and the Holy Loch. Refreshments are available. The Botanics Shop sells a range of books, gifts and plants some of which can be found in the garden. Facilities are also provided for those less able, including wheelchairs.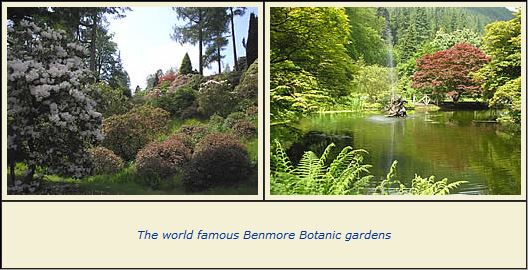 Your Accommodation Local Area Information Enquiries + Bookings Travel Directions Local Mountain BikingLoch Eck and Fishing Fantastic Day Trips The Cowal Peninsula
The Pucks Glen Forest and Waterfall Walks
Within an easy 20 minute drive, you can also access lot's of waterfalls at Pucks Glen and a choice of 3 mouth watering woodland trails Pet Friendly, sign posted and marked out offering a sometimes tropical rainforest feel with magnificent views from the summits. The waterfalls walk (below) features a meandering tour up the valley involving a series bridges crossing streams, cascading waterfalls and pools, particularly delightful after a strong downpour of rain!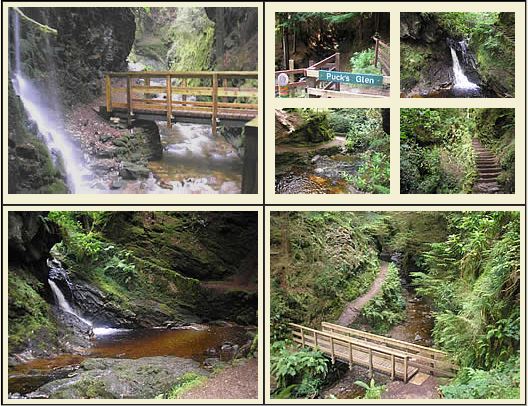 The Pucks Glen Waterfalls Walks (less than 15 minutes away)
The Glen Massan trail
In the same area as Pucks Glen and the Benmore gardens, you will also find at the end of a delightful single track trail that Glen Massan a great place to visit, particularly for fishing, leisure walkers, pet owners and those just seeking the peace and quiet. Here you can walk for miles along the easy the going river trail, there are also more challenging forest trails for the serious walkers and plenty of good places for a picnics.
Your Accommodation Local Area Information Enquiries + Bookings Travel Directions Local Mountain BikingLoch Eck and Fishing Fantastic Day Trips The Cowal Peninsula
The Spectacular Kyles of Bute
The spectacular Kyles of Bute as seen on television, can be easily reached in less than 1 hour away and well worth the journey as you pass through some delightful little villages, Lochs, forest and Glens on the way there.

The Spectacular Kyles of Bute (less than 1 hours drive away)
The magical Isle of Bute
Combine these most spectacular views…with a trip to the captivating Isle of Bute a beautiful little island about 15 miles long and nearly 5 miles wide and within a hours drive, always a favorite day trip with much to offer with hills in the North and plenty of sandy beaches, ruined chapels and castles, yachting, fishing, golf, etc. Bute's many gardens benefit from the Gulf Stream which gives the island a mild climate enabling palm trees and other exotic plants to grow here. One of the main visitor attractions is the spectacular Mount Stuart house and gardens. Canada hill offers the best views from this island.

Bute Castle (left) and "Mount Stuart" and it's gardens (centre) and the short ferry crossing to the Isle of Bute (right)
Dunoon and the Cowalfest
The highly popular October walking festival know as the Cowalfest is now firmly established as a highlight of the year in the Cowal calendar, with all the walks graded and numbered. There are also cultural and social events to accompany this event, which usually last about 10 days around the middle of the month – A 'must' for walkers! and based around the popular capital town Dunoon, which offers all services, including 2 x supermarkets, high street shops include giftware, electrical, grocery, health. One local hospital (Dunoon general), doctor, vet. Numerous leisure facilities include crown green bowling, tennis courts, swimming baths, quad biking, golf and crazy golf. There are 2 ferry regular ferry crossings to Gourock and the Waverley Puffer calls in the summer.
Panoramas of Dunoon, the high street and square
Inveraray it's castle, the old Jail, the Puffer and museum
Well worth a visit during your stay and less than 60 minutes drive is the lovely town of Inveraray (Inbhir Aora in Gaelic) a former royal burgh in Argyll and Bute, located on the western shore of Loch Fyne near its head. One time traditional county town of Argyll and ancestral home to the Duke of Argyll, who founded the town in 1745, alongside his new home, Inveraray Castle. Its distinctive white buildings on the loch shore make it very photogenic and it is a very popular tourist destination, with a number of attractions in addition to the castle. The Georgian Inveraray Jail in the burgh is now a museum. Other attractions include the Argyll Folk Museum at Auchindrain. The Celtic Inveraray Cross can also been seen in the town. The Arctic Penguin ship Maritime Museum is moored at the pier, along with the Clyde puffer VIC 72, renamed Eilean Eisdeal.

Panorama of Inverary (left) the high street, the harbour, the castle and estate (right)
Oban "The Gateway to the Isles"
Just over 60 minutes drive away lies the busy fishing town of Oban "The Gateway to the Isles" with supermarkets, high street stores, Shops, restaurants and Pubs. Oban is the largest town between Helensburgh and Fort William and occupies a beautiful setting in the Firth of Lorn. Oban Bay is a near perfect horseshoe bay, protected by the island of Kerrera, and beyond Kerrera is Mull. To the north is the long low island of Lismore, and the mountains of Morvern and Ardgour. Oban has a large Gaelic speaking population. All road and street signs are translated into the Scottish language. Attractions in Oban include the Waterfront Centre, the Cathedral of St Columba, the Oban Distillery, Dunollie Castle, Dunstaffnage Castle and McCaig's Tower, which dominates the town's skyline. From here you can easily extend your day trip by taking the Calmac ferry to visit the Isle of Mull, Tobermory (The fictional Balamory) and the sacred Isle of Iona.

Tobermory "the fictional Balamory"
Seil, Luing and Easdale Island
Approx 90 minutes drive away lies the delightful inner hebridean chain of 3 small Islands. Accessed via the unique and only bridge over the "Atlantic" Seil Island leads to the historic Easdale slating Island via foot ferry to the West from Ellanbeich. To the south lies the delightful island of Luing accessed via car ferry. Easdale made famous by it's many picture postcard appearances has a population of around 150 people and the centre of population including a village shop and Pub is based around the beautiful harbour inlet. Luings major areas of population lie around Tobernochry and Cullipool and is accessed by a short car ferry crossing from the south of Seil Island.

The bridge over the Atlantic (left) leads to Seil, Luing (centre) and Easdale (right)
The endangered Red Squirrel
Around the Cowal peninsula, you will see many of the endangered Red squirrels they have a typical head to body length of 19 to 23 a tail length of 15 to 20 cm and a mass of 250 to 340. The red squirrel is slightly smaller than the common eastern grey squirrel, unfortunately the grey squirrel is the main reason for the red squirrels decline and you will see particularly in this area of Cowal, the many measures taken to try to preserve this endangered species such as their own rope bridges and tunnels across the busier roads !

Your Accommodation Local Area Information Enquiries + Bookings Travel Directions Local Mountain BikingLoch Eck and Fishing Fantastic Day Trips The Cowal Peninsula
Mountain bikes and Walking Holidays
Along with numerous local walks, more serious walkers can sample a part / all of the Cowal way. The Cowal Way is a long distance footpath split into 6 sections, running the length of the Cowal Peninsula. It starts at Portavadie, beside Loch Fyne, and finishes in at Ardgartan, by Loch Long. It is 47 miles (75 km) long, climbing 5050 ft (1540 m) on the way. The route follows existing rights of way and public roads, most of which are extremely quiet, or cross Forestry Commission land, which includes a good deal of open hill. Access is not an issue. For the mountain bikers there is also the more local to where you are staying Glen Kin way an easy 6 mile / 10 Km circuit of a small glen in Cowal, Argyll that suits beginners and provides more experienced riders with optional challenges
For the mountain bikers there is also the more local to where you are staying Glen Kin way an easy 6 mile / 10 Km circuit of a small glen in Cowal, Argyll that suits beginners and provides more experienced riders with optional challenges
For more information on guided walks, please contact Nikki Dayton Tel 01369 860324. You can also hire bikes daily / Weekly from either Quadmania Ltd 01369 810246 Or ProAdventure Scotland 01369 707456

The highly acclaimed Loch Fyne Oster Restaurant and it's fantastic seafood shop
Toward point and lighthouse (top ) and the array of wildlife living around this point 10 miles south of Dunoon (below)

An evening out
Within a 50 metre walk from Sanna Cottage you reach the shores of Loch Long, offering peaceful evening walks. Within 5 miles drive The 'TV famous' Whistlefield Inn a 14th Century inn with an open fire and inviting atmosphere. a fantastic selection of Malt Whisky and beers and a restaurant with great food and panoramic views over Loch Eck, the Inn is full of intrigue and history and you may well hear of ancient tales of smugglers, tunnels, ghosts and even an ancient massacre during your visit to the Inn. The Inn gained its well-deserved recognition on the TV series 'The House detectives'. A little further afield the Coylet Inn again beside Loch Eck very inviting with great food and drink.
The 14th century Whistlefield Inn (Left) and the Oyster Catcher" Inn / Restaurant (Right)
Local area Information
The nearest good Pub / Bar is the the Glenfinnart restaurant / Deer Farm 1 mile away open Thursday, Friday, Saturday and Sunday for excellent food and entertainment Tel 01369 810331. The nearest shops are at Blairmore less than 3.5 miles where you will a small village shop, a craft and gallery plus tea shop. There is also a an "antique" shop. In the village of Strone, 4.5 miles the Strone Inn open for good food and drink. Also The Pier at Kilmun 6 miles and the Cothouse Hotel 7.5 miles away. The nearest petrol station is the Cot House filling station 7.5 miles away, very well stocked. There is a Doctor's surgery at Kilmun 7 miles away. There is also have a mobile shop with fresh fish and vegetables calling every Tuesday between 1 and 2 p.m. Laura carries an enormous range of very fresh fish fruit and vegetables.
There is an hourly bus service into Dunoon. A Yellow Boat Taxi operates from Lochgoil to Ardentinny (on demand) or as and when people wish it in the summer time. The area is fantastic for walking and the owners will more than happily supply you with information and maps of all the long and short walks it is very safe for dogs as all these walks are all off the road. Ardentinny also have the best sandy bay in the district which is very safe for children and for swimming and where there are toilets and picnic tables.
Comfortable Seaside Flat Accommodation
Your Accommodation Local Area Information Enquiries + Bookings Travel Directions Local Mountain BikingLoch Eck and Fishing Fantastic Day Trips The Cowal Peninsula
Sanna Cottage offers you peace and tranquillity combined with comfortable newly furnished accommodation. Ideally sleeping 2 adults maximum in one en-suite bedroom with en-suite shower room. The living room is open plan to dining and kitchen area (cot available if required)
The fully fitted kitchen well stocked including All utensils, Oven Hob, Cafetiere, Microwave, Fridge with ice box, Iron and Ironing board.
All bed linen and towels and Duvets are provided at this cottage. The cottage features a charming living room with Lounge sofas, full electric heating with a flame effect wood stove, Free view television, DVD player.
Hire charges now include all heating, electricity, bedding and towels. All Bed linen and towels are provided for 2 people.
Regret for safety reasons and Scottish law no smoking inside the cottage please.

The Red Squirell – Eagles – Buzzards and Red Deer / Stag are also local residents
Guest Book Sample
Mr. and Mrs. Campbell – Glasgow – Beautiful place with lots of thought and finishes.
Paul and Helen, Bradford – Great time, great walks – hope to be back soon
Lee and Eleanor – Staffs – Very nice indeed, friendly owners, peaceful area, lovely cottage.
Ben and Louise, London – Great weather, walks and barbeques – personal touches like milk in fridge and flowers much appreciated.
Boat hire on Loch Eck and fishing permits
Motor boats are available from (£12 per hour / £40 per day / £25 half day) Rowing boats are available at the Coylet Inn by Loch Eck from £5 per hour / £15 per day / £10 half day Tel 01369 840576 or 01369 840426. Salmon Fishing permits are available for the river Eachaig from May and Loch Long from early February at £5 per day / £20 per 7 days. The Brown Trout Season is from the 15th of March until the 6th of October, Coarse fishing, Sea fishing and Rainbow Trout fishing are permitted all year round and no national rod licence is required in Scotland. Fishing permits of all kinds are available from the Coylet Inn Tel 01369 840426
Fishing Tackle hire in Dunoon
For the novice and if you are not bringing your own fishing tackle you can visit or call the tackle shop in Dunoon. I.C. Purdie 112 Argyll Street, Dunoon. Tel. 01369 703232 for fishing advice and permits for all the local Lochs and Rivers.
Enquiries and Bookings
Your Accommodation Local Area Information Enquiries + Bookings Travel Directions Local Mountain BikingLoch Eck and Fishing Fantastic Day Trips The Cowal Peninsula
Availability and Secure online bookings please enter your dates below
Owners Direct Website for – Sanna Cottage, Ardentinny, Argyll – Listed since 2006

Lowest Season Weeks £325, Highest Season Weeks £495

The Hire charges include all Heating, Electricity, Towels and Bedding (an average metre saving of at least £40 per week).

Pet Friendly – Yes by prior arrangement only, up to 2 well-behaved pets are welcome a supplement of £10 per pet per booking applies. Pets must be kept under strict control at all times around the gardens and must not be allowed in the bedrooms, or on any furniture.



Telephone Enquiries 09:00am to 22:30pm
0345 319 1045 / 07885 211787

General Booking enquiry – please note this does not constitute a booking: