The Harbour Tower, Stonehaven, Aberdeenshire AB30 1TP
For Owner Direct Rates Tel 01729 851181 Texts 07885 211787 (7 Days)
Offering Luxury Holiday Accommodation in Stonehaven, this beautiful Self-Catering apartment is adjacent to the Town House Clock Tower and located in the High Street of the Old Town, just 2 minutes walking distance from Stonehaven Harbour and its fine Beaches.
The apartment has a fully equipped kitchen, with tea and coffee making facilities, microwave, oven, fridge, washer-dryer machine, hair dryer and Flat TV colour television. High speed Fibre Optic WiFi internet access is free to our guests. The North East Coastal resort of Stone haven has several excellent pubs, coffee shops and restaurants. Some of them are located at the Old Harbour.
Self Catering Apartment, Sleeps 2 up to 4, Town Location, Close to Beach and Harbour, Fridge / Freezer, Washing / Dryer, Car Parking, Satelite TV / DVD, WIFI, Central Heating, Shared Garden, NO PETS, All Bedding and Towels, Single Nights from £120, not suitable for wheelchair users.
The lovely seaside resort of Stonehaven
Your Accommodation Local Activities Enquiries + Bookings Stonehaven Fantastic Day Trips
The local town of Stonehaven on the North East coast is a town with around fourteen thousand inhabitants. It is the county town of the historic county of Kincardineshire and the present day county of Aberdeenshire and boasts some of the finest beaches on the North coast of scotland. It grew around an Iron Age fishing village, now the "Auld Toon" ("old town"), and expanded inland from the Seaside. As late as the 16th century, old maps indicate the town was called Stonehyve or Stonehive. Historically the chief commerce of Stonehaven lay in herring fishing peaking at about 15 million fish per annum and an employment in the fishing industry of 1280 people. Due to overfishing to serve the expanding regional population, the fishing industry declined with diminishing catches, such that by 1939 only a remnant of the earlier fishing fleet continued to exist and the catch mostly supported the local population from that point onward.
At present day the town's primary industries are marine services and tourism, with Dunnottar Castle, a local landmark, bringing in a large volume of tourists every year. It was used in the 1990 movie Hamlet (directed by Franco Zeffirelli, and starring Mel Gibson and Glenn Close). Dunnottar Castle is a prominent landmark and is visible on many leaflets (flyers) advertising Scotland.
The town has its own long sandy beach, with large cliffs at either end sheltering small rock pools and inlets. It is also famous for its Olympic-sized outdoor swimming pool, which is heated and filled with a mixture of tap water and filtered seawater. Another attraction is the local harbour, which features the Tolbooth, the town's tiny museum of local heritage.

Scotland's East Coast
Boasts some of the finest beaches and seaside resorts in the uk. Spend time touring the coastline, with its picturesque fishing villages and heritage centres like Montrose, Inverbervie and Stonehaven, with a sea aquarium and historic harbour. The North East coast is a Haven for wildlife you can often see dolphins, seals, otters, whales and falcons throughout the year. Roughly one half of its border consists of amazing coastline ranging from the awesomely rugged to the most wonderfully beautiful. The land border runs through tremendous countryside, craggy mountains and desolate moors all indicating the feast of wonder and enjoyment held within an area of outstanding natural beauty. Aberdeenshire is awash with history and historic buildings, Neolithic stone age circles, iron age pictish carved standing stones, vitrified forts and medieval castles and keeps.
Wildlife and Nature
This region is fantastic for viewing birds, wildlife and wild flowers. After you have enjoyed the resident rabbits, sheep, buzzards, deer and abundant Flora and fauna which make this region a veritable honey pot for nature enthusiasts and wildlife lovers. You can also enjoy unpolluted lochs, seas and rivers, extensive native woodland and varied mountain terrain, the habitat is rich in wildlife. Admire majestic birds of prey, such as the Red Kite and the Golden Eagle; observe the native red squirrels and pine martins; or take a boat trip to spot bottle-nosed dolphins. you can explore further within this area and see Stags, Rut and Mountain Hare and with winter good timing Stoat visitors including Fieldfare, Redwing, Snow Bunting, Waxwing and Brambling.

Fantastic day Trips from Stonehaven
Your Accommodation Local Activities Enquiries + Bookings Stonehaven Fantastic Day Trips
Drumtochty Castle and Forest
Within 30 minutes drive you can reach Drumtochty Castle, a neo-gothic style castellated mansion erected in the year 1812 approximately three kilometres northwest of Auchenblae, Aberdeenshire. The neighboring Drumtochty coniferous Forest is very popular too with walkers and cyclists and has an amazing range of forest habitats, including mature 100 year old trees, dense young forest, and open wildlife ponds. Recreation facilities include long waymarked forest trails, shorter way marked forest walks, and picnic areas.
In earlier times this forest was associated with Drumtochty Castle Tel. no: 01561 320 169. Set in an idyllic location and surrounded by the superb Scottish countryside, the 19th Century Drumtochty Castle has been the perfect place for many memorable events over the years. It is difficult to imagine a more magical setting for your wedding than a stunning 19th Century Scottish castle, hidden away in a wild woodland glen.

The Cairngorms National Park Grampian and Moray
Stonehaven sits on the edge of the Cairngorms National Park, offering spectacular mountain, secenry and unlimited activities. Sample whisky nosing in Dufftown, enjoy historic Scottish castles, idyllic fishing villages to the North or beautiful empty beaches in Moray, Grampian, The Cairngorms is Britain's largest national Park and has the largest area of arctic mountain landscape in the UK at its heart, with diverse communities around it. It is home to 17,000 people and 25% of Britain's threatened birds, animals, and plants. It includes moorlands, forests, rivers, lochs and glens. Ben Rinnes at 840m is the highest hill in the area, with outstanding views to the Cairngorm mountains and the Moray Firth coast at Lossiemouth. To the North lies Aberdeenshire and some of the most wonderful rural scenery to offer for you and your family including pretty coastal villages like Gardenstown, Cullen, Findochty, Portsoy and Banff. Stunning beaches all along the Moray Firth coast including Findhorn, Rose Isle and Hopeman. The Moray Firth coast is also haven for wildlife, and you can often see dolphins, seals, otters, whales and falcons throughout the year. Roughly one half of its border consists of amazing coastline ranging from the awesomely rugged to the most wonderfully beautiful. The sunsets on the Moray coastline in themselves are renowned for their beauty as many a visitor will testify, its Northerley latitude and position making it a good place to even see the mysterious "Aurora Borealis" Northern lights. So If you are looking for a relaxing holiday, somewhere to wind down and relax, then look no further, this accommodation offers you that and so much more.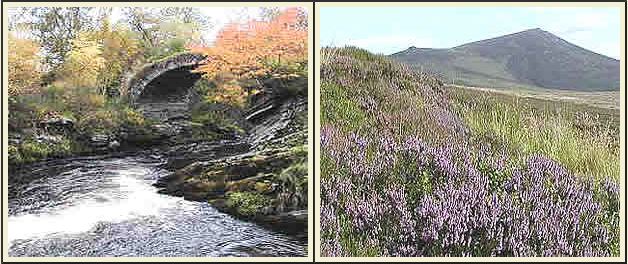 Huntly, Dufftown and Tomintoul
Huntly is within easy reach with it's beautiful Castle, as well as supermarkets, Shops, restaurants and gift shops. Huntly formerly known as Milton of Strathbogie is well known for Huntly Castle a beautiful castle overlooking The Gordon Schools. It also is the home of the famous Deans bakers which produce world-famous shortbread biscuits. There is salmon and trout fishing on the Rivers Deveron and Bogie, which are administered by the River Deveron Salmon Fisheries Board To the West is Dufftown heart of the Whisky trail and also the highest village in the highlands "Tomintoul" these attractive places have a selection of food and gift shops one with a great selection of scottish gifts. On the way to Dufftown is the excellent 18 hole Golf course. Dufftown also has an excellent butcher, baker and a well known kilt maker. Tomintoul the highest village in the highlands has a selection of food and gift shops including with a great selection of Scottish gifts. The Croft Inn pub, with excellent beer is about 2 miles from the cottages.
Skiing holidays in Scotland
A short distance inland from Stonehaven you can reach a Ski slope in Alford. For the more serious there is also the Lecht ski resort www.lecht.co.uk within easy fairly reach too Tel (01975) 651440. This fantastic activity centre is best suited to beginners and intermediates, featuring an exellent Dry Ski slope. The longest natural run being 900m, there is also a network of short lifts on both sides of the A939 Cockbridge – Tomintoul road. Straddling the A939 on the famous Cockbridge to Tomintoul road, the Lecht 2090 sits feet above sea level amid the beauty of the Eastern Cairngorms. This natural playground offers exciting outdoor activities throughout the year from Deval Karts / ride (incl. Uplift), Quad Bikes / session, Fun Karts / session, Kiddie Karts / session, Chairlift / return ride, Summer Ski or Board.
The Drumtochty Highland Games
Is the fourth Saturday in June it must be Auchenblae and the "Drumtochty Highland Games" this has been the tradition for the last 25 years. Known as the friendliest Highland Games in the area they are firmly established in the Scottish Highland Games calendar as one of the most outstanding events. This is not only because of the top competitors attending and records broken but also for the all-round entertainment offered and the sheer beauty of the venue. Held in the grounds of Drumtochty Castle in Drumtochty Glen just 2 miles outside Auchenblae any visitor will agree there is no better place to be on the fourth Saturday in June. Come and watch the athletes trying to break some more records. Lots of opportunities for young and not so young to join in on some open games. Make it a day out and enjoy the combination of exciting entertainment and nature at its best.
Stonehaven also holds it's own Highland Games every July. All those competing in the heavy events (which include the Hammer, the Heavy Stone and Tossing the Caber must wear full Highland dress. Other events include the Stonehaven Folk Festival regularly attended by famous Glaswegian comedian Billy Connolly. On the first Saturday in June the Feein' Market recreates a 19th Century agricultural hiring fair. The RW Thomson Classic Car Rally is an annual celebration of the inventor of the pneumatic tyre and attracts an impressive range of vintage and classic cars. There are two harbour festivals each summer. A farmers market is now held once a month in the market square where local food suppliers and producers can sell fresh fruit, vegetables, poultry and other types of meat.
Activities on your doorstep
Your Accommodation Local Activities Enquiries + Bookings Stonehaven Fantastic Day Trips
Stonehaven has all facilities ranging from supermarkets, gift shops, restaurants and a leisure centre with an outdoor swimming pool. The local village of Auchenblae (4 miles) just off the A90. Has its own park called The Den – in it there is play equipment for the children, a putting green, tennis courts, bowling green and walks along the water side. This is a sheltered valley and there is no traffic, so it is safe for children and to have picnics at the tables and seats and to sit and watch the world go by. It also has a post office / local store, hotels, gift shops, cafe and 9 hole golf course half a mile from the village.
During Hogmanay festivities, the High Street comes alive with crowds watching the annual fireballs ceremony, in which volunteers walking down the High Street swing huge balls of fire around and around at the ends of chains. The fireballs are finally thrown into the harbour. The town's Haven Fish Bar was the likely origin of the Deep-fried Mars Bar, a snack now culturally associated with Scotland – and its health record – as a whole. The premises are now the award-winning Carron fish and chip shop. Stonehaven's long established Pipe Band plays at events throughout the year, including the folks festival and fireball ceremony. The band has competed at various levels throughout its illustrious history including several years at the prestigious Grade 1.
Stonehaven Holiday Accommodation
Your Accommodation Local Activities Enquiries + Bookings Stonehaven Fantastic Day Trips
This Luxury 1 bedroom apartment enjoys Full Central Heating with TV / DVD, and only a few minutes walk to the Harbour and Beach.
The Lounge has a Sofa bed settee for extra sleeping capacity, large TV /DVD and Dining Table and seating for 4 people, Lounge seats for 3 People,
The Master Bedroom has a lovely 5 foot King size Bed, ample having and drawer space is also provided.
1 Family bathroom has a Luxury Double walk in Shower, Wash Basin and WC.
The kitchen area is brand new and fully equipped with all the necessary modern equipment including a cooker; oven; microwave; fridge / Freezer; toaster; kettle; washing / dryer, Cloths Dryer. Other essentials such as glasses, crockery, cutlery and a corkscrew are also provided for your convenience.
There are several excellent pubs, coffee shops and restaurants very close to the apartment. Some of them are located at the Old Harbour and some in walking distance from the harbour. Dunnottar Castle is within 30 minutes walking distance of this apartment.
Famous Scottish Castles
Apart from Dunnottar Castle there are literally dozens more Castles in this region with castles at Drum, Crathes, Craigevar or castle Fraser. Between Forres and Nairn is Brodie and Cawdor Castles and to the east of Dufftown is the ruined Huntly castle and close to Turiff is Fyvie castle above with its 5 towers and 5 centuries of history, further a field castles such Balmoral, Braemar, Crathes or cities such as, Elgin, Forres and Inverness are easily accessible.

Basic Scale of Weekly Hire Charges
Your Accommodation Local Activities Enquiries + Bookings Stonehaven Fantastic Day Trips

From £120 Per Night
The hire charges include all Bedding, Towels, Heating and Electricity.
Pets – Really sorry this listing is NOT Pet Friendly.
The Harbour Tower, Stonehaven, Aberdeenshire AB30 1TP – Listed since 2016
For any help or assistance with this or any other enquiry please call 01729 851181, text's to 07885 211787 – you will not find this Apartment listed anywhere else for any less.
Phone lines are open 09:00am to 10:30pm 7 days a week.
See More Cottages Loch Ness & Cairngorms ?
General Booking enquiry – please note this does not constitute a booking


Check Availability all other Cottages in Cairngorms ?