Country Lodge Retreats
Ward Toll, Gartmore
Near Aberfoyle
Loch Lomond and Trossachs

Check Availability / Book Now

A small development of 2 storey Self Catering Country Lodges set in a peaceful location close to Aberfoyle within the beautiful Trossachs national park with private Covered Hot Tubs.
Located in an area of outstanding natural beauty and enjoying stunning views toward the Ben Ledi hills, these detached Holiday Lodges are ideally situated for exploring Loch Lomond and the Trossachs and provide a fantastic touring base for Stirlingshire, Perthshire and the West Highlands, whilst still conveniently situated for shops and amenities. Less than 1 hours drive from Glasgow these Luxury Holiday Lodges are exceptionally well-appointed. All feature a private garden with furniture and barbecue.
All the Lodges have their own private covered hot tubs accommodating up to 6 people easily. Those who appreciate luxury while away from home will not be disappointed.
You can also have a riding holiday there is a purpose built riding arena and great hacking nearby, with wooden stables and plenty of good grazing ground. Private lessons can be booked with a fully qualified instructor for all levels of rider.
Availability and Secure online bookings please enter your dates below


Check Availability / Book NowGeneral Enquiries
2 and 3 Bedroom two Storey Country Lodges with Private Hot Tubs

Countryside location with Countryside Views
2 Bedroom Lodge with Kitchen / Lounge and additional Dining Room, Upstairs Double and Twin Bedrooms – 1 Pet Allowed
3 Bedroom Lodge with Kitchen / Diner / Lounge, Downstairs Double Bedroom and Upstairs Double and Twin Bedrooms
Fully Fitted Kitchen with Fridge, Washer / Dryer, Dishwasher, Microwave
TV / DVD & CD Player
Free Local WiFi within 200 meters at the Cafe Restaurant
Downstairs Family Bathroom
Downstairs Toilet Wash Room
Full Heating Heating
Off road parking
Private covered Hot Tub Lodges
Garden area with BBQ and free off road parking
Bedding and Towels
Widened doors and ramp entry – Wheelchair Friendly
Sorry No Pets Allowed
Nearest Local Town with Inns / Shops / Restaurants is Aberfoyle 4 Miles
Go Ape outdoor Centre 3 Miles
1 Pet Welcome 2 Bedroom Lodge only
Children's play area, Bike Hire on site, Mobile Beauty Therapist visit's, Cafe / Restaurant on site, NO Stag Groups

The Loch Lomond & Trossach's National park

Check Availability / Book NowGeneral Enquiries

Trossachs Country Lodge – Accommodation

A Choice of 2 and 3 Bedroom Country Lodges

Benview Lodges are exceptionally well-appointed with picnic tables and garden areas. All Lodges have their private hot tub accommodating up to 6 people easily.

Those who appreciate home from home self catering while on holiday will not be disappointed.

3 Bedroom Country Lodges

Fully heated and double glazed 3 Bedroom Luxury Lodges with 2 double bedrooms and one twin bedroom. Each Lodge has 1 downstairs double bedroom, Bathroom with overhead shower, plus separate toilet and basin. All with widened doors and ramp entry to the Lodge ideal for wheel chair users.

The living area is is furnished with sofa easy chairs. The TV / DVD's benefit from Sky TV. The dining area has a table and six chairs, the kitchen is all electric with a washing machine, oven and hob, fridge, microwave, dishwasher. Other essentials such as glasses, crockery, Pots, Pans, Cutlery and a corkscrew are also provided for your convenience.

2 Bedroom Country Lodges

The Spacious 2 Bedroom Lodges are fully heated and double glazed – with 1 upstairs Twin Bedroom, 1 Double Bedroom and additional dining room providing Luxury more spacious accommodation for 4 people. The Lodges have a family bathroom's with shower over, separate W/C and basin washrooms.

The living area's are furnished with sofa and easy chairs. The TV / DVD's benefit from Sky TV. The dining area has a table and six chairs, the kitchen is all electric with a washing machine, oven and hob, fridge microwave, dishwasher. Other essentials such as glasses, crockery, Pots, Pans, Cutlery and a corkscrew are also provided for your convenience.

The Private Hot Tubs

All 2 and 3 bedroom Lodges have their own private hot tubs accommodating up to 6 people easily. Wonderful for a hot bubbly soak and can accommodate up to six people

Mobile Beauty Therapist Visit's

You can also book a visit from a Private Beauty Therapist in the comfort of your own Lodge. Please click here for a list of services and rates Contact and booking details supplied with your reservation pack

All Lodges have own parking area, garden furniture and BBQ equipment. Clothes drying area in garden.

High chairs can be provided by request, Children's activity and play area. Along with bike hire on site
There is a safe children's activity play area, with Swings, See-saw, Slide, Trampoline, Sand Pit and Climbing frame.
Local Coffee shop / restaurant and Gift provisions shop.

The Benview Coffee Shop / Restaurant

Our lovely on site coffee shop, serves delicious home baking or full meals; the landscape views from the coffee shop are spectacular. Next door to the coffee shop we have a farm shop selling local produce and Scottish and traditional gifts. On site there is a Coffee shop and our ladies fashion and accessory shop which adjoins the coffee shop. Also on site, there is the Garden Centre and Antique shop, where there is always a bargain to be had Definitely worth a look.

In addition you can enjoy the following discounts – by booking one of these Lodges.

Check Availability / Book NowGeneral Enquiries


The Loch Lomond & Trossachs National Park is best known for it's beautiful expanse of water Loch Lomond. However the Trossachs itself is a small woodland glen between Ben An to the north and Ben Venue to the south, with Loch Katrine to the west and Loch Achray to the east.

The name is used generally to refer to the wider area of wooded glens and braes with quiet lochs, lying to the east of Ben Lomond. The southern end of loch Lomond is surrounded by fairly gentle rolling hills. As you travel northwards, you cross the highland fault line which signals a change in the rock types an hence the scenery. Further to the north west you find the long sea lochs and freshwater lochs and the rugged mountains more typical of the northern highlands. Loch awe and Loch Long with Arrochar and the fabulous "Arrochar Alps" being typical examples. Across to the east you find the beautiful centre of the Trossachs with a variety of lochs, each with its own unique attractions. In the north east you come to Balquhidder, the home of Rob Roy MacGregor and finally to the north, the lands of the Campbells, MacNabs, and Stewarts by Lochs Earn, Dochart and Tay. Loch Lomond stretches from its gentle southern end at Balloch to Ardlui, some twenty-one miles to the northwest. Loch Lomond, made famous by the song "the Bonnie Banks of Loch Lomond " is one of the main attractions of the national park although you must leave time to explore the rest of the park.

The excellent – Go Ape Centre is closeby

The renowned Go Ape facility is local to Benview Lodges – an award-winning high wire forest adventure course of rope bridges, Tarzan swings and zip slides. This is an amazing Tree Top Adventure with Stunning scenery of the surrounding Queen Elizabeth Forest Park in Aberfoyle (Stirlingshire) gives the course a jaw-dropping backdrop and makes for a great day out in Scotland. Two of Britain's longest zip wires, each stretching over 400m long, flying customers 150 feet above the ground and over a 90 foot waterfall. A mecca for Go Ape pilgrims, thrill seekers, adventure lovers & those that just want to get out and have some fun in Loch Lomond.
Multiples of activities including golf, fishing, water sports, horse trekking, and bike hire. There is even a local whisky distillery and the famous Aberfoyle woollen mill. For the the walker the start of the West Highland Way is just 5 miles away. There are also many other great walks in the area both gentle and level, to the more challenging. We are situated approx 10 miles from Callander where you could enjoy a lovely day out, there are plenty of shops and eating places you will be spoilt for choice.
Horse Riding, Pony Trekking, 4 x 4 Driving, Quad Biking, Climbing, Abseiling, Archery
We have here our own purpose built riding arena, we can arrange private lessons with a qualified instructor after assessment of your riding capabilities. Our horses are for competent novices upwards. If you fancy pony Trekking which caters for complete beginners to advanced, this can be arranged for you by prior booking also if wanted a pick up and drop of service is provided. We can arrange for you to visit a Action Adventure Centre, where you can try youre hand at 4×4 Driving, Quad Biking, Climbing & Abseiling, Archery & Off Road Buggy. If you are interested in any of the above This can be booked for you in advance and also you would be picked up and dropped off back at your lodge if required.
Tel 0845 643 9215. Local mountain bike / cycle hire is available through Trossachs cycles Tel 01877 382614 and local Quad Bike hire is also available.
The endangered Red Squirrel
Around Benview Lodges, you may see Red squirrels they have a typical head to body length of 19 to 23 a tail length of 15 to 20 cm and a mass of 250 to 340. The red squirrel is slightly smaller than the common eastern grey squirrel, unfortunately the grey squirrel is the main reason for the red squirrels decline and you may see some of the measures taken to try to preserve this endangered species such as their own rope bridges and tunnels across the busier roads!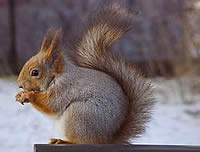 Loch Lomond
A short trip to the West brings you to the Bonnie banks of Loch Lomond, the largest inland expanse of water in Britain for boating. It has the advantage of being large and the safety of being enclosed, but without the disadvantages of tides, large swells and navigational problems. It provides areas sheltered enough for ski-ing but open enough for sailing. The southern end of the Loch has many islands to explore and plenty of sheltered anchorages. The north end of the Loch, in contrast, provides long stretches of deep, open water. The scenic charms of this area came to popularity when Walter Scott extended his romantic portrayal of Scotland's past from border ballads to poems of a medieval past rich in chivalry and symbolism, with his 1810 poem Lady of the Lake giving a roll call of Trossachs place names, the lady herself being found on Loch Katrine. This was followed up by his 1817 historical novel Rob Roy romanticizing the outlaw cattle thief Raibert Ruadh born by Loch Katrine and buried at nearby Balquhidder. Scotland's only lake, the Lake of Menteith, lies about 6 miles (10 km) to the south east of the glen, on the edge of the Trossachs area.
Fantastic Day Trips
Check Availability / Book NowGeneral Enquiries
Historic Stirlingshire
A short trip to the East brings you the County of Stirling the registration county of Scotland, based around Stirling the former county town. It borders Perthshire to the north, Clackmannanshire and West Lothian to the east, Lanarkshire to the south, and Dunbartonshire to the south-west. Stirling (Gaelic: Sruighlea, Scots: Stirlin) is a city and former ancient burgh in Scotland, and is at the heart of the wider Stirling council area. The city is clustered around a large fortress. In 2002, as part of Queen Elizabeth II's Golden Jubilee, Stirling was granted city status. It is a centre for local government, higher education, retail, and light industry. Its population (as of the 2001 census) was 41,243, making it the smallest city in Scotland. One of the principal royal strongholds of the Kingdom of Scotland, Stirling was created a Royal burgh by King David I in 1130, which it remained until 1975, when the county of The Trossachs (Scottish Gaelic, Na Trosaichean) To the North Callander is a burgh in the region of Stirling, Scotland, on the River Teith.
The town is located in the former County of Perthshire, and is a popular tourist stop to and from the Highlands. The town serves as the eastern gateway to the Loch Lomond and the Trossachs National Park, the first National Park in Scotland. Due to its location it is often referred to as the "Gateway to the Highlands" The former St. Kessog's Church is now the Rob Roy Centre, offering tourist information for the area. Dominating the town to the North are the Callander Crags, a visible part of the Callander railway station opened on June 1870 and closed on 5 November 1965.
Callander, Loch Katrine & Loch Tay
Further to the North but within easy reach of Aberfoyle lies the lovely Northern Lochs of Katrine and Tay, the idyllic villages of Callander, Killin and Aberfeldy and of course the cascading "Falls of Dochart" Encompassing around 720 sq miles (1,865 sq km) of some of the finest scenery in Scotland and seems miles away from the bustle of city life, yet it's less than an hour from Aberfoyle. Lochanst is an area of contrasts, from rolling lowland landscapes in the south to high mountains in the north the southern end of the loch is surrounded by fairly gentle rolling hills.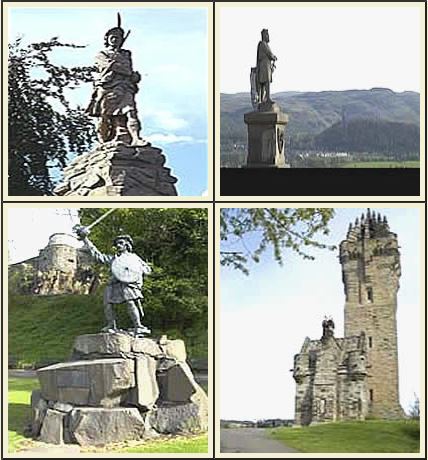 Pitlochry and Perthshire
A little further North lies the dramatic Pass of Killiecrankie scene of the famous battle, with a visitor centre operated by the National Trust for Scotland and the falls of bruar near blair atholl…..Site of the Battle of Killiecrankie in 1689 where the first shots in the Jacobite cause were fired. In Blair Atholl, see the white-turreted Blair Castle with its superb collections of paintings and armoury, then learn about more humble ways of life at the Atholl Country Collection, the Blair Atholl Mill, a working oatmeal mill, or at the Clan Donnachaidh Centre at Bruar. Emerging from the north end of Loch Garry, the River Garry flows southeast for 22 miles (35 km) through Atholl in highland Perth and Kinross before joining the Tummel 2 miles (3 km) northeast of Pitlochry. On its course through the Pass of Drumochter and on to the Pass of Killiecrankie, the river falls nearly 300m (1000 feet) and skirts the settlements of Calvine, Blair Atholl and Killiecrankie. Described by Queen Victoria as "very fine, rolling over large stones, and forming perpetual falls", the principal tributaries of the Garry are the Edendon, Ender, Bruar, Tilt, Allt Girnaig and Errochtry. Nearby Moulin has a more ancient history. The Earl of Atholl granted Moulin Church to Dunfermline Abbey in 1180. In 1511 Moulin became a burgh of barony. The Kirk was rebuilt in 1613 and the Moulin Arms dates from 1695. In common with much of Perthshire.
Beautiful Perthshires glorious castles and gardens
Perthshires Key towns include Perth, Crieff, Aberfeldy and Pitlochry..and fantastic castles such as Balmoral and Braemar to stately homes such as Scone Palace. Choose from Kinnoull Hill Woodland Park – Woodland walks and views across Perth to the Tay and beyond. Quarrymill Woodland Park – Outdoor activities north of Perth. Norie Miller Riverside Walk – Walk along the banks of the Tay through landscaped gardens. Perth Museum and Art Gallery – Gallery includes Scottish colourists. Rodney Gardens – Pleasant formal garden in the grounds of the Rodney Pavilion and close to the Norie Miller Riverside Walk. Bell's Heather Garden – Garden devoted to Scotland's ubiquitous shrub. Branklyn Garden – Wonderful two acres of arden owned by the National Trust for Scotland. The Fair Maid's House – Home of the Catharine Glover, the Fair Maid of Perth.
Fort William and Aviemore
To the North of Aberfoyle and again within easy range is the tourist resort of Aviemore, popular for skiing, winter sports and hill-walking in the Cairngorm Mountains. The CairnGorm Mountain Ltd Ski Area, tel: +44 (0)1479 861261 is notable for being near the freely grazing reindeer herd at Glen More, the only one in the UK. The resort has variable quality of snow and weather conditions. Aviemore also has a railway station is on the Highland Main Line with regular services to Perth, Edinburgh and Glasgow, it is also the southern terminus of the lovely Strathspey Railway, a heritage steam and diesel railway, currently being extended to Grantown-on-Spey. To the southern end of the Great Glen on the shores of Loch Linnhe and Loch Eil is Fort William the largest town in the west highlands of Scotland. It is close to the beautiful Glen Nevis, Ben Nevis and Nevis Ski Range, the highest mountain and ski area in the British Isles. It has full skiing and snowboarding facilities, ski/board hire and instruction and Gondola runs all year round. The town is a major tourist centre with Glencoe just to the south, and Glenfinnan to the west, on the Road to the Isles. It is an important centre for hillwalking and climbing due to its proximity to Ben Nevis and other mountains. It is also well known for its famous Downhill Mountain Bike Track and its connection to the Great Glen Way. From June to October you can take a day trip on Jacobite steam train from Fort William to Mallaig, passing over the famous Glenfinnan viaduct seen on the "Harry Potter" films.
Wildlife and Nature
The Trossachs region is a fantastic area for viewing birds, wildlife and wild flowers. After you have enjoyed the resident rabbits, sheep, buzzards and deer, you can explore further within this area and see Stags, Rut and Mountain Hare. With winter good timing Stoat visitors including Fieldfare, Redwing, Snow Bunting, Waxwing and Brambling. Many birds including Flocks Pink Footed Goose, Whitefronted Goose, Canada Goose, Greylag Goose visit the Cairngorms every year. Also Badgers, Red Squirrel, Barn Owl, Tawny Owl, and Long Eared Owl, Pipstrelle, Long Eared Bats.

Activities on your doorstep
Check Availability / Book NowGeneral Enquiries
Local area information Aberfoyle and Callander
Check Availability / Book NowGeneral Enquiries

The local town of Aberfoyle is only a short drive from your accommodation and has a selection of excellent Inns, restaurants, fast food takeaways. The town is situated at the base of Craigmore (1271 foot high) and on the Laggan, a head-water of the River Forth. Since 1885, when the Duke of Montrose constructed a road over the eastern shoulder of Craigmore to join the older road at the entrance of the Trossachs pass, Aberfoyle has become the alternative route to the Trossachs and Loch Katrine; this road, known as the Duke's Road or Duke's Pass, was opened to the public in 1931 when the Forestry Commission acquired the land. Just 3 miles away in Callander there is also a leisure centre which has a swimming pool, jacuzzi, steam room, fitness centre, climbing wall, games room for football, netball and badminton. There is indoor bowls also outdoor football and tennis.
Local Loch's & rivers plus Fishing
Loch Ard is about 2 miles west of Aberfoyle, lying 105 feet above sea level. It is 3 miles long (including the narrows at the east end) and 1 mile broad. Towards the west end is Eilean Gorm (the green isle), and near the north-western shore are the falls of Ledard. Two miles northwest is Loch Chon, at 90 feet above the sea, 1.25 miles long, and about half a mile broad. It drains by the Avon Dhu to Loch Ard, which is drained in turn by the Laggan.
General Enquiries
Check Availability / Book NowGeneral Enquiries
Benview Lodges Ward Toll Aberfoyle G63 0QZ
The Hire charges include all Bedding and Towels. A standard supply of Heating and Electricity is provided, additional usage chargeable.
Pet's – 1 Well Behaved Pet is allowed in Lodges 5 and 6 with £25 Supplement. A returnable Good Housekeeping Security deposit by pre-authorisation is usually required.

See More Cottages Loch Lomond Trossachs Borders ?
General Booking enquiry – please note this does not constitute a booking
'Property Reference '39'