Search availability for 100's of Scottish Log Cabins
Just enter your dates and press 'Search'
These Luxury Highland Log Cabins provide the secret retreat combined with the convenience of easy commuting to Inverness and it's big city Restaurants, Inns amenities and is a fantastic touring base for the magical Black Isle (just 10 miles away) Loch Ness (20 miles away) Fort William, Aberdeenshire, Morayshire, Sutherland, Wester Ross. Further afield to Caithness and Aberdeenshire. In this locality there are shops and a malt whisky distillery for everyday items at Muir of Ord, which is a short drive away, or can be reached by tracks from the log cabins where roe deer and red kites can often be seen, and more occasionally, pine martens and red squirrels, within 20 minutes drive are numerous golf courses, scenic walks, sailing, cycling, touring and even dolphin watching
3 Bedroom Mountain Log Cabins, Sleeps 6, Remote Detached, Countryside Location, Countryside Views, Fridge / Freezer, Dishwasher, Washer / Dryer, En-suite Bathrooms, Pets Welcome, Car Parking, TV / DVD, Free WIFI, Full Central Heating, Wood Stoves, Bedding and Towels,
The locality and Inverness
The city of Inverness (less than 10 miles away) offers all city facilities including shops, retail parks, quality Inns, restaurants, theatre and museums. Golf, fishing and trips on Loch Ness can be arranged locally. The Lodges are ideally situated for exploring this mountainous, peaty wilderness, surrounded by magnificent coastline. From the fertile 'Flow Country' of North Scotland near Thurso and Wick to the expansive beaches, sea lochs and cliffs around Ullapool, Gairloch and the gateway to Skye – Mallaig and Kyle of Lochalsh all over the Highlands, whether it's Inverness, Glen Coe or Fort William (overshadowed by Ben Nevis – Britain's highest peak) and Loch Ness, our log cabins are an easy drive away, from scenic valleys clothed with woods to chilled rivers rushing from the snow-capped peaks of the Mountains.
Within 30 minutes drive to the South West you can reach Drumnadrochit the central hub of Loch Ness. Or within 1 hours drive to the North West you can reach Ullapool on the West Coast for a trip to the summer Isles. To the East you can easily day trip to Moray and Aberdeenshire and famous Whisky trail. To the North the great expanse of the Northern Highlands, miles and miles of safe sandy beaches, pretty villages, huge mountains and isolated Lochs like Loch Shin. Further North still you can easily day trip to Dunnet Head & John O Groats providing an unforgetable journey to scotlands true North coast through Bettyhill, Tongue, Durness as far as Cape Wrath. and the rewarding Salmon and Trout rivers of Sutherland and Wester Ross.
The scenic and Magical Black Isle
Your Accommodation The Black Isle Loch Ness and Nessie Enquiries + Bookings Travel Directions Nearest Town Salmon Leaping Fantastic Day Trips
Just 10 miles to the East you can reach – the magical magical Black Isle – despite its name, the Black Isle is not an island, but a peninsula, surrounded on three sides by water – the Cromarty Firth to the north, the Beauly Firth to the south, and the Moray Firth to the east. On its fourth, western side, its boundary is delineated by rivers. Renowned for its scenic beauty and mild dry climate where pretty villages such as Avoch, Cromarty, Fortrose and lovely safe beaches wait to be discovered. This area of the scottish highlands is a haven for wild life, birds, wild flowers and sea life, including Britain's largest school of wild and Bottlenose Dolphins, which can often be seen from the harbour at Avoch.
The pretty fishing villages of Avoch, Fortrose, Rosemarkie and Munlochy are all located on the Moray Firth. Rosemarkie has a sandy beach providing good swimming / bathing and Fortrose has an eighteen hole golf course. Ormond Castle or Avoch Castle was once a stronghold and served as a royal castle to William the Lion. Legend has it that the village was founded by survivors of the Spanish Armada. Avoch's trade once came from it's fishing industry, which in modern times has decreased with Cromarty taking most of the profit. Dolphin and wildlife-watching boat trips now run, taking visitors to see the dolphins in the inner Moray Firth at Chanonry Point. Tourists now provide much of the village's income.
The village's name is pronounced "Och" as in the well-known Scots interjection "Och aye the noo"

The Wildlife around the Black Isle
Living with you during your stay within our 17 acres of woodland are lots of roe deer, red kites can often be seen, and more occasionally, pine martens and red squirrels. Just a short drive East to the scenic black Isle are of course Bottlenose Dolphins, Kingfishers, Otters, Seals, Dolphins, Pilot and Killer Whales and a whole host of other wildlife…simply take a stroll down to the Harbour.
Also look out for the Great Northern Diver, Common Scoter, Goldeneye, ducks and gulls. White-fronted Geese. But please follow the birdwatchers and countryside codes. Please do not disturb nesting birds, and take care in sensitive areas. Please be very careful and discrete with any information you have been told or on species you discover, this information should only be passed on to the RSPB (Etive House, Beechwood Park, Inverness) and not put into the public domain. Careless talk can put at risk the birds that you have enjoyed watching.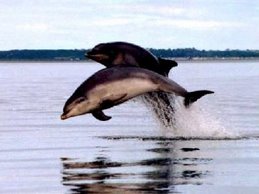 Award Winning beaches on the North East Coast
Around the Black Isle and to the North this Coastline provides some of the finest beaches in the UK and all within 60 minutes drive are a number of record-breaking beaches, awarded the "Rural Seaside Award" by the body Keep Scotland Beautiful (KSB). Among them are Brora Beach, Golspie North Beach, and Golspie South Beach pictured above and Embo.

Local Activities – Muir of Ord and Inverness
Your Accommodation The Black Isle Loch Ness and Nessie Enquiries + Bookings Travel Directions Nearest Town Salmon Leaping Fantastic Day Trips
The nearest small town is Muir of Ord – just a short drive away from these Lodges with shops for everyday items, which can also be reached by tracks from the log cabins Inverness city centre is less than 10 miles away boasting numerous national chain stores, retail parks, quality restaurants, Pubs / Inns and shops including the fantastic Eastgate shopping centre. There is also a sports centre, Aquadrome, multi screen cinema and theatre as well as many other tourist attractions
For the highly active there are a wide range of pursuits from Horse riding and Pony trekking, surfing, sail boarding, land yachting, kites & kite buggying, sub-aqua diving and sailing, places to climb and walk. For the less active and just in need of a rest the beaches are amazing and often you will find one all to yourself. The area has much to offer for those interested in History and archaeology. With a local guide leaflet you can follow trails or head for one of the many ancient monuments.
Highland Log Cabins – Accommodation
Your Accommodation The Black Isle Loch Ness and Nessie Enquiries + Bookings Travel Directions Nearest Town Salmon Leaping Fantastic Day Trips
The Deluxe Mountain Lodges
The Deluxe Mountain Lodges
The 3 Bedroom deluxe mountain Lodges have cathedral ceilings giving a more contemporary atmosphere of space and light, ideal for family living, beautifully, tastefully and newly decorated throughout with excellent fixtures and fittings.
Wildcat Lodge and Mountain Lodge both have two double bedrooms with en-suite bathrooms and one twin room with En-suite shower room. Rowan Lodge has one double bedroom with en-suite bathroom and two twin bedrooms (one with en-suite bathroom) and the other (with en-suite shower room) Please note
(All three Bedrooms are on the ground floor and have ample hanging and storage space)
The Spacious sitting rooms have wood burning stoves (Logs supplied) Comfortable furniture made from natural fabrics and colourful rugs create a cosy family ambiance. There is a Colour Television with DVD player and also a Hi Fi unit.
The Kitchens are brand new and fully equipped a features a Oven / Hob Fridge / freezer, Electric, Microwave Oven, kettle, toaster, Teapot, Cafetier, Dishes, Kitchen utensils, Set pans, Casseroles, Cutlery, Dish cloths, Iron & Ironing Board, along with all necessary utensils, cutlery and crockery
Double French doors open onto the veranda where you can sit or dine and enjoy watching the sunset late into the evening. Outside you can sit or dine on the veranda (there are no midges here) and enjoy watching the sunset late into the evening. Both the log cabins overlook meadows where highland cattle graze, and have views towards the mountains. The log cabins are built with the highest quality Finnish pine from Lapland, with the most modern comforts of home.
Traditional Mountain Lodges
Red Kite, Piper's Wood, and Eagle Lodge are of a traditional one and a half storey design. There are three bedrooms – two upstairs (one with en-suite bathroom, and the third bedroom and another bathroom downstairs. Car parking is right next to the lodges and there is a ramp access to the front door.
The fully equipped kitchens include all new, modern appliances Oven / Hob Fridge / freezer, Electric, Microwave Oven, kettle, toaster, Teapot, Cafetier, Dishes, Kitchen utensils, Set pans, Casseroles, Cutlery, Dish cloths, Iron & Ironing Board, along with all nescesary utensils, cutlery and crockery. The natural warmth of wood creates a cosy and comfortable sitting room. Relax on the veranda to watch the wildlife or just sit and gaze into the distance, (no traffic sounds at all, well maybe one car. The living room with its log burning stove leads through to the dining area and fully equipped kitchen. There is also a twin room and a bathroom, with bath and shower, downstairs. Upstairs is the master bedroom with its en-suite bathroom and balcony, and another twin room. There is a garden area around the lodges and ample car parking right beside the lodges with ramp access to the veranda.
All the Lodges have Oil fired Central heating and wood burning stoves (Logs Supplied)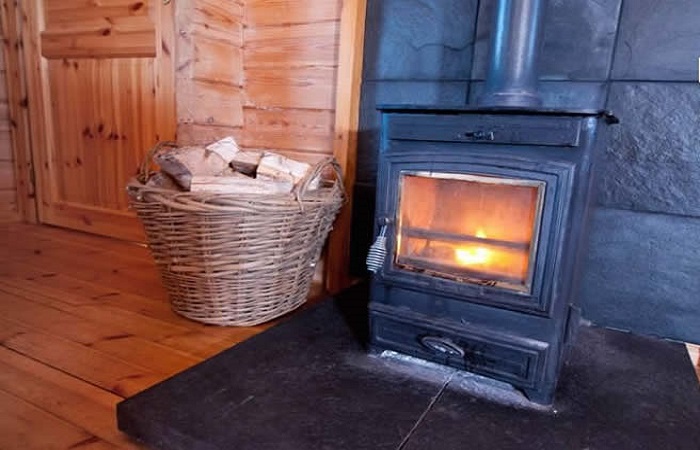 Basic Scale of Weekly Hire Charges
Your Accommodation The Black Isle Loch Ness and Nessie Enquiries + Bookings Travel Directions Nearest Town Salmon Leaping Fantastic Day Trips
Deluxe Mountain Lodges Sleeps 6 – Lowest Season Weeks from £395, Highest Season Weeks £799
Traditional Mountain Lodges Sleeps 6 – Lowest Season Weeks £349, Highest Season Weeks £749
Hire charges only include all Heating, Electricity, Logs for the Stoves, FREE WIFI, Towels and Bedding, .
Pet Friendly – yes one well behaved dog are welcome – there is an additional charge of £25 per week per pet.
Big Sky Lodges Drynie Park Estate Ross-shire IV6 7RP – Listed since 2008
For any help or assistance with this or any other enquiry please call 01729 851181, text's to 07885 211787 – you will not find these Log Cabins listed anywhere else for any less.
Phone lines are open 09:00am to 10:30pm 7 days a week.
See More Northern Highlands Holiday Cottages ?
General Booking enquiry – please note this does not constitute a booking
Famous Scottish Castles
Within this region there are literally dozens of Castles to visit from Ballindalloch Castle near Aberlour on the river Spey to Balmoral a beautiful drive over the mountains to Royal Deeside where you are spoilt for choice with Drum, Crathes, Craigevar or castle Fraser. Between Forres and Nairn is Brodie and Cawdor Castles and to the east of Dufftown is the ruined Huntly castle and close to Turiff is Fyvie castle above with its 5 towers and 5 centuries of history, further a field castles such Balmoral, Braemar, Crathes and of course castle Urquhart on Loch Ness or cities such as, Elgin, Forres and Inverness are easily accessible.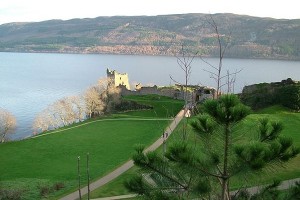 Fantastic Day trips
Your Accommodation The Black Isle Loch Ness and Nessie Enquiries + Bookings Travel Directions Nearest Town Salmon Leaping Fantastic Day Trips
Sutherland and Caithness
To the North the areas of Sutherland and Caithness form the great, empty, northern wilderness of Britain; having three coasts, a vast interior, and the lowest population of any area in Western Europe. Its scenery is surprisingly varied, ranging from fantastic mountain ranges to stunning scenery ranging from the 'Flow Country', an area of wild mountains and almost impenetrable bogs and moorland, to the 'machair', coastal grassland based on old dunes of shell sand and finally the Atlantic oakwood. Their scenery varies from wild cliffs and tiny islands to lonely moorland and remote golden sandy beaches. You will find Majestic castles like Dunrobin, Mey, Old Wick and Girnigoe, dozens of ancient monuments, quality tweeds and woollens, whisky distilleries such as Clynelish Distillery. Plus tree-lined twisting roads and foaming rivers.

Dunnet Head and John o Groats
An absolute Must to include in your trip to Caithness and Sutherland a visit to Dunnet Head and John O Groats! and it's pretty coastal Towns, Villages, Harbours and sandy beaches such as Wick, Dunbeath and Lybster.

The Kyle of Tongue "Clan Mackay Country"
A trip to the Far North coast also takes you to the North coast village of Tongue centre of the "Mackay clan territory" looking west over the Kyle of Tongue. Dominated by Castle Varrich and Ben Hope Scotland's most "Northerly Munro" and Ben Loyal "Queen of Scottish Mountains" which provide dramatic backdrops. The kyle of Tongue is a wildlife paradise – look out for seabirds, eagles, ptarmigans, otters, seals, red deer and enjoy whale and porpoise spotting. This area is still one of Scotland's truly best kept secrets and there are few restrictions to your enjoyment. The area offers wonderful unspoilt game fishing with great yields in a long list of local lochs and rivers, particularly the Naver, Borgie Strathy, Forss and Halladale. Fabulous walking, hillwalking and mountain climbing (you can see the Orkneys from the summit of Ben Hope on a clear day!)

This quiet location attracts lovers of the outdoors throughout the year from Hill-walkers and beachcombers to naturalists, fishers, Historians, geologists, photographers and artists. There are sensational beach, inland and forest walks, also cycle runs along a huge network of single track roads and unspoilt routes – tranquility and timelessness itself and cycle routes, slipways to suit small boats and sailboards / windsurfing.
Loch Shin and the Falls of Shin & Salmon leaping
Your Accommodation The Black Isle Loch Ness and Nessie Enquiries + Bookings Travel Directions Nearest Town Salmon Leaping Fantastic Day Trips
Less than 40 minutes away are the Falls of Shin a truly wonderful experience for all the family. Open all year round and set amongst spectacular Highland Scenery, it's well worth the journey inland, heading west along the A949 and the banks of Beautiful Dornoch Firth, Bonar Bridge you arrive at the dramatic waterfalls, where it's famous, natural Atlantic Salmon Leap can take your breath away.

This estate is owned by Mr Al Fayed…see him for yourself as he graces the entrance courtesy of a genuine Madam Tussaud's waxwork. The River Shin is one of the great Salmon rivers in Scotland, with the fresh, clear water – coloured slightly brown due to the natural peaty soil of the landscape – creating perfect conditions for the Atlantic Salmon, and other fish that thrive in a constant flow of fresh water. This most natural feature enthralls visitors lucky enough to witness the many Atlantic Salmon as they battle upstream at the Falls to return to their place of birth in Loch Shin and spawn the next generation. There are also countless river and forest walks, BBQ, gift shop, restaurant and a mini golf course.
Majestic Dunrobin Castle
Again to the North is Dunrobin Castle the most northerly of Scotland's Great Houses and is certainly one of the most majestic. It is the largest house in the Northern Highlands with 189 rooms, and is one of Britain's oldest continuously inhabited houses, dating in part from the early 1300s.
The history of the castle is quite fascinating and has seen the architectural influences of Sir Charles Barry and latterly Sir Robert Lorimer. The castle has been used as a naval hospital during the First World War and from 1965 to 1972 as a boys' school.
Wester Ross and Ross shire
To the West is Ullapool and Wester Ross, providing riches beyond your wildest dreams and Pictures that tell a thousands of words. Again within a day you easily can tour Wester Ross and the beautiful landscape of the north-west Highlands
So where do we start…Should we tell you about the more famous attractions of Wester Ross such as Inverewe gardens, and the Victorian Spa town of Strathpeffer, or about the scenery, the mountains, or maybe the golf-course or the gardens. What about the traditional music, or the fishing, and the walking? Have you ever seen the sunsets, the wildlife, the birds, the history, genealogy. Or perhaps you prefer the sea, the sailing, a kayak trip, the beaches? Maybe you fancy the swimming pool, the sports centre, the cycling? Have you tasted the prawns, the mussels, the lobsters? Are you for a wee dram ?
The Loch Ness and Nessie
Your Accommodation The Black Isle Loch Ness and Nessie Enquiries + Bookings Travel Directions Nearest Town Salmon Leaping Fantastic Day Trips
Within 30 minutes drive you can reach Loch Ness and great Glen region in the highlands of Scotland expanding from Fort William to Inverness covering some of the most Beautiful landscapes and scenery Scotland has to offer. Along with scenic beauty it offers a multitude of activities ranging from skiing in the Winter in a range of quality resorts, to walking, climbing, mountain biking, fishing, Deer stalking…and for the less active pleasure cruises and boat trips on Loch Ness.
Loch Ness is the largest body of Freshwater in Britain over 25 miles long and more than 300 metres deep in part, is home to Scotland's best kept secret the Loch Ness Monster "Nessie" One of the most discussed and controversial subjects to this day. In 525 AD the first recorded entry of a sighting was made by St. Columba. Modern day sightings ranging from the sensational 1934 R K Wilson "Surgeons" picture…recently suggested to be a hoax, but even more recently indicated to be a hoax theory within a hoax. To the genuine cine film sequences taken by Dick Raynor and Tim Dinsdale in 1960's. Whatever Dinsdale did film that day convinced him…he gave up his Job and family life to spend the rest of his life (the next 25 years) looking for "Nessie". There were also others like Roy Mackal and Robert Rines of the Academy Of Applied Science with underwater images of a possible head, neck and torso in the 1970's, plus a regular supply of Sonar and Radar readings to this day picking up strong mid-water contacts in the Loch. There are modern everyday people with nothing more obvious to gain exept than "loss of respect" ranging from local Policemen, Bank Managers, Businessmen, Fishermen, Aero engineers, Monks and of course tourist's with eye witness accounts and further photo evidence.

There have also been many hoaxers and show men to add to the confusion. Scientists alike, do not dispute that large creatures are living in the Loch, but cannot say exactly what they are, the Loch is fairly un-productive because of it's deep dark murky, peaty waters, visibility is virtually zero 3/4 metres down, a number of species of fish, such as Artic Char "once thought extinct" have adapted to hunting and feeding with out the use of eye sight and amazingly can be found living off plankton and smaller fish up to 100 metres deep in the Loch. Original calculations put the the tonnage of fish living in the Loch at around 3 tons, hardly enough to support any larger creature! more recent surveys indicate an actual tonnage of over 25 tons.
"Nessie" The Official Loch Ness Monster Site, with up-to-date information and photographs of new and past sightings. But don't go to Loch Ness to specifically see Nessie for real in the flesh as you may end up disappointed, do come to this region to enjoy the scenery and beauty and do pay a visit to at least one of the Loch Ness Monster exhibitions in the local village Drumnadrochit.

Fort William and Aviemore
Further afield and still within easy range is the tourist resort of Aviemore, popular for skiing, winter sports and hill-walking in the Cairngorm Mountains. The CairnGorm Mountain Ltd Ski Area, tel: +44 (0)1479 861261 is notable for being near the freely grazing reindeer herd at Glen More, the only one in the UK. The resort has variable quality of snow and weather conditions. Aviemore also has a railway station is on the Highland Main Line with regular services to Perth, Edinburgh and Glasgow, it is also the southern terminus of the lovely Strathspey Railway, a heritage steam and diesel railway, currently being extended to Grantown-on-Spey. To the southern end of the Great Glen on the shores of Loch Linnhe and Loch Eil is Fort William the largest town in the west highlands of Scotland. It is close to the beautiful Glen Nevis, Ben Nevis and Nevis Ski Range, the highest mountain and ski area in the British Isles. It has full skiing and snowboarding facilities, ski / board hire and instruction and Gondola runs all year round. The town is a major tourist centre with Glencoe just to the south, and Glenfinnan to the west, on the Road to the Isles. It is an important centre for hill walking and climbing due to its proximity to Ben Nevis and other mountains. It is also well known for its famous Downhill Mountain Bike Track and its connection to the Great Glen Way. From June to October you can take a day trip on Jacobite steam train from Fort William to Mallaig, passing over the famous Glenfinnan viaduct seen on the "Harry Potter" films.
The Cairngorms, The Whisky Trail and the Highland Games
Within an easy day trip to the East you can explore the Cairngorms National Park, this spectacular region is part of the Moray Malt Whisky Trail. Sample whisky nosing and tasting in Dufftown, enjoy historic Scottish castles, idyllic fishing villages or beautiful empty beaches in Moray coast. The Cairngorms is Britain's largest national Park and has the largest area of arctic mountain landscape in the UK at its heart, with diverse communities around it. It is home to 17,000 people and 25% of Britain's threatened birds, animals, and plants. It includes moorlands, forests, rivers, lochs and glens. Annual Whisky Festivals are: the Spirit of Speyside Whisky Festival in late April – and the Autumn Speyside Whisky Festival late September. The Glenfiddich distillery is open to the public (free) while close by is the picturesque ruined Balvenie Castle with it's renaissance facade maintained by Historic Scotland. Other local distilleries to visit and whiskies to taste include Macallan, Glen Grant, Glenfarclas, the Glenlivet (free tours), Aberlour and Cardhu. Every year Scotland invites people from all over the world to attend Highland Gatherings and Highland Games. The Gatherings are usually held in late August early September throughout Scotland and perhaps the most famous and finest Highland Games anywhere are in Braemar. It features the finest Pipe Bands, pipers, Highland dancers, and athletes in a beautiful setting surrounded by hills. The patron of the Gathering is Her Majesty the Queen.