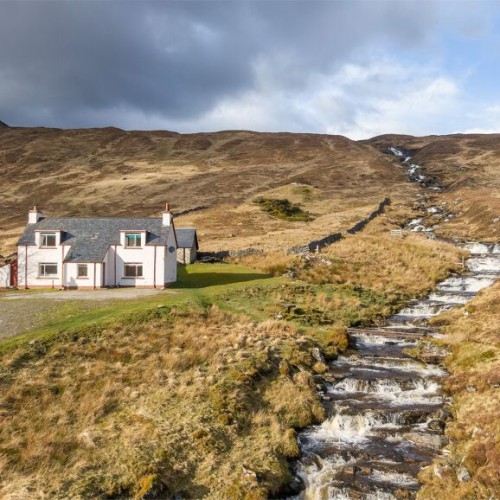 Remote Holiday Cottage
Lairg
Northern Highlands

This Remote Holiday Cottage in the Northern Highlands boasts plenty of character and forms an idyllic base from which to explore the rugged Highlands.
The location of this cottage could be mistaken for a film-set, it's so unbelievably beautiful. Set in a stunning Scottish location, 2 miles into a rural glen, the cottage is surrounded by rolling hills and flanked by a trickling stream that runs all the way from the top of the hill, meandering past the property. If you're looking for an isolated romantic retreat or for a family location set in the wilderness, then this cottage is sure to meet your expectations. The closest village shop is 20 miles from the property so ensure you stock up on supplies before you settle. If you'd like a meal away from home, you can visit the local hotel and bar which is just 5 miles away – a short drive or a nice long walk if you are feeling active.
The interior of this property is both light and colourful, with comfortable sofas and carpets, creating a fun and homely space. There's a kitchen/dining area which has a table and chairs and is fully equipped for your daily meals. Also on the ground floor is a bathroom with a shower over the bath and WC. On the first floor there is one double room, a twin bedroom and two single rooms, each have been decorated in a simple pared-down style.
There is a private garden at the side of the property but with the glen at your doorstep, you literally have all the rural space you need for a wild adventure.
Dogs are charged at £20 each per full or part week.
Sleeps 6, 2 Pets Welcome

See More Northern Highlands Holiday Cottages ?