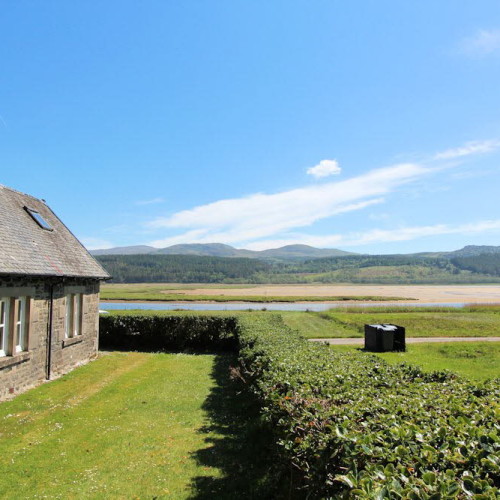 The Beach Lodge
Castle Sween
Lochgilphead
Argyll
PA31 8PA

Check Availability / Book Now

A beautiful Remote Seaside Holiday Cottage on Argyll's West Coast. At the waters edge and close to a sandy beach this spacious detached Holiday Cottage offers the Ultimate Remote Holiday Hideaway" The Lodge sits within a large garden at the head of Loch Coalisport, it's views extending to Lochead Burn (with excellent Salmon and Sea Trout) are magnificent. Not only perfect for Scottish fishing Holidays, this is a fantastic location for peaceful family holidays, walkers, boater and wildlife spotters.
This is the wonderful scenery which has made the West Coast of Scotland famous, with rocky outcrops, inlets, sandy beaches, islands and islets just crying out to be explored.

Availability and Secure online bookings please enter your dates below
Detached Cottage, Sleeps up to 6, Traditional Detached, Remote Seaside Location, Sea Views, Fridge / Freezer, Washing Dryer, Open Fire, Central Heating, Pets Welcome, Car Parking, TV / DVD, Full Self Catering.
Unique 3 Bedroom Detached Cottage sleeps up to 6 people
Waterside location with Sea Views
Accessed by Remote Track
Living room and Dining rooms with Seating and Dining for 6 people with sea views
1 Downstairs Twin Bedroom
Upstairs via spiral stair 1 Double Bedroom with it's own W.C and Washing facilities and 1 Twin Bedroom
Downstairs Family Bathroom with bath / shower W/C and Washbasin
Fully fitted kitchen including Oven / Hob, Fridge Freezer, Microwave, Washing / Dryer
Mobile WiFi Dongle with supplement £15 Per Week
Sun Porch
Sitting Room with Sofas and Sat TV / DVD
Central Heating (cost not included)
Open Fire (fuel not provided)
Enclosed garden and driveway parking
Bedding and Towels
The nearest village Shop is in Achnamara (4 miles) the nearest Town with Supermarket is Lochgilphead (16 Miles)
Pets Welcome Beach 200 yards
This remote seaside Holiday Cottage is accessed by single stone track with ample parking and large garden area.
The accommodation consists of Ground floor entrance Hall, Sitting Room, Dining Room, Twin Bedroom and downstairs bathroom.
Upstairs is via spiral stair with further 2 Bedrooms, 1 Double Bedroom with it's own W.C and Washing facilities and 1 Twin Bedroom.
The Downstairs Twin Bedroom is fully furnished with 2 full size single beds, Wardrobe, Dressing Table and bedside unit. The Kitchen is fully equipped with Refrigerator and deep Freeze, microwave, oven. A separate utility room houses the washing machine.
Other essentials such as Crockery, Glassware, Tableware, Cutlery, Sauce Pans are all included for your convenience.
The downstairs family Bathroom has a full size bath with Shower over, Wash Hand Basin and WC.
Downstairs dining accommodation is provided in a separate room with large Dining Table and 6 Chairs. The Sitting Room provides comfortable accommodation with a large sofa and 2 relaxing arm chairs. There is a TV with DVD player, plus supplementary Open Fire for those cosy evenings in
The upstairs Twin Bedroom with 2 full size single beds, 2 Bedside Cabinets and lamps, plus large skylight viewing window.
The spacious Double Bedroom with Double Bed, 2 Bedside Cabinets and lamps, viewing window. Plus a separate Wash Room and W.C.
The Ellary and Castle Sween Estate
Your AccommodationLocal Area InformationEnquire / Book NowOban and MullLocal ActivitiesFantastic Day TripsThe Kintyre Peninsula

As an occupier of accommodation at Ellary and Castle Sween, you are welcome to use the whole of the area of the estates which extend to approximately fifteen thousand acres. The enthusiastic hill walker will find all they could possibly wish for. Lochead Glen, for example, is one of the prettiest glens in Scotland, and from the heights of Corrbhan on a clear day, you can see as far as the Nevis range to the North, the head of Loch Fyne and Ben Arthur to the East, Kintyre and Northern Ireland to the South and the Isles of Jura, Scarba etc. to the West. At the same time, the less energetic, who may not feel the need for such exercise, can experience the same kind of adventure taking a comparatively easy stroll, for example the walk from Balimore down to Stronefield beach, or from Ellary down past the golf practise area to the Salmon Pool and beyond takes you into fascinating countryside, and there are many alternatives. Remember, you are free, when you are staying here, to go wherever you please.
Touring Ellary and Castle Sween
The impression of being isolated, at Ellary and Castle Sween, is because not very many people visit this area. But in fact you are right in the middle of the most attractive part of Scotland's west coast. Day trips can include destinations as far as Fort William and beyond to the North, most of central Scotland to the East and as far as Glasgow to the South. To the West, take ferry trips to Arran, Gigha, Islay & Jura, Mull and Iona and these can all be accomplished in time to get back for tea leaving plenty of time to do or see whatever motivated the trip. Such excursions might be to visit some of Scotland's most famous gardens (Brodick, Achamore, Arduaine, Crarae etc.) a trip on the steam locomotive from Fort William to Mallaig, a game of golf or a visit to a distillery on Islay, a day skiing at Glencoe or Aonach Morr or one of the hundreds of other attractions which the West of Scotland has to offer. Or perhaps you prefer to just drive a bit to explore the area and enjoy the scenery.
Boating
While staying at Ellary and Castle Sween you are never far from the water. If you are a boat owner, you should certainly bring it, – there is a slipway at Castle Sween where it is possible to launch anything likely to be towed by a car. If you are staying on the Loch Caolisport side, assistance is available to launch any reasonable sized craft from the beach. The slipway at Castle Sween makes it very convenient to take boats in and out, and at Ellary there is a small harbour, if it is thought more convenient to keep craft afloat. The tides in both Lochs Caolisport and Sween normally make very little rise and fall (about 5ft only), and as long as you do not venture beyond the mouths of the Lochs, there is very little in the way of currents. Beware, though, of the Sound of Jura where the current picks up the further North you go into one of the strongest that there is! For those with a sailing dinghy, there is safety in numbers, and the Loch Sween side is more suitable. If your preference is to have the sea all to yourself (or almost) and to explore small islands and inlets, you will find Loch Caolisport attractive, although Loch Sween is lovely for that too.
A holiday at Ellary and Castle Sween is also interesting to anglers who can obtain permits to fish the Lochead Burn (salmon and seatrout) as well as other burns on the estates and a great many trout lochs; to cyclists and mountain bikers who can explore most of the estates on the private estate roads and tracks; to photographers and golfers. Some will want to come simply to relax and enjoy the peace and quiet, which is probably the main attraction of Ellary and Castle Sween.
Oban the Gateway to the Isles
Your AccommodationLocal Area InformationEnquire / Book NowOban and MullLocal ActivitiesFantastic Day TripsThe Kintyre Peninsula

The west coastal location of Loch Sween provides a fantastic touring base for Cowal and Bute, the Kintyre peninsula, Mull, the islands and the Western Highlands, everywhere is well placed and easily reached in a matter of hours. Less than 60 minutes drive away lies the busy fishing town of Oban "The Gateway to the Isles" with supermarkets, high street stores, Shops, restaurants and Pubs.
Oban is the largest town between Helensburgh and Fort William and occupies a beautiful setting in the Firth of Lorn. Oban Bay is a near perfect horseshoe bay, protected by the island of Kerrera, and beyond Kerrera is Mull. To the north is the long low island of Lismore, and the mountains of Morvern and Ardgour. Oban has a large Gaelic speaking population. All road and street signs are translated into the Scottish language. Attractions in Oban include the Waterfront Centre, the Cathedral of St Columba, the Oban Distillery, Dunollie Castle, Dunstaffnage Castle and McCaig's Tower, which dominates the town's skyline.
Oban is an excellent base to explore the sights of Kilmartin Glen and you take the ferry from here to visit the Isle of Mull, Tobermory (The fictional Balamory) and the sacred Isle of Iona.
Evenings out and local area information
Your AccommodationLocal Area InformationEnquire / Book NowOban and MullLocal ActivitiesFantastic Day TripsThe Kintyre Peninsula

The town has a population of around 3,000 people and lies at the end of Loch Gilp a branch of Loch Fyne on the banks of the Crinan Canal. Lochgilphead's facilities include a number of excellent Inns / Hotels, Gift Shops, Restaurants, Fishing Tackle hire Shop, Swimming pool, Sports centre, three banks, Supermarket, Community hospital run by the local GPs, 9-hole golf course and a hydrotherapy pool.
The town is also home to a shinty team Kilmory Camanachd and football team called Lochgilphead Red Star. Further afield there is also the world famous Loch Fyne Oyster Bar / restaurant (pictured above) with 30 minutes drive of your accommodation. Further information about Loch Awe and outdoor activities in this region is available at www.loch-awe.com
There are a number of restaurants, bars and cafes in the area. Edo's in Lochgilphead is good. Tayvallich has a Coffee Shop providing snacks and light meals and an Inn / Restaurant providing bar meals. The Cairnbaan Inn overlooking the Crinan Canal has a bar and restaurant. The Crinan Hotel also has a coffee shop, bar and restaurant. Kilmartin House Museum has a cafe and restaurant in an oakwood conservatory overlooking Kilmartin Valley. At Ardfern you can visit The Galley of Lorne Inn and The Crafty Kitchen which serves food and also has a craft shop and exhibitions by local artists. You can sample excellent seafood by visiting the restaurants on The Seafood Trail
Achnamara (4 miles) has a small store. However if you need to stock up prior to arriving at the Ellary and Castle Sween Lodges. The nearest town with facilities (approx 16 miles) is Lochgilphead, which you pass through on your way

West Coast Lodge Accommodation by the Sea
Your AccommodationLocal Area InformationEnquire / Book Now Oban and MullLocal ActivitiesFantastic Day TripsThe Kintyre Peninsula

The Red Squirel – Eagles – Buzzards and Red Deer / Stag are also local residents
Ellary and Loch Sween Scotland's Hidden gem
Fantastic Day Trips
Your AccommodationLocal Area InformationEnquire / Book Now Oban and MullLocal ActivitiesFantastic Day TripsThe Kintyre Peninsula
The Isle of Mull
Just 40 minutes from Oban on the ferry, eagles and otters go about their daily lives. The Isle of Mull has an abundance of wildlife from basking sharks and dolphins to Golden eagles and Corncrakes. Take a day trip and discover about it's history, the hidden geology and structure, the contemporary island culture. Since the first pilgrims arrived in small boats, Scotland has welcomed visitors into the life of it's islands. Mull is a real place with real lives going on round about you, both on land and sea. To the North of the Island lies the lovely fishing capital Tobermory the fictional "Balamory" built as a fishing port in the late 18th century and is now the main village on Mull. It is a picture-postcard of a place with the brightly painted buildings along the main street to the pier and the high wooded hills surrounding the bay. The village has a good variety of shops, hotels, and other accommodation as well as being the administrative centre for the island. The harbour is always busy with fishing boats, yachts and the ferry to and from Kilchoan during the summer months. To the North West Lie the great landscapes and towering hills and Munros such as Ben More.
While on the Isle of Mull, a visit to the sacred Isle of Iona reached by a 5 minute ferry crossing from Fionphort on the North West tip of Mull is highly recommended. If you really want to test you see legs you can also take a boat trip from here to the Isle of Staffa and Finglas cave!
The Isle of Iona
While visiting Mull the sacred Isle of Iona lies to the West of Mull and is accessed by a short 10 minute ferry crossing from Fionnphort. Iona is a tiny island, of typically Hebridean beauty, it holds a unique place in the story of Scotland and kindles the imagination of thousands who journey there each year. Yet it is also where people have lived, worked and worshipped over many centuries. To and from its shores have come monks and pilgrims, clan chiefs and kings, artists and craftsmen, farmers and fishermen. Of the earliest, we catch only fleeting glimpses now.
With luck you can also see Otters, Seals, Porpoises, Gannets, Peregrines, Artic Terns, Cormorants, Buzzards. Deer tend to keep to the high ground during the summer. The islands provide total peace and tranquillity. The landscape and history together with the hospitality of its people provide a wonderful escape from the pressures of modern life. There are towering hills and Munros such as Ben More, tranquil valleys, colourful wild flowers and beaches and bays packed with wildlife. Whether you see Mull on foot, bike, bus or car.
The Isle of Mull is renowned for it's landscape, wildlife, beaches and hills – but there's a lot more to Mull than this.
Loch Awe and Fishing
Less than 1 hour to the North West Lies magnificent Loch Awe the third largest freshwater in Scotland with a surface area of nearly 15 square miles. It is the longest freshwater loch in Scotland, measuring 25.47 mile from end to end with an average width of 0.62 miles. Loch Awe is renowned for its trout fishing attracting anglers from all over the world. Salmon also pass through the loch, coming past the barrage in the River Awe and continuing into the River Orchy. Loch Awe also contains several ruined castles on islands, and at the northern end has one of the most photographed castles in Scotland, Kilchurn Castle, which in summer may be visited by a short boat trip or by a half mile walk from a small car park just after the bridge over the River Orchy. It was from Loch Awe and surrounding area that Clan Campbell established itself as a powerful family.
There also a small Island within Loch Awe called Innis ChonnellAlong with being extremely productive to anglers, Loch Awe is the site of two hydroelectric projects. One is a conventional turbine power station, with water extracted from the River Awe at a barrage, fed through underground pipes, and generating electricity as it flows into Loch Etive. The second is a more unusual pumped storage project, using a man-made loch in the hills above the loch; water is pumped up during times of surplus power, and used to power generators at times of peak demand. The second project, known as Cruachan from the name of the hill above, has a visitor centre, which includes tours into the heart of the mountain. Throughout there are waymarked walks, which lead to a beautiful pond and formal garden which display a wide variety of Himalayan and Oriental plants. Continue up the richly planted hill slopes, which rise to 450 feet to a dramatic viewpoint overlooking the Eachaig valley and the Holy Loch. Refreshments are available. The Botanics Shop sells a range of books, gifts and plants some of which can be found in the garden. Facilities are also provided for those less able, including wheelchairs.
Boat Trips to the Isle of Islay and Jura
The ferry port of Kennacraig is less than 1 hour away from Loch Sween inviting you to a magical trip to the Isles of Islay and Jura known as "The Queen of the Hebrides" (Banrìgh nan Eilean)
The regular ferry service of up to 5 return journeys a day offers a pleasurable cruise of just over 2 hours to either Port Askaig or the capital town Port Ellen. Islay is the southernmost island of the Inner Hebrides, just to the west of Jura and around 25 miles (40 km) north of the Irish coast, which can be seen on a clear day.
In Gaelic a native of Islay is called an Ìleach, pronounced and the plural is Ìlich: Scottish Gaelic is spoken by about a third of the population. The island's capital is Bowmore, famous for its distillery and distinctive round Kilarrow Parish Church. Port Ellen is the largest settlement. Islay is the fifth largest Scottish island and the sixth largest island surrounding Britain with just over three thousand inhabitants.
It has a total area of almost 620 square kilometres (239 sq mi). Its main industries are malt whisky distilling, and tourism largely based on whisky and birdwatching. The island is home to many different species of wildlife, including Barnacle Geese, Grey Seals, Otters, Shags, Red Deer, Buzzard, Peregrine, Golden Eagle, Rock Dove, Guillemot, Razorbill, Black Guillemot, Raven, Chough, Wildcats and Adders. The influence of the Gulf Stream keeps the climate mild compared to mainland Scotland. Snow is rarely seen and frosts are light and short-lived. One might expect therefore a gardener's paradise and indeed, it is not unusual to see exotic plants growing in gardens.
Inveraray it's castle, the old Jail, the Puffer and museum
Your AccommodationLocal Area InformationEnquire / Book NowOban and MullLocal ActivitiesFantastic Day TripsThe Kintyre Peninsula

Well worth a visit during your stay and less than 30 minutes drive is the lovely town of Inveraray (Inbhir Aora in Gaelic) a former royal burgh in Argyll and Bute, located on the western shore of Loch Fyne near its head. One time traditional county town of Argyll and ancestral home to the Duke of Argyll, who founded the town in 1745, alongside his new home, Inveraray Castle. Its distinctive white buildings on the loch shore make it very photogenic and it is a very popular tourist destination, with a number of attractions in addition to the castle. The Georgian Inveraray Jail in the burgh is now a museum. Other attractions include the Argyll Folk Museum at Auchindrain. The Celtic Inveraray Cross can also been seen in the town. The Arctic Penguin ship Maritime Museum is moored at the pier, along with the Clyde puffer VIC 72, renamed Eilean Eisdeal.

Panorama of Inverary (left) the high street, the harbour, the castle and estate (right)"
Seil, Luing and Easdale Island
Approx 90 minutes drive away lies the delightful inner hebridean chain of 3 small Islands. Accessed via the unique and only bridge over the "Atlantic" Seil Island leads to the historic Easdale slating Island via foot ferry to the West from Ellanbeich. To the south lies the delightful island of Luing accessed via car ferry. Easdale made famous by it's many picture postcard appearances has a population of around 150 people and the centre of population including a village shop and Pub is based around the beautiful harbour inlet. Luings major areas of population lie around Tobernochry and Cullipool and is accessed by a short car ferry crossing from the south of Seil Island.

The bridge over the Atlantic (left) leads to Seil, Luing (centre) and Easdale (right)
The Kintyre Peninsula
Your AccommodationLocal Area InformationEnquire / Book NowOban and MullLocal ActivitiesFantastic Day TripsThe Kintyre Peninsula

To the South lies the wonderful Kintyre peninsula about forty miles long containing everything which makes Scotland such an attractive holiday destination. Here you will find more hills, lochs, rivers, forests, seascapes, sandy beaches, history and archaeology and the sea food which have made Scotland so famous. Palm trees and many other tropical varieties benefit from the effect of the Gulf Stream and the low annual rainfall.
The south of the Peninsula boasts the world famous "Mull of Kintyre" (pictured above) and the busy capital town of Campbeltown, from here you can walk out to Davaar Island at low tide to see it's caves and paintings. To the north west lies Tayinloan where you can take the ferry to the magical Isle of Gigha "Gods Island in Gaelic" and to the North East the harbour village of Carradale affords spectacular views of the Isle of Arran, along with picture postcard memories to savour.
To the far North of the Kintyre peninsula lies colorful Tarbert by Loch fyne, with its delightful harbour, Pubs, Restaurants, Shops. Kintyre is almost unique, the very cradle of Celtic Scotland, and According to Norse sagas, King Magnus Barelegs, while trying to re-establish control over parts of western Scotland reached an agreement with King Malcolm of Scotland that Magnus could have all the islands off the west coast of Scotland round which he could sail his boat.
Determined to have the Kintyre Peninsula as well, King Magnus had his warriors drag a Viking longboat across the narrow lands at the northern end of the peninsula a feat repeated by King Robert the Bruce in the 14th Century.
The endangered Red Squirrel
Around the Argyll and Kintyre peninsula, you may see some of the endangered Red squirrels they have a typical head to body length of 19 to 23 a tail length of 15 to 20 cm and a mass of 250 to 340. The red squirrel is slightly smaller than the common eastern grey squirrel, unfortunately the grey squirrel is the main reason for the red squirrels decline and you will see particularly in this area of Cowal, the many measures taken to try to preserve this endangered species such as their own rope bridges and tunnels across the busier roads !

General Enquiries
The Lodge Lochgilphead Argyll
This is full self catering – Hire charges only include Pillows, Blankets and Duvets. All Heating and Electricity is supplementary by metre reading.
Pet Friendly – Yes by prior arrangement only, up to 2 well-behaved pets are welcome a supplement of £20 per pet per booking applies. Pets must be kept under strict control at all times around the gardens and must not be allowed in the bedrooms, or on any furniture.
General Booking enquiry – please note this does not constitute a booking