North Sea View
Huna near John o Groats
Caithness
North Highlands
KW1 4YL
Offering lovely Sea Views close to John o Groats this lovely character Cottage has been beautifully restored to provide comfortable Holiday Accommodation with all Modern Luxury keeping as many of it's original features as possible.
Originally the Smiddy served the local communities of John O'Groats and Canisbay as well as the island of Stroma seen from the Windows, however the last blacksmith extinguished his forge for the final time about sixty years ago !
The modern day semi-detached Smiddy Cottage sleeps 4 up to 5 people in two Double Bedrooms (both en-suites) with full floor, wall and loft insulation, Central heating and a new roof (utilising the original Caithness roof slates) there is a also a Luxury kitchen extension and the gardens of the cottage slope down to the waters edge.
The front windows have Sea Views of the Pentland Firth, the Isles of Orkney and Hoy and perfect for the early sun rises. This cottage forms the perfect base for exploring Caithness, Sutherland, the North Coast, Cape Wrath and Orkney. From March to September Breeding Puffins live here and once a month on average the famous and mysterious Northern lights are seen too !
Availability and Secure online bookings – please enter your dates below
Unique North Coast Cottage Pets Welcome with Hot Tub
Enquire / Book NowGeneral Enquiries
Semi-detached Waterside Cottage sleeps 4 up to 5 people
Unique Waterside location with Gardens sloping to the Sea
Living room / Diner with Table Chairs
TV / DVD & CD Player
2 Double en-suite Bedrooms
Additional Z Bed for 5th Person
Family Bathroom with bath / shower W/C and Washbasin
Fully fitted kitchen including Oven / Hob, Fridge / Freezer, Microwave, Washing / Dryer
Sitting Room with Sofas and Chairs
Full Electric Storage Central Heating
Off road parking
Front and Rear gardens
Bedding and Towels
Broadband WiFi available
NO Pets Allowed Inn shop and Restaurant 1.5 mile
The property is on the North Coast 500 route
Great place to see the Northern Lights, Wildlife Watchers, Walking
Self Catering Accommodation – near John O Groats
Enquire / Book NowGeneral Enquiries
The Smiddy Cottage is easily accessed from the A836 trunk road with off road parking for 2 cars. Refurbished yet retaining much of it's original charm the Smiddy offers very comfortable accommodation with all 21st century Luxury, Full double glazing and total control electric heating throughout. Its thick stone walls keeping out the cold winters and oppressive summer heat waves away.
The Cottage features a modern airy open Plan Living, Kitchen and Dining Room area with relaxing sofas, and flat screened TV / DVD
The Luxury fully fitted kitchen includes washing machine, fridge/freezer, microwave oven, Kettle, Toaster, Crockery, Utensils and all Cutlery
Double Bedroom one with En-suite toilet/shower Room, ample hanging and drawer space
Double Bedroom two with "Jack and Jill" En-suite toilet/shower/bath room, ample hanging and drawer space
The Corridor links living and sleeping rooms and has a Vestibule reception area and the corridor also has two large walk in cupboards.
Sorry no pets, no Pets are allowed at this property
Outdoors – the Large grassy back garden leads down to sea shore. The Smiddy is situated on the sea shore 1.5 miles from John, O'Groats midway between the Orkney ferry terminals at John O,Groats and Gills Bay.
All Mobile networks have good coverage here and WiFi is available if required.
"Fantastic views" out to the Orkneys and the Pentland firth from the comfort of this holiday cottage. Further information available on this area available at www.caithness.org
Nowadays the great escape to the Northern Highlands and beautiful Far North Coast is made from Inverness in just over 2 hours and offers a breathtaking unforgettable journey through the length of Scotland and the Smiddy Cottage provides a warm welcome to all travellers.
Enquire / Book NowGeneral Enquiries
Is John O'Groats the most Northern point of mainland Britain?
Not quite…Dunnet Head is Britain's most northerly point, it is also further north than Moscow and Stavanger in Norway – but more easily accessible.
Standing high above the surrounding Pentland Firth the views extend all the way from Cape Wrath at the north-western tip of mainland Scotland to Duncansby Head at its much closer north-eastern tip. In some ways, though, it is Hoy and Orkney to the north that command most attention.
And if you can drag your eyes away from the shoreline and seascape, the views inland to the surprisingly pointy peaks of Morvern and Maiden Pap simply complete the stunning vista.
John o Groats and Caithness Wildlife
Up to 42 species of bird are regularly seen in this area, also living with you during your stay are Seals, Dolphins and even whales and a whole host of other wildlife which you may see from the windows of the Smiddy or down on the Beach !
If you want to see breeding Puffins just a short take a trip to Dunnet head between March and September and also Dunnet Bay is home to the Great Northern Diver, Common Scoter, Goldeneye, Red-Breasted Merganser, ducks and gulls. White-fronted Geese overwinter in nearby Loch Mey. Except for the cliff breeding colonies, there are birds in residence year-round.
You may well recognise these 2 lovely images below…perhaps on a postcard or even the TV. Yes this is Dunnet Head… one of the most photographed locations in the world and for a week or two it could be part of your back garden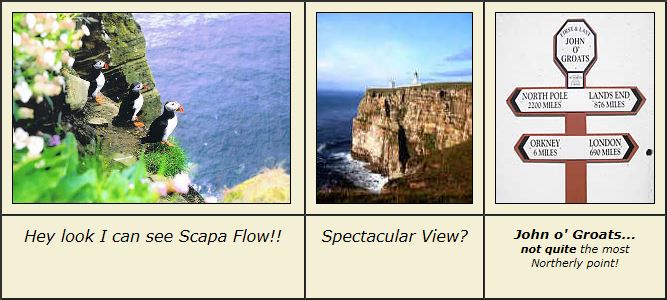 Cape Wrath, Kyle of Tongue, John O'Groats
Enquire / Book NowGeneral Enquiries
The areas of Caithness and Sutherland form Scotland's northern wilderness offering superb panoramic mountain views and stunning scenery. Their scenery varies from wild cliffs and tiny islands to lonely moorland and remote golden sandy beaches. You will find Majestic castles like Dunrobin, Old Wick and Girnigoe, dozens of ancient monuments, quality tweeds and woollens, whisky distilleries such as Clynelish Distillery. Plus tree-lined twisting roads, spectacular bays, pretty harbours and foaming rivers rich in Brown Trout and Salmon.
The Strath of Kildonan (Smaller images) of Berriedale, Helmsdale and Dunrobin Castle
Golfing and Fishing Holidays
Championship golf courses such as Raey and places where you can fish for salmon and trout, an abundance of wildlife, excellent leisure pursuits, Salmon leaping at the Falls of Shin Visitor Centre , Falconry Displays. Why not hit the Highland trail and join Scotland's great gold rush. Many hundreds did in the 1880s and gold is still to be found in the local streams !

Castle Mey, it's Lovely gate house and wonderful gardens
Activities in Caithness and Sutherland
For the highly active there are a wide range of pursuits from horse riding / Pony trekking, surfing, sail boarding, land yachting, kites & kite buggying, sub-aqua diving and sailing, places to climb and walk. For the less active and just in need of a rest the beaches are amazing and often you will find one all to yourself. The area has much to offer for those interested in History and archaeology. With a local guide leaflet you can follow trails or head for one of the many ancient monuments.
Dunnet head, it's famous lighthouse and views (left) and a few of its many local residents
The Orkney Islands
Enquire / Book NowGeneral Enquiries
While staying at the Smiddy, why not also sample the delights of the beautiful Orkney islands. There are more than 70 islands in the Orcadian Archipelago…..of which 17 are inhabited. Access Orkney daily in the summer from John o' Groats, or Scabster (Thurso) throughout the year… choose from island-hopping, pottering around ancient sites and dreamlike beaches, spending time browsing in craft shops and galleries, sample wholesome cuisine and drink the world famous ale and whisky..

Select Images of the beautiful Orkney Isles
Orkney Culture and Scapa Flow
Orkney has much to charm the visitor – historic attractions of global significance, diverse wildlife in a pure and serene environment, a rich cultural heritage, and the same traditionally warm and welcoming people you will find in Caithness.
You have a clear view of Scapa flow from the window of Dunnet Head cottage, why not take a closer look at Scapa flow during your visit to Orkney and it's significant role in both wars, the great battleship Royal Oak was sunk here in October 1939 with the loss of 833 men and lies here with a number of other warships to this day, find out about this and much more at the new Naval museum….the highly active can also scuba-dive under supervision to view these monster ships lying deep in the flow.

Select Images of the beautiful Orkney Isles
Orkney Ferries / Orkney Car Hire
A day trip to Orkney from Dunnet Head Cottage is highley recommended. For the day tripper on foot the fantastic JOG Ferry Tel 01955 611353. Operating from John O' Groats to (Burwick) Orkney just 40 minutes crossing time this ferry runs every day through the summer from May to the end of September, you can choose from a variety of tours and the maxi day tour at just £37 is fantastic value. You can also access Orkney (12 months/ all year round) from Scrabster (Thurso) via North link ferries. Return Adult fare from just £24 ( Return car fare from £80 and perhaps a little expensive for just a day trip) however you can easily pick up a hire car at Stromness (Orkney) from either Orkney Car Hire or Orkney Car rental from just £32 per day.
[/one_half]