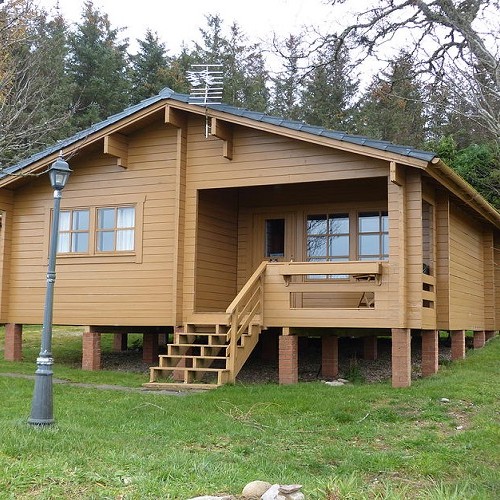 Sea View Log Cabins
Buckie Moray
Firth Coast
AB56 5JB

Check Availability / Book Now
Two individual Timber Log Cabins on the Moray Firth Coast, remote with stunning elevated Sea Views. These comfortable Self Catering Log Cabins are situated within working farm land, surrounded by Idyllic Scottish countryside offering a remote feel, yet close to the Moray Firth's Finest Beaches and picture postcard villages.
At 600 feet above Sea Level both Log Cabins enjoy magnificent Sea Views over the Moray Firth and Highlands of Scotland. This is the perfect location for exploring the Eastern Highlands, Grampian's, The Whisky Trail, Inverness, Loch Ness and the Black Isle.
The Moray Firth coastline, is famous for it's many Seals sometimes Dolphins and maybe the mysterious "Aurora Borealis" Northern lights. It is said that one third of the whole worldwide marine life from Seals and Dolphins to fine Crab and Lobster are said to be preserved on the Moray Firth coastline.
Availability and Secure online bookings – please enter your dates below
Unique North Coastal Cottage Pets Welcome Hot Tub
Check Availability / Book NowGeneral Enquiries
Remote Coastal Cabins on working farm sleeps 4 and up to 6
Countryside elevated location distant Sea Views
Living room and Kitchen diners with TV / DVD & CD Player
Ben Vorlich Cabin sleeps up to 6 – 1 Double Bedroom plus optional Z Bed & 1 Bunk Bedroom with full size single bed
Ben Lawers Cabin sleeps 4 – 1 Double Bedroom & 1 Bunk Bedroom
Family Bathroom with bath / shower W/C and Washbasin
Fully fitted kitchens including Oven / Hob, Fridge and Microwave
Free Broadband WiFi
Sitting Room with Sofas and TV / DVD
Full Central Heating
Natural Highland Spring Water Supply
Free Off road parking
Bedding and Towels
Washing / Drying Facility
Sorry No Pets Allowed
Town with shops Restaurants Inns and Beaches 2 miles
Great place to see the Northern Lights, exploring the Whisky Trail and fantastic beaches
Sea View Log Cabins Accommodation
Check Availability / Book NowGeneral Enquiries
A choice of two self-catering Scandinavian Pine-log Cabins situated on a working farm surrounded by peaceful Scottish countryside, yet close to Moray's exciting north-east coast with its quaint villages and superb beaches. At 600′ above sea level the cabins command magnificent views over the Moray Firth and the Highlands of Scotland. It's the perfect location for exploring the Eastern Highlands, Inverness and the Grampian. A rich and varied holiday awaits you.
Please note there are 5 steps up to the door of each Cabin
BEN VORLICH Cabin – Perfect for the larger family of 2 adults with 2-4 children, OR up to max. of 5 adults. The Kitchen is fully fitted, with Oven / Hob, Fridge Microwave Oven. Other essentials equipment such as glasses, crockery, cutlery and a corkscrew are also provided for your convenience.
The Bathroom quality 3 piece bathroom suite, consisting Bath with overhead shower, Wash Basin and WC. Double Bedroom with ample hanging, drawer space and sea views. Twin & bunk
Bedroom 2 full single bunk beds & 1 full size single bed with ample hanging and drawer space. The Lounge / Diner includes 1 Sofas and 2 Arm Chairs, Colour television with WIFI access, Dining Table and seating for 4 people. The Bathroom quality 3 piece bathroom suite, consisting Bath with overhead shower, Wash Basin and WC
BEN LAWERS Cabin – Perfect for 2 adults on their own or with 1-2 small children in bunk beds. Double Bedroom with ample hanging drawer space and sea views. Bunk Bedroom 2 single bunk beds with ample hanging and drawer space and sea views.
The Bathroom quality 3 piece bathroom suite, consisting Bath with overhead shower, Wash Basin and WC.
The Kitchen is fully fitted, with Oven / Hob, Fridge Microwave Oven. Other essentials equipment such as glasses, crockery, cutlery and a corkscrew are also provided for your convenience.
The Bathroom quality 3 piece bathroom suite, consisting Bath with overhead shower, Wash Basin and WC.
Both Sea View Log Cabins are fully electrically heated. A cot, play pen and high chair are also available for the larger Ben Vorlich Cabin.
The nearest Localities of Buckie and Cullen
Check Availability / Book NowGeneral Enquiries
Welcome to the beautiful Moray Firth Coastline, offering miles and miles of beautiful coastline to explore with numerous caves and ruins of castles providing homes for a wide range of wildlife.
Just 3 miles away from Maryhill farm lies the Port of Buckie still to this day an active fishing port. Buckie caters for most shopping needs – example a new Tesco opened in November 2010. Buckie also has a 25 meter swimming pool, two golf courses, play parks, garages and organised boat trips for dolphin watching and fishing.
Only 7 miles away lies the extremely attractive seaside town of Cullen built around the mouth of the burn of Deskford has a population of approx 1500 people. Noticeably busier in summer than winter due to the number of holiday homes owned, the village is renowned for it's excellent ice cream and speciality locally caught seafood. There are 2 pubs and a Hotel in the centre of the village and well stocked spar shop and a fantastic sandy beach which encircles the whole bay area. The organs of the wife of Robert the Bruce are said to have been buried in its old kirk (church) after her death in the area. Robert the Bruce made an annual payment to the village in gratitude for the treatment of his wife's body and its return south for burial.
The village is noted for Cullen Skink, a traditional soup made from smoked haddock, milk, potato and onion and its spectacular former railway viaducts, two of which are now part of the national cycle network. These bridges were necessary at considerable cost due to resistance against the railway line being routed any closer to Cullen House. The most westerly, and by far the longest, viaduct is highly photogenic, and appears often in tourist guides and in Scottish calendars. Near Cullen is the peak Bin Hill, which is visible from some distance such as from Longman Hill.
The village also has an impressive golf course, and the Crannoch wood which offers good views of the area. The 1086 ft Bin Hill, Morayshire or Bin of Cullen is a nearby hill with an associated footpath.
Aberdeenshire and Moray – their Fantastic Coastlines
Aberdeenshire has some of the most wonderful rural scenery to offer for you, along with the pretty local village of Gardenstown, there are also the coastal villages of Cullen, Findochty, Portsoy and Banff. So If you are looking for a relaxing holiday, somewhere to wind down and relax, then look no further, this accommodation offers you that and so much more.
The Moray Firth coast is also haven for wildlife, and you can often see dolphins, seals, otters, whales and falcons throughout the year. Roughly one half of its border consists of amazing coastline ranging from the awesomely rugged to the most wonderfully beautiful. The sunsets on the Moray coastline in themselves are renowned for their beauty as many a visitor will testify, its Northerly latitude and position making it a good place to even see the mysterious "Aurora Borealis" Northern lights.
The Landscapes
The land border runs through tremendous countryside, craggy mountains and desolate moors all indicating the feast of wonder and enjoyment held within an area of outstanding natural beauty. Aberdeenshire is awash with history and historic buildings, Neolithic stone age circles, iron age pictish carved standing stones, vitrified forts and medieval castles and keeps. Spend time touring the Moray cost, 16 miles away, with its picturesque fishing villages. fishing heritage centres, sea aquarium and historic harbours. Just a short distance away the Cairngorm National Park has an excellent selection of Skiing walking and cycling trails including hill, forest and river walks.
Evenings out and local area information
Check Availability / Book NowGeneral Enquiries
The Log Cabins are located 2 miles from the nearest Coastal Fishing Village of Buckie. This busy little town has Shops, Cafe, Restaurant's, harbour and marina and number of leisure facilities including a leisure centre, two golf courses and two outdoor bowling parks. The stunning Bow Fiddle Rock can be seen near Portknockie to the north east of Buckie and the stunning beaches with spectacular long walks along the coast and abundance of wildlife add to the appeal of the area. Wildlife includes dolphins, which can be seen from the beach at the mouth of Spey Bay – also a good spot for observing otters and ospreys. Long-distance footpath the Speyside Way starts or finishes from here.
Fishing the Rivers – The Deveron, Spey and Findhorn
Two wonderful rivers, the Spey and the Findhorn, lend much to the character of the area and many smaller rivers and streams drain the interior into the Moray Firth. Typical breeding species are Dipper, Grey Wagtail and Common Sandpiper. Goosanders inhabit the smaller upland tributaries with a few Red-breasted Mergansers breeding on the lower reaches. There is relatively little standing water in Moray & Nairn but Lochs Oire, na Bo, Loy and Spynie provide winter wildfowl interest; Loch Spynie in particular holds a spectacular winter goose roost, and a rich wetland breeding bird community in summer. The Deveron River, situated at Turriff is mid way between the river mouth at Banff and the headwaters above Huntly and offers the angler some of the finest salmon and trout fishing in Scotland. Bookings can be arranged via Frank and Carol Henderson, Turriff Tackle & Trophies Tel 01888 562428. Aberdeenshire also supports two other fine rivers the Dee and the Don and sea fishing can be obtained on the Moray Coast.
Turriff
Close by is the market town of Turriff gained burgh status in 1512. Over the years, Turriff has developed as an important market town and service centre for the agriculture sector. Modern day Turriff is still the main centre for its rural farming hinterland, with a range of local shops, swimming pool, golf course, caravan park and sports centre. The cottages are close to nearby Turriff and give easy access to golf, shooting, fishing, shopping, pony trekking, historic buildings, castles, whisky distilleries (The Whisky Trail) and some of the most wonderful scenery that rural Aberdeenshire has to offer for you and your family. Turriff Show is perhaps best known for the 'Turra Show'. Dating from 1864, this annual two-day agricultural show in August is one of the largest in Scotland, regularly attracting around 40,000 visitors per annum, and serving to highlight the importance of agriculture to the local area. Turriff Golf Course is a well-established parkland course with wonderful views. Founded in 1896 and extended to 18 holes in 1976, its lush, green fairways have been sympathetically laid out on the southern banks of the River Deveron.
Exploring the Moray Coast Video
Skiing in the Cairngorms – yes you can !
Is within easy reach and on a clear, sunny day and with good snow, you can enjoy some decent skiing. However, at weekends, in conditions like these, expect the slopes to be very busy. Glenlivet ideally placed in the Cairngorms, offers easy access to both alpine (downhill) and nordic (cross-country) skiing, as well as the increasingly popular snowboarding. The high season is from January to April but it is possible to ski from as early as November to as late as May. (3 and 7 day Special prices available…please ask for details of availability)
The Lecht Ski Resort
Within and easy 60 minute drive you can reach the Lecht ski resort www.lecht.co.uk Tel (01975) 651440. This fantastic activity centre is best suited to beginners and intermediates, featuring an excellent Dry Ski slope. The longest natural run being 900m, there is also a network of short lifts on both sides of the A939 Cockbridge–Tomintoul road. Straddling the A939 on the famous Cockbridge to Tomintoul road, the Lecht 2090 sits feet above sea level amid the beauty of the Eastern Cairngorms. This natural playground offers exciting outdoor activities throughout the year from Deval Karts / ride (incl. Uplift), Quad Bikes / session, Fun Karts / session, Kiddie Karts / session, Chairlift / return ride, Summer Ski or Board.
Resort altitude: Top: 793m – bottom: 643m. Lifts in area 14 – up to date snow reports also the www.lecht.co.uk/wap
Local Activities
Check Availability / Book NowGeneral Enquiries
The Wildlife and Nature in this region
The sandy coastlines of Morayshire and Aberdeenshire stretch from Stonehaven on the East coast to Nairn in the west. Short stretches of cliff run from Hopeman to Covesea and from Portknockie to Findochty and populations consist of Fulmars and Kittiwakes with a smaller number of Shags and Black Guillemots. The best rocky shores are between Burghead and Hopeman, at Lossiemouth and between Portgordon and Findochty.
Inland the areas then extend southwards to the Cairngorm mountains. Nearly half of the land exceeds 250m altitude and is therefore upland in nature. With the higher hills exceeding 600m including the arctic-alpine Cairngorm plateau, home to Ptarmigan, Snow Bunting and Dotterel. The extensive lower moorlands hold a good variety of scarcer species such as Merlin, Twite, Ring Ouzel and Whinchat. Golden Plovers are locally numerous, joined by a few Dunlin in wetter bogs. The extensive woodlands are largely composed of conifer plantations and in many areas these are sufficiently mature to have been colonised by Crested Tits, Siskins and crossbills. Capercaillies survive in small numbers. The younger moorland plantations hold breeding Black Grouse and Short-eared Owl and the birchwoods of the upland glens ring with the song of Willow warblers, Tree Pipits, Redstarts and Spotted Flycatchers in spring.
Winter waders include Purple Sandpipers in the muddy estuaries and the wide expanse of Findhorn Bay. In the Lossie and Spey rivers a wide variety of wildfowl, gulls and terns feed and roost on the estuaries and fishing ospreys are a regular feature in summer. Offshore, Burghead Bay and Spey Bay are well known for their flocks of wintering sea ducks with impressive rafts of scoters, Long-tailed Ducks and Eider. You will find some great viewpoints along the way, in particular looking over the broad sweep of Cullen Bay with its lovely golden sand and the Fiddle Rock – a curiously shaped rock formation – and past the opening known as the Whale's Mouth.
The Moray Whisky Trail and Highland Games
Dufftown is famous for 2 annual Whisky Festivals in May and September. Dufftown itself is at the very heart of the Malt Whisky Trail. Whisky nosing and tasting sessions can be arranged all year at the Dufftown Whisky Shop. A chance to sample 6 different whiskies and to learn what makes them so different. The Whisky Festivals in 2006 are: the Spirit of Speyside Whisky Festival from Friday 28 April – Monday 1 May and Autumn Speyside Whisky Festival 22 – 25 September. From May to September each year, there are whisky nosings on Tuesday evenings and Ceilidhs on Thursday evenings. The Glenfiddich distillery is open to the public (free) while close by is the picturesque ruined Balvenie Castle with it's renaissance facade maintained by Historic Scotland. Other local distilleries to visit and whiskies to taste include Macallan, Glen Grant, Glenfarclas, the Glenlivet (free tours), Aberlour and Cardhu.
Each year the village of Braemar, Scotland invites people from all over the world to attend the Braemar Gathering and Highland Games. The Gathering is always held on the first Saturday in September and it is perhaps the most famous and finest Highland Games anywhere. It features the finest Pipe Bands, pipers, Highland dancers, and athletes in a beautiful setting surrounded by hills. The patron of the Gathering is Her Majesty the Queen.

Activities on your doorstep
Here is a summary of attractions within this local area. Golf Courses this location provides easy access to many other wonderful golf courses; Huntly, Banff, Macduff, Oldmeldrum and Ellon to name but a few. Equestrian Activities – Aberdeenshire has the largest concentration of horses in Scotland and is the second largest in the UK. With this in mind you can imagine the amount of equestrian activities that are available around Turriff and the surrounding countryside; pony trekking, horse riding, driving and indoor & outdoor equestrian centres to name but a few.
Hill Walking and Climbing – One of the best ways to see any area and take in the splendour of the open countryside is on foot. From costal walks on the moray firth, to viewing the iron age vitrified forts while hill walking, or just simply enjoy and take in the spectacular views of Aberdeenshire. For the climber the Cairngorms are only an hour and a half's drive from Turriff and offers some of the best climbing and Skiing that Scotland has to offer.
North East Scotland Falconry Centre – Offers an amazing opportunity to spend time with birds of prey. Enjoy learning basic falconry skills and handling techniques, meeting the birds and gaining an insight into the history of falconry. After an initial lesson you will be given the opportunity to handle and fly a selection of birds under the expert supervision of one of their experienced falconers. Or simply visit the centre and watch their experienced handlers display and fly the birds.
The Finest Scottish Castles
Fyvie Castle – Ghosts, legends and folklore are all woven into the tapestry of Fyvie's 800-year history. Each tower of this magnificent Scottish Baronial fortress is traditionally associated with one of the castle's five successive families – Preston, Meldrum, Seton, Gordon and Forbes-Leith. You can see their influences today among the medieval stones and the lavish Edwardian interiors, and imagine what castle life must have been like for the families and their royal guests – among them Robert the Bruce and Charles.
Delgatie Castle Turriff – Most recently the home of the late Capt. Hay of Delgatie, Feudal Baron, and is the Clan Hay Centre, this uniquely Scottish Castle has largely been in the Hay family for the last 650 years. It was taken from the Earl of Buchan after the Battle of Bannockburn in 1314, when Robert the Bruce routed the invading English army. Mary Queen of Scots stayed at Delgatie for three days after the Battle of Cirrichie in 1562. Her bedchamber is on view to the visitor. Aden Farming Museum – Relive the story of our famous farming past in the beautiful surroundings of Aden Country Park. Start at the unique, semi- circular Home Farm steading by exploring the "Aden Estate Story" and the "Weel Vrocht Grun" exhibitions. Visit Hareshowe, a working farm set in the 1950s. Award-winning displays & audio-visual shows, Guided tours and costume guides, See oatcakes baked at the Horseman's House and verity of other Exhibitions Aberdeenshire has a rich culture and has so much to see and do, from visiting the Pictish Standing Stones going back nearly 3,000, follow the Whisky Trial and visit some of Scotland finest distilleries, the Moray Coast with its bottle nose dolphins and small picturesque fishing villages. There is so much to visit, we can guarantee you wont be disappointed.
Further afield there are literally dozens more Castles to visit from Ballindalloch Castle near Aberlour on the river Spey to Balmoral a beautiful drive over the mountains to Royal Deeside where you are spoilt for choice with Drum, Crathes, Craigevar or castle Fraser. Between Forres and Nairn is Brodie and Cawdor Castles and to the east of Dufftown is the ruined Huntly castle and close to Turiff is Fyvie castle above with its 5 towers and 5 centuries of history, further a field castles such Balmoral, Braemar, Crathes and castle Urquhart on Loch Ness or cities such as Aberdeen, Elgin, Forres and Inverness are easily accessible.
General Enquiries
Check Availability / Book NowGeneral Enquiries
Maryhill Farm Estate Buckie Moray Firth Coast AB56 5JB – Listed since 2008

Log Cabin Sleeping 4 people Lowest Season Weeks from £280, Highest Season Weeks £450
Log Cabin Sleeping 6 people Lowest Season Weeks from £320, Highest Season Weeks £500
Hire charges only include all Heating, Electricity, Towels and Bedding.
Pet Friendly – really sorry this listing does not accept Pets.
See More North Coasts & Orkney Cottages ?
General Booking enquiry – please note this does not constitute a booking
'Property Reference '8'

General Booking Terms and Conditions