Highland Lodge with Hot Tub available weeks 7th, 21st October
Sea View Cottage
Navidale near Helmsdale
Northern Scottish Highlands
KW8 6JS

Highland Cottage Sea Views Hot Tub available week 19th August

This unique detached character cottage enjoys stunning Sea Views with all modern self catering comforts including Conservatory Full Central Heating, two bathrooms, Sauna, homely Log Fire and private outdoor Hot Tub (with £120 weekly Supplement). Sea View is a restored former croft cottage enjoying with a remote feel, yet less than 1 mile from Shops Inns Restaurant and sandy beaches.
The cottage a little over 1 hours drive from of Inverness is the ideal touring base for Caithness, Morayshire, Ross-shire, Wester Ross, Sutherland, Caithness and the Orkney Islands.
After enjoying a breath taking unforgettable journey to the Northern Highlands of Scotland, arrive to total comfort and relaxation and enjoy spectacular views of the North Sea and Northern skyline from the Northern facing conservatory. The cottage a little over 1 hours drive from of Inverness is the ideal touring base for Caithness, Morayshire, Ross-shire, Wester Ross, Sutherland, Caithness and the Orkney Islands.
Situated within walking distance of the picturesque coastal village of Helmsdale and its the local Harbour. You can also take a train ride, fish for Brown Trout & Salmon in the local River Helmsdale, play golf on the many local links courses, Pan for Gold, find rare Dinosaur Fossils and maybe a wee glimpse of the famous and mysterious Northern lights !
So welcome to the Northern Highlands, the sunny east coast & it's fantastic beaches !
Pet Friendly – yes well-behaved Dogs are welcome, and this property has an enclosed garden so long as the driveway gate is closed. However it must be noted that the Cottage is surrounded by working croft fields containing livestock all year round, so all Dogs must be kept under strict control out-with the property and Garden, and ideally on at least a long leash within the Garden areas, as we cannot guarantee it to be 100% Pet Secure.
Availability and Secure online bookings – please enter your dates below
Unique 3 Bedroom Remote Detached Cottage sleeps up to 6 people
Coastal Hillside location stunning Sea Views
Living room and Kitchen diner with sea views
TV / DVD & CD Player
2 Double Bedrooms & 1 Twin all with TV's
Downstairs en-suite Bathroom with Jacuzzi bath / rainfall shower
Downstairs Small W.C and and Washbasin
Upstairs Family bathroom with large shower cubicle, Infrared Sauna, W/C and Washbasin
Fully fitted kitchen including Oven / Hob, Dishwasher, Fridge Freezer, Microwave, Washing / Dryer
Free Broadband WiFi
Conservatory
Sitting Room with Sofas and 32'TV / DVD
Central Heating and Open Fire
Off road parking
Optional extra Private Hot Tub – £120 Weekly Supplement (not per person)
Enclosed garden (not Pet Secure) and driveway parking for up to three cars
Infrared Sauna
Bedding and Towels
A high chair is available
Garden Fire Pit
Inn village shop Restaurant and Beaches 1 mile
Up to 2 Well Behaved Pets Welcome
Great place to see the Northern Lights, One of Europe's best locations for Dinosaur Fossil finds, Find Gold found in the local hills !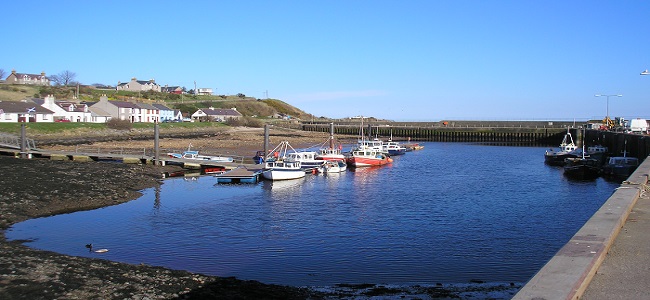 Self Catering Northern Highlands – Accommodation
Enquire / Book Now General Enquiries
Sea View Cottage offers you very comfortable accommodation. The cottage is double glazed with full oil fired central heating throughout, its thick stone walls keeping the cold winters and oppressive summer heat waves away.
The kitchen / Dining area is fully equipped with all the necessary modern equipment including a Dining table and 6 chairs; cooker; oven; microwave; fridge freezer; toaster; kettle; plate warmer; dishwasher; washing machine; tumble dryer; iron and ironing board, radio – it should be noted the Kitchen has 2 large windows and enjoys fabulous Mountain and Sea Views.
Other essentials such as glasses, crockery, cutlery and a corkscrew are also provided for your convenience. The cottage is surrounded by an enclosed garden (gate closed) of nearly 1/3 acre, perfect for late nights and BBQ's
Living Spaces relax and settle into a good book in the sitting room in front of the open fire the sitting room is comfortably furnished with a Large corner group sofa, this room is cosy and well lit. In it you will find a TV / DVD Player and lovely sea views from the bay window.
The Conservatory offers a second sitting room with 2 relaxing arm chairs to enjoy the amazing Sea Views. Great for the early morning sunrises with your coffee and toast, better still for night sky watching with a glass of wine or malt ! The North West facing Conservatory is a real sun trap and often benefits from dawn till dusk sunshine and a chance of seeing the famous Northern lights and sun rises.
The Downstairs master en-suite bedroom after an active day in the fresh air, stretch out in the downstairs master bedroom and watch the TV. The en-suite bathroom enjoys a Whirlpool / Spa bath, W.C and Wash Basin
There is also a separate downstairs (Tiny) W.C and Wash Basin.
Upstairs the Twin bedroom and (Double bedroom with it's own shower room) both bedrooms have double glazed dormer windows enjoying fantastic sea views, both rooms have central heating, hanging and drawer space and Colour TV'S.
Views from the Kitchen, Sitting Room, Upstairs and Downstairs Double Bedrooms
Upstairs Family bathroom with large Shower Cubicle, Infrared Sauna, W.C and Wash Basin.
Please note the 2 upstairs bedrooms are accessed by an angled stair pictured above, possibly un-suitable for the Elderly and infirm.
Electric Outdoor Hot Tub
Sea View now now has an electric outdoor Hot Tub (available £120 weekly supplement) The Hot Tub is sunken into outdoor Decking and the views come Summer or Winter are clearly un-surpassed.
The Hot Tub is be cleaned and checked over in advance the hire charge includes the use up to 7 nights (not per person)
Infrared Sauna
Sea View also benefits from an Infrared Sauna installed in the upstairs double bedroom. Apart from not needing daily chemicals adding – Infrared saunas offer several advantages over traditional Saunas, firstly they operate around 40 up to 45 Degrees C / 110 Fahrenheit – They have a fast warm up time only (10 minutes) v 60~90 minutes for traditional Saunas, plus they have a number of health benefits and Therapies (e.g. SAD light). The good news for the environmentalists is the Infrared Sauna is incredibly energy efficient, utilizing just the power of a hair dryer to heat the entire unit 96% more efficient than traditional heaters

The total package, no hidden extras
The cottage is open and available all year round, Full Oil fired Central Heating, Electricity, Lighting, Towels, Bed Linen and even and electric blanket to ensure a cosy night's sleep are included in the cost of hire. A Baby crib or cot and high chair are available on request.
An evening in or out
Take advantage of the long summer evenings in the comfort of the conservatory, conveniently facing the open North Sea, Sea View offers the most wonderful evening views and sunsets…and on crisp clear Autumn and winter nights a wee glance of the Northern lights "Aurora Borealis"…..and in the deep mid-winter the sight of 30 foot waves crashing over the cliffs and rocks.
Or you might take advantage of Sea Views well equipped kitchen and enjoy some home cooking. Or perhaps you may wish to just relax in the Sauna or soak away your cares in the Jacuzzi bath! Or maybe you might just chill out in the lounge in front of the 'open fire' after a hard day of relaxation and leisure with your favourite drink.
Winter views of the Mountains, from the Kitchen at Sea View !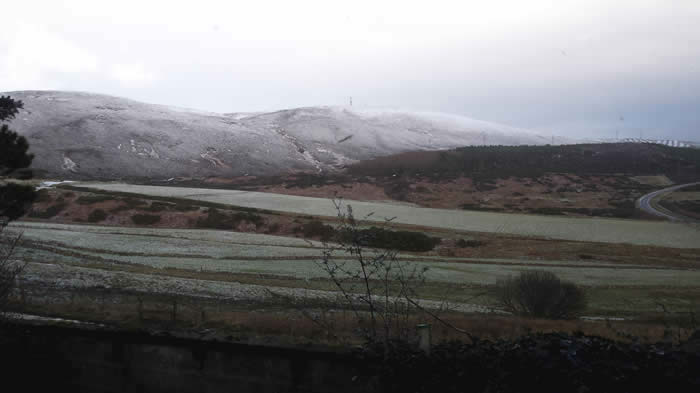 Sutherland Cape Wrath, Kyle of Tongue, John O'Groats
The pretty highland village of Helmsdale and it's harbour are situated within the semi tropical mini climate of the Far North East coast of Scotland offering a fantastic central location for touring the Northern Highlands covering Ross-shire, Caithness, Sutherland and the Orkney Isles.
For the Golfer there are 6 courses are within 30 minutes drive, including the excellent local Helmsdale 9 hole course. For the outdoor lovers there are lot's of local Walks and open hillside's, ideal for bird watching and wildlife spotting.
For the highly active perhaps panning for local Gold ? as many hundreds did in the 1880s and gold is still to be found in the local streams and hills. Helmsdale and Navidale are also the best places in Scotland to collect Jurassic Fossils. Geologists have constantly been fascinated by the strange boulder beds for many years, and still questions remain unanswered to how many beds were formed. Rich in Reptile Remains, Giant Corals, Fish Remains and occasional ammonites !
The areas of Sutherland and Caithness form the great, empty, northern wilderness of Britain; having three coasts, a vast interior, and the lowest population of any area in Western Europe. Its scenery is surprisingly varied, ranging from fantastic mountain ranges to stunning scenery ranging from the 'Flow Country', an area of wild mountains and almost impenetrable bogs and moorland, to the 'machair', coastal grassland based on old dunes of shell sand and finally the Atlantic oakwood. Their scenery varies from wild cliffs and tiny islands to lonely moorland and remote golden sandy beaches. You will find Majestic castles like Dunrobin, Mey, Old Wick and Girnigoe, dozens of ancient monuments, quality tweeds and woollens, whisky distilleries such as Clynelish Distillery. Plus tree-lined twisting roads and foaming rivers.
Navidale Bay one of Europes best locations for rare Fossils – just 10 minutes walk from Sea View

(Smaller images) of Helmsdale the Harbour and the River Helmsdale
Northern Lights Links and Information
The Aurora Page Live up to date forecast & activity page Information, links and images about the Aurora Borealis or Northern Lights
The Northern Lights & clear night skies from Sea View Cottage courtesy Peter Toop, Wiltshire
Welcome to Helmsdale and the Northern Highlands
Enquire / Book Now General Enquiries

The pretty village of Helmsdale offers the visitor a select choice of quality restaurants, Inns, Art and craft shops and of course the fabulous time span museum. Within 5 minutes you can drive up the Strath of Kildonan, notorious scene of the Highland Clearances, into open vistas around Forsinard and the RSPB Reserve. The pool systems and patterned bogs of the Flow Country are very important breeding grounds for rare birds and wildlife. Helmsdale centrally located offers unlimited opportunities for the explorer, how much time do you have available and what would you like to see?
Within 60 minutes you can reach John o" Groats and perhaps a day trip to Orkney, or an unforgettable journey along Scotland's true North coast through Bettyhill, Tongue, Durness as far as Cape Wrath.
Favourite Walks – within 1 mile of easy walking uphill or downhill from Sea View Cottage you can enjoy these amazing views below
Or in a Westerly direction to huge mountains and isolated Lochs like Loch Shin and the rewarding Salmon and Trout rivers of Sutherland and Wester Ross.
Or you can head south to the wonderful mysterious Black Isle renowned for its scenic beauty and mild dry climate and easily as far as Loch Ness in around 2 hours.
Or if you are just looking for a lazy relaxing holiday…just enjoy the locality of Helmsdale, it's vast wildlife, beautiful often sun drenched deserted golden beaches, castles, scenic walks along coastal paths, rivers and the local hills, fishing in the River Helmsdale and Brora (frequented by prince Charles) or even Gold Panning a popular attraction just a few minutes up the road in the awe inspiring Strath of Kildonan.
The majestic Dunrobin Castle 15 drive from Sea View (Smaller images) of Berridale Bay,The River Brora, Port Gower and the surrounding countryside
Dunrobin Castle, Berriedale Bay and Port Gower
The Wildlife around Helmsdale
Living with you during your stay on and around this most region are Puffins, Eagles, Great Skua, Ravens, Rock Dove, Twite and of course Roe Deer, and if you want to see, Kingfishers, Otters, Seals, Dolphins, Pilot and Killer Whales and a whole host of other wildlife…simply take a stroll down to the shores or Helmsdale Harbour.
Breeding Puffins are usually present on the cliffs from March to September and also look out for the Great Northern Diver, Common Scoter, Goldeneye, ducks and gulls. White-fronted Geese overwinter in nearby Loch Mey. Except for the cliff breeding colonies, there are birds in residence year-round.
The flow Country to the North is a very important breeding ground for the Slavonian Grebe, Capercaillie, Ptarmigan, Osprey, Dotterel, Crested Tit, Scottish Crossbill and Snow Bunting and for waders like the Golden Plover and Greenshank, waterfowl such as Red- and Black-throated Divers, Common Scoter and Red-breasted Merganser, as well as raptors like Hen Harrier and Merlin.
But please follow the birdwatchers and countryside codes. Please do not disturb nesting birds, and take care in sensitive areas. Please be very careful and discrete with any information you have been told or on species you discover, this information should only be passed on to the RSPB (Etive House, Beechwood Park, Inverness) and not put into the public domain. Careless talk can put at risk the birds that you have enjoyed watching.


Helmsdale Harbour Cottages (left) River Helmsdale (middle) one of the many local beaches (Right)
Award Winning beaches on the North East Coast
In addition to Helmsdale, the North East Coast provides some of the finest beaches in the UK and all within 20 minutes drive are a number of record-breaking beaches, awarded the "Rural Seaside Award" by the body Keep Scotland Beautiful (KSB). Among them are Brora Beach, Golspie North Beach, and Golspie South Beach pictured above and Embo.
Brora Sands (left) Crackaig Sands near Helmsdale (middle) (Right) Helmsdale Sands
Brora, the harbour and it's Golden sands
A short drive to the south of Helmsdale lies the medium size town of Brora, along with it's lovely beaches and harbour, there are plenty of shops, a well stocked supermarket, 2 petrol stations, cafes, restaurants, gift shops and yet another links golf course.

Broras amazing North sands, it's harbour and local beach
The History of Helmsdale
Helmsdale's history goes back to before the construction of Helmsdale Castle built in 1488, but its story actually dates back at least as far as the Vikings, who settled the sheltered mouth of the River Ullie or River Helmsdale as it is now more usually known. The harbour was built in the years from 1818, and extended in 1823 and again in 1892. As you look around Helmsdale's harbour today, try to imagine it as home port for the 200 or more herring boats that once operated from here!

Helmsdale harbour (left) the cottage small white dot right (middle) the cottage (right)
In the early 1800's almost all of the inland settlements in this area were cleared of their inhabitants in order to make way for more profitable residents: sheep. Clearances took place right across the Highlands and Islands, but those perpetrated by the first Duke of Sutherland in this area were amongst the most notorious. Helmsdale grew as a planned village from 1814, laid out on a grid pattern by the Sutherland Estates. Some of the cleared were resettled in Helmsdale, as an alternative to being shipped to the colonies or to North America. The aim was to create a community able to live from both fishing and farming, and, in particular take advantage of the herring boom then in full swing. The harbour was built in the years from 1818, and extended in 1823 and again in 1892.
A more recent attraction in Helmsdale is the Timespan Heritage Centre. The museum here gives an insight into the colourful history of Helmsdale and the surrounding area particularly the gold rush of 1869, which focused on two tributaries of the Helmsdale River in Strath Kildonan.
To the West you can discover one of Scotland's most picturesque & best kept secrets is found in Sutherland. Loch Shin is over 18 miles in length and only half an hours drive from Sea View Cottage, Helmsdale. Just like Loch Ness it is believed to be the home of deep mysterious creatures.
Loch Shin from Lairg
Helmsdale Gold is still found in the Hills and streams even today. The best water to pan is the Kildonan Burn (site of the 1868 Goldrush) there is also Gold in the Suisgill Burn though you need to obtain a special permit, the Gold is easily found but is in small quantities so hard work is involved. A fee of £10.00 per day per person applies, and a permit must be prepaid for (obtained in Helmsdale ) however the good news for those staying at Sea View Cottage is a 50% discount applies.
A sample of Gold found recently – image and information courtesy of David Bryden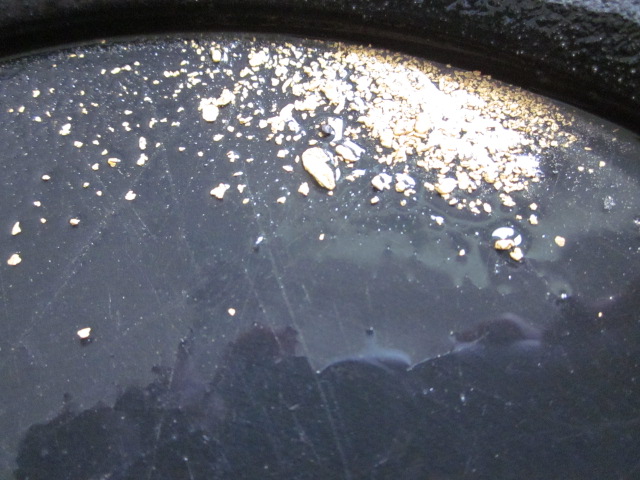 And if you don't see the Northern Lights or find Gold – you may see one of these –
The best time to see the Northern Lights
One of the advantages of the cottages Far North location and the absence of street lamps presents regular sightings of the Northern lights "Aurora Borealis". With good timing you have a good chance of experiencing one of the world's most magnificent natural phenomena: the Northern Lights. The Northern night sky dancing with red, yellow, green, blue and violet streamers, arcs and rays. The best time to see the Northern lights is in the months of October, November, December and January between 10 pm and 3 am. If you don't see the Northern Lights, then at least you'll see the stars – many, many more than you'll see from anywhere less remote. The longer you look up, the more stars will appear!
The Northern Lights from Sea View Cottage (left) and in Caithness (Right)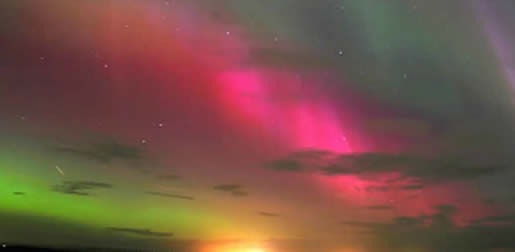 Fantastic Day Trips
Enquire / Book Now General Enquiries
The RSPB Bird Sanctuary Reserve – Forsinard
Forsinard lies in the heart of the internationally important Flow Country of Caithness and Sutherland. Comprising over 10,000 ha of 'blanket bog', the peatlands are best during spring and summer, with birds including golden plovers, hen harriers and greenshanks breeding on the reserve. The reserve is open at all times; visitor centre is open Easter to end of October, daily 9 am to 5.30. It is a must for all nature lovers and is easily reached from Helmsdale up the delightful strath of Kildonan either in by car, bike or train from Helmsdale station to Forsinard station.

The clock tower Brora, the grave yard Navidale bay and commando monument Berridale
The Kyle of Tongue "Clan Mackay Country"
A scenic run in your car takes you to the small North coast village of Tongue centre of the "Mackay clan territory" looking west over the Kyle of Tongue. Dominated by Castle Varrich and Ben Hope Scotland's most "Northerly Munro" and Ben Loyal "Queen of Scottish Mountains" which provide dramatic backdrops.
The Golden sands of the Kyle of Tongue and North Coast

The Kyle of Tongue is a wildlife paradise – look out for seabirds, eagles, ptarmigans, otters, seals, red deer and enjoy whale and porpoise spotting. This area is still one of Scotland's truly best kept secrets and there are few restrictions to your enjoyment. The area offers wonderful unspoilt game fishing with great yields in a long list of local lochs and rivers, particularly the Naver, Borgie Strathy, Forss and Halladale. Fabulous walking, hillwalking and mountain climbing (you can see the Orkneys from the summit of Ben Hope on a clear day!) This quiet location attracts lovers of the outdoors throughout the year from Hill-walkers and beachcombers to naturalists, fishers, Historians, geologists, photographers and artists. There are sensational beach, inland and forest walks, also cycle runs along a huge network of single track roads and unspoilt routes – tranquillity and timelessness itself and cycle routes, slipways to suit small boats and sailboards / windsurfing.
Dunnet heads famous lighthouse (left) one of the locals, a Puffin (centre) and John o' Groats (right)

Caithness and Dunnet Head
While staying at Seaview Cottage, why sample the delights of Caithness and it's pretty coastal Towns, Villages, Harbours and sandy beaches such as Wick, Dunbeath, Lybster (below right) and the beautiful sands of Keiss (right)

The Orkney Islands
You can also visit the beautiful Orkney islands. There are more than 70 islands in the Orcadian Archipelago of which 17 are inhabited and you can easily reach John o' Groats by car in less than 60 minutes and take the fantastic maxi day tour of the Orkney's via the JOG ferry (see below)
Access Orkney daily in the summer from John o' Groats, or Scabster (Thurso) throughout the year, choose from island-hopping, pottering around ancient sites and dreamlike beaches, spending time browsing in craft shops and galleries, sample wholesome cuisine and drink the world famous ale and whisky…Orkney has much to charm the visitor – historic attractions of global significance, diverse wildlife in a pure and serene environment, a rich cultural heritage, and the same traditionally warm and welcoming people you will find in Sutherland.

Orkney Ferries / Orkney Car Hire
For the day tripper on foot the fantastic JOG Ferry Tel 01955 611353. Operating from John O' Groats to (Burwick) Orkney just 40 minutes crossing time this ferry runs every day through the summer from May to the end of September, you can choose from a variety of tours and the maxi day tour is fantastic value. You can also access Orkney (12 months/ all year round) from Scrabster (Thurso) via North link ferries. Return Adult fare from just £32 (Return car fare from £96 and perhaps a little expensive for just a day trip) however you can easily pick up a hire car at Stromness (Orkney) from either Orkney Car Hire or Orkney Car rental from just £46 per day.
The Falls of Shin & Salmon leaping
Within an easy day out are the Falls of Shin a truly wonderful experience for all the family. Open all year round and less than an hour's drive south from Sea View Cottage, amongst spectacular Highland Scenery, it's well worth the journey down the Coast. After heading west along the A949 and the banks of Beautiful Dornoch Firth, Bonar Bridge you arrive at the dramatic waterfalls, where it's famous, natural Atlantic Salmon Leap can take your breath away.
The estate is owned by Mr Al Fayed, see him for yourself as he graces the entrance courtesy of a genuine Madam Tussaud's waxwork. The River Shin is one of the great Salmon rivers in Scotland, with the fresh, clear water – coloured slightly brown due to the natural peaty soil of the landscape – creating perfect conditions for the Atlantic Salmon, and other fish that thrive in a constant flow of fresh water. This most natural feature enthralls visitors lucky enough to witness the many Atlantic Salmon as they battle upstream at the Falls to return to their place of birth in Loch Shin and spawn the next generation. There are also countless river and forest walks, BBQ, gift shop, restaurant and a mini golf course.

The dramatic falls of Shin, The beautiful Dornoch Firth and Bonar Bridge
Smoo Cave, Durness
No stay in the Far North of Scotland is complete without a visit to Smoo Cave near Durness, on the North Coast. This huge cave set into limestone cliffs is more than 200 feet long and 130 feet wide and 50 feet high at the entrance! The cave has been carved by successive episodes of high sea level over the past several hundred years. The huge entrance, the largest cave entrance in the British Isles is more than 15 meters high and leads into a chamber more than 60 meters long and 40 meters wide. The second chamber, containing the waterfall, is about 21 meters by 9 meters and can be viewed from a specially constructed platform, the third chamber is accessible only by a small boat.
The Smoo burn Allt Smoo drops nearly 25 meters into the second chamber down a vertical shaft, the Falis Smoo or chimney Smoo as the as the sink hole in the roof is called. The burn cascades into a deep pool with a depth of around eight meters. After heavy rain, the Allt Smoo is changed into a raging torrent that crashes into the underground lochan with a gigantic roar. The "blow hole" and waterfall can be observed from an observation point above the cave.
Wester Ross and Ross-shire
Just a couple of hours drive away – here to you can find riches beyond your wildest dreams here and Pictures that tell a thousands of words. Again within a day you easily can tour Wester Ross and the beautiful landscape of the north-west Highlands
So where do we start – should we tell you about the more famous attractions of Wester Ross such as Inverewe gardens, and the Victorian Spa town of Strathpeffer, or about the scenery, the mountains, or maybe the golf-course or the gardens. What about the traditional music, or the fishing, and the walking? Have you ever seen the sunsets, the wildlife, the birds, the history, genealogy. Or perhaps you prefer the sea, the sailing, a kayak trip, the beaches? Maybe you fancy the swimming pool, the sports centre, the cycling? Have you tasted the prawns, the mussels, the lobsters? Are you for a wee dram ?
The dramatic landscapes of Sutherland and Wester Ross
The Black Isle, The Dolphins & the Loch Ness Monster
Less than an hour South from Sea View you can reach and explore the magical Black Isle by the Moray Firth. It's picture postcard seaside towns of Fortrose, Rosemarkie, Munlochy and Avoch are a delight to visit particularly Avochs ruined Cathedral.
Chanonry Point is certainly worth a visit as it is reputed to be one of the best spots in the UK to view Bottlenose dolphins Tursiops truncatus from the land. The dolphins are often visible off Chanonry point, particularly on an incoming tide when they play and fish in the strong currents. Other wildlife, including porpoises and grey seals, can also regularly be spotted. European otters Lutra lutra are occasional visitors.
Try Nessie First – and if she's not at home, check out The Dolphinsat Chanonry Point near Fortrose on the Black Isle
If seeing the Dolphins at Chanonry point has wetted your appetite for unusual creatures why not venture another 20 miles inland to the West to Loch Ness in the highlands of Scotland.
The largest body of Freshwater in Britain, over 25 miles long, over a 1 mile wide and more than 300 metres deep. Home of Scotland's best kept secret the "Loch Ness Monster" One of the most hotly discussed and controversial subjects to this day. In 525 AD the first recorded entry of a sighting was made by St. Columba. Modern day sightings ranging from the sensational 1934 R K Wilson "Surgeons" picture…recently suggested to be a hoax, but even more recently indicated to be a hoax theory within a hoax. To the genuine cine film sequence taken by Tim Dinsdale in 1960. There were also others like Roy Mackal and Robert Rines, plus a regular supply of Sonar and Radar readings picking up strong mid-water contacts in the Loch. here are also of course everyday people with nothing obvious to gain exept for the "loss of respect" from policemen, Monks, Bank Managers, Fishermen, Aero engineers and tourist's with eye witness accounts and further photo evidence.
There have also been many hoaxers and show men to add to the confusion. Scientists alike, do not dispute that large creatures are living in the Loch, but cannot say exactly what they are, the Loch s fairly un-productive because of it's deep dark peaty waters, visibility is virtually zero 3/4 metres down, a number of species of fish, such as Artic Char "once thought extinct" have adapted to hunting and feeding with out the use of eye sight and amazingly can be found living off plankton and smaller fish up to 100 metres deep in the Loch. Original calculations put the the tonnage of fish living in the Loch at around 3 tons, hardly enough to support a large creature! more recent surveys indicate an actual tonnage of over 25 tons. "Nessie" The Loch Ness Monster, draw your own conclusions.
The Black Isle (Smaller images) of Fortrose, Avoch and the Cathedral ruins

Golfing Holidays in Sutherland and Caithness
Quality links courses such as Brora a beautiful 18 hole Links course designed by James Brai and locally. Helmsdale has its own testing 9 hole course. Within 30 mins are another 4 courses in particular Royal Dornoch – another Links course made famous by Tom Watson and further a field further Championship courses such as Raey.

"Castle Ardvrech, Loch Assynt" "Local history" and Castle Varrich, Kyle of Tongue"
Fishing Holidays the River Helmsdale and River Brora
Enquire / Book Now General Enquiries

Fishing is available and can be arranged on the River Helmsdale through the local Fishing Tackle Shop. The River Helmsdale has long been regarded as one of the most prolific and consistent rivers in the world for producing Atlantic salmon. If you are lucky enough to fish on this prime water you will have a chance of hooking a fish from the opening day of the season on 11th January. Fishing can be arranged on the River Helmsdale through the local Fishing Tackle Shop.
The lower River Helmsdale traditionally offers the best sport in springtime as temperatures are generally low. Productive pools over the years include the Flat pool, Lower Caen & Salscraggie, Kilphedir and Torrish. By the end of March and into April the Kildonan falls become productive. By early May the Spring run is in full flow and the upper beats score well. Sea trout & grilse are the next to arrive and early specimens can be caught in May but it is not until mid June before the run really to gathers pace. By late July the main run of grilse has have arrived and sport will be fast and furious throughout the river. The best sea trout fishing will generally be had on the Association water or the upper beats, The Woody, Suisgill & Dalharn will all give you excellent sport from dusk till dawn. By mid August most Helmsdale fish are in the system but good sport can be had right up to the last day of the season on September 30th. Although the river thrives from the luxury of having compensation water when required, spate water usually provides the best fishing towards the back end. If you do get the chance to fish this famous river be sure to take in all the advice of your ghillie and if you are fishing the popular association water, keep an eye on the locals! Unlike the big rivers of the world where casting long distances is important for success, the secret of the Helmsdale is in reading the water and knowing the lies which are often just under your rod tip!

Fishing permits for the River Helmsdale
Salmon Fishing permits are available for the River Helmsdale from early January to the end of September, the River Brora from early February to mid October and the River Berriedale from mid February to the end of October from just £8 per day / £28 per 7 days. The Brown Trout Season is from the middle of March until early October. Coarse fishing, Sea fishing and Rainbow Trout fishing are permitted all year round and no national rod licence is required in Scotland. Fishing permits of all kinds are available from Ronald Sutherland's fishing shop on Dunrobin street, Helmsdale Tel 01431 821372 Mob – 07780 861466
Megan Boyd, Ronald Sutherland's salmon flies
Have accounted for thousands of salmon all over the world now and have become highly sought after, come along and see them being tied on site and maybe even buy a few! Ronald's 30 years fishing experience will also provide you with all the help & equipment required to catch fish locally and overseas by offering you advice & Tackle from quality brand names to suit every pocket. The shop is located on Dunrobin Street, Helmsdale Tel – Shop 01431 821372 Mob – 07780 861466 website www.helmsdalecompany.com

The Salmon and Trout rich River Helmsdale (fished by Prince Charles) and also within 20 minutes the rivers Brora and Berridale
Activities in Helmsdale and Sutherland
For the highly active there are a wide range of pursuits from Horse riding and Pony trekking, surfing, sail boarding, land yachting, kites & kite buggying, sub-aqua diving and sailing, places to climb and walk. For the less active and just in need of a rest the beaches are amazing and often you will find one all to yourself. The area has much to offer for those interested in History and archaeology. With a local guide leaflet you can follow trails or head for one of the many ancient monuments.
Train journeys and day trips from Helmsdale
The local railway station at Helmsdale offers a limited but efficient service of direct trains Northbound to Kinbrace, Forsinard (for the bird sanctuary) Thurso (for Orkney) and Wick (for castles & John o Groats) and in the Southbound to Brora (for sandy beaches) Dunrobin halt (for Dunrobin castle) Golspie (for Sandy Beaches) Dingwall and Inverness (for Loch Ness) taking in a wealth of lovely scenery ranging from Mountains and Lochs to sandy beaches and castles. More information at www.firstscotrail.co.uk

Views of the the famous river Helmsdale and its pretty harbour
The Locality of Helmsdale
Enquire / Book Now General Enquiries

The village of itself offers a great choice of local restaurants and Inns particularly The Wayfarer Restaurant Tel: 01431 821457 La Mirage Restaurant a fine Fifty seater establishment. Lists sample menus and dining facilities. There is also the Bunillidh Restaurant – Seafood restaurant with a fantastic vegetarian menu. There is also Gilberts traditional tea-rooms open daily.
Tel (01431) 821090.
Helmsdale also boasts the fantastic Timespan Heritage Centre. The museum here gives an insight into the colorful history of Helmsdale and the surrounding area. There is also a gallery showcasing the work of international, national and local artists; an excellent cafe overlooking the riverside community garden; and a shop. The Timespan Heritage Centre also contains information about the gold rush of 1869, which focused on two tributaries of the Helmsdale River in Strath Kildonan. It is still possible to pan for gold. There is also a gallery showcasing the work of international, national and local artists. There are various art and craft shops offering a range of animal stoneware sculptures, specialising in wildlife and birds, designed and made by hand. Wild Tiles Mosaics, plus craft courses in mosaic, batik, and textile embroidery.

The Navidale House Hotel 1/4 mile from Sea View
The nearest Inn / Hotel is the Navidale House Hotel (currently closed) a former hunting lodge built by the Duke of Sutherland. The recently Refurbished Hotel enjoys some of the most spectacular views of any hotel in Sutherland and there is also easy access to the beach. The hotel is open 7 days a week to non residents offering FREE WIFI and quality range of food and drink and is just 1/4 mile from Sea View cottage
For the football fan there is Helmsdale United Football Club. By far the best source of other additional local information is the Helmsdale community web site.

The majestic Dunrobin castle and it's gardens just 20 minutes in the car from Sea View Cottage
Dunrobin Castle
Dunrobin is the most northerly of Scotland's Great Houses and is certainly one of the most majestic. It is the largest house in the Northern Highlands with 189 rooms, and is one of Britain's oldest continuously inhabited houses, dating in part from the early 1300s.
The history of the castle is quite fascinating and has seen the architectural influences of Sir Charles Barry and latterly Sir Robert Lorimer. The castle has been used as a naval hospital during the First World War and from 1965 to 1972 as a boys' school.
Instead of driving you can take a return train journey from Helmsdale station to Dunrobin halt or Golspie a most scenic 15 minute journey.
Guest Book Sample
General Enquiries
Enquire / Book Now General Enquiries
This is the Owners Direct Website – Sea View Navidale Sutherland
Hire charges only include all Heating, Electricity, Towels and Bedding (the outdoor Hot Tub is supplementary (£120 weekly) and must be booked in advance)
Pet Friendly – Yes this cottage is pet friendly by prior arrangement only, up to 3 clean well-behaved dogs are welcome. A supplement of £15 per pet per stay is required, please ask for further details.

See More Northern Highlands Holiday Cottages ?
General Booking enquiry – please note this does not constitute a booking
'Property Reference '25'

North Coast Sea View Cottage with Hot Tub