Wildlife and Nature Holidays in Scotland
Wildlife and Nature holidays in Scotland – a country rich in both Nature and Wildlife
Whether you're interested in seeing the North Coast's Eagles, Whales, Seals and Storm Petrels, or the Dolphins and Ducks on Harris. A Holiday in Scotland has all the Wildlife and Nature you could possibly wish to see. Choose from wildlife havens, conservation areas, Seal colonies and Otter havens. Visit bird watching paradise, explore Wild Cat forest parks and nature trails.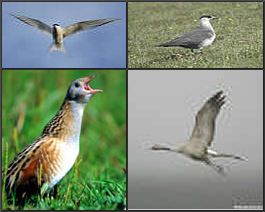 From John o' Groats and Cape Wrath to the Scottish Seabird Centre in North Berwick, Scotland is packed with prime real estate for sea birds. Every spring pairs of guillemots, gannets, razorbills and puffins eagerly snap up a precarious cliff ledge perch from the thousands that line the coast. A temperate climate, dramatic landscapes, and generations of traditional care for the land have shaped Scotland into a wonderful place for wildlife.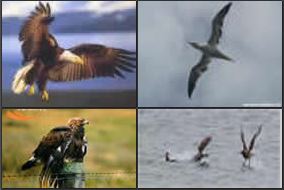 It's a Wildlife haven and birdwatchers paradise with cliffs and islands that are some of the world's most incredible seabird cities with puffins, gannets and more. Geese gather in astounding winter flocks, and black grouse and capercaillie share ancient pine forests with red squirrels. Our birds of prey are inspiring too with osprey, red kite, and Europe's largest, the white-tailed sea eagle. Our mountains are home to some truly iconic creatures. Golden eagles nest in some of their highest density in Europe, red grouse flight across heather moors.
 Best places to see Puffins Best places to see Sea Eagles Best places to see Oyster Catchers Best places to see Scottish Wild Cats
Scotland's famous rivers that cut through the land host salmon and trout. Our very own 'Big 5' – Scottish wildcat, pine marten, badger, fox and otter are here and there's nothing more breathtaking than the silhouette of a proud red deer stag in a glen.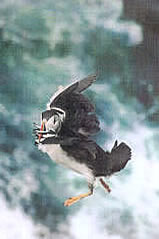 Scotland's wildlife-rich seascape is also the envy of many with over 22 species of whales and dolphins sighted off our coast. Minke whales and bottlenose dolphins are regular if you know where to look, and basking sharks, at up to 11m long the largest shark in the northern hemisphere, are a frequent summer visitor. Unseen by most people, but accessible to all.
Best places to see Whales Best places to see Seals Best place to see Sharks Best place to see Otters Best places to Red Squirrels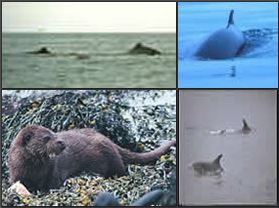 Scotland's ancient Caledonian pinewood forests once spread across thousands of kilometers of the Highlands. They now remain at just 84 sites and cover 180 km2 in the north and west. However, the forests aren't just Scots pine rich. Juniper, birch, willow, rowan and aspen trees are all native pinewood forest species. The forests are ideal habitat for a vast number of plant and animal species, some of which are endemic to Scotland and rely upon the Caledonian forests for their survival. There's a higher density of otters in some areas than any other in north-west Europe, and seals bask lazily on the shore everywhere. You can explore Scotland's mountains and forests and spot capercaillie, red kite, pine marten, red squirrel and many more fascinating species !
Best places to see Deer Best places to see Pine Martins Best place to see Dolphins Best place to see Buzzards
The Northern Highlands
For Puffins, Pine Martins, Deer, Golden Eagles, Whales and Seals.
Moray, Grampian & Perthshire The West Coast and Islands The Northern Highlands Central and West Highlands
Self Catering Northern Highlands – Sea View Cottage sleeps 6. Luxury former croft cottage in the Northern Highlands, Remote, Detached, Conservatory, Jacuzzi bath, Sauna, Full Central Heating, Open fire and WIFI. This restored former Croft Cottage has an enclosed garden and easily accessible by car, or public transport even in the winter. Offering spectacular elevated views of the North Sea, Mountains and Night skies. Centrally placed this cottage forms the perfect base for exploring all the Northern Highlands including the Black Isle, Loch Ness Caithness and an Orkney day trip. Pets Welcome !
Sutherland Self Catering – Beechwood Cottage sleeps 6. Detached cottage offering you total peace and tranquillity, set in a wildlife haven of outstanding beauty on the North coast of Scotland…Treat yourselves to a great value extra special holiday of relaxation, sightseeing, walking, fishing, golfing, bird watching… and much more…and once a month on average the famous and mysterious Northern lights. Sorry no Pets.
Self Catering Dunnet Head – Far North Cottage sleeps 6. This unique former Croft Cottage with large enclosed garden is the furthest North Detached Cottage on the Scottish mainland, enjoying spectacular open views of the Pentland firth, Scapa flow and Orkney Isles. This Beautiful cottage enjoys many luxuries including en-suite master bedroom, bathroom with observation skylight windows, 2 person Jacuzzi bath, Sauna and Free WIFI. Also front Conservatory for clear Sea, Night Sky and Eagle Watching. Full Electric heating, Coal / Wood Stove, further family bathroom with Jacuzzi bath. All bedrooms all with tv / dvd. This cottage forms the perfect base for exploring Caithness, Sutherland, the North Coast, Cape Wrath and Orkney. Pets Welcome !
Highland Log Cabins Inverness – Big Sky sleeps 6. Luxury Mountain Lodges with Wood Stoves set within 17 acres of meadows and birch woods at Drynie Park near to Muir of Ord offering you a peaceful and picturesque retreat less 10 miles from Inverness, far enough away to enjoy the peace and quiet. Pets Welcome !
List 69 See Aurora Borealis Scotland – Melvaig sleeps 4. Luxury detached Cottage sleeping 4 people just 80 yards from the seashore with private beach access located in the quiet crofting community of Melvaig, near Gairloch. Offering a chance to see the Northern Lights during the Autumn and Winter months along with stunning sunsets and stary skies. The cottage offers stunning views of Skye & the Western Isles. Pets Welcome !
Central and Western Highlands
For Red Squirrels, Sea Eagles, Oyster Catchers, Grouse, Buzzards, Red Deer.
Moray, Grampian & Perthshire The West Coast and Islands The Northern Highlands Central and West Highlands
Self Catering Lodges Loch Eck – Whistlefield Lodges sleeps 4 and 5. Luxury Log Cabins by Loch Eck Argyll, (some with Sauna, Jacuzzi baths and WIFI) enjoying stunning Loch, Forest and Mountain Views with Red Squirrels and lot's of wildlife as company, walking distance from 14th century Inn – less than 90 minutes drive from Glasgow. Pets Welcome !
Shore Cottage Loch Fyne – St Catherines sleeps 6. Beautiful detached holiday cottage nestling on the banks of Loch Fyne with it's lovely mature garden extending to the waters edge and it's own moorings, where visitors can tie up their own boats. Shore cottage is so close to the water you actually feel within it sitting just 20 yards from the waters edge offering clear un-restricted views up, down and across Loch Fyne to Inverary and beyond. Pets Welcome !
List 85 Remote Highland Country Cottage – Hillside sleeps 5. Offering an escape from Reality, Remote Detached Cottage, without central heating let alone electricity. However the cottage is beautifully constructed, maintained and insulated with thick stone walls and as much fresh mountain spring water as you need. Unlimited Fire wood is provided for the back boiler Stove and Open Fires, along with lamp oil & candles. A Gas cooker & back up heating is also provided. Pets Welcome !
List 97 Remote Scottish Seaside Cottage – The Lodge sleeps 6. Beautiful Remote Seaside Holiday Cottage on Argyll's West Coast. This spacious 3 Bedroom detached Holiday Cottage just a stones throw from a sandy beach and rolling west highland hills offers the Remote Holiday Hideaway. Pets Welcome !
Loch Fyne Self Catering – Beach Cottage sleeps 4. Welcoming 2 Bedroom seaside cottage in the village of Strachur, beside Loch Fyne. Offering you highland village atmosphere "by the sea" sleeping 4 people, with a Open Fire and fantastic views over Loch Fyne. Pets Welcome !
Moray, Grampian, Perthshire
For Dolphins, Whales, Grouse and Hares.
Moray, Grampian & Perthshire The West Coast and Islands The Northern Highlands Central and West Highlands
List 106 Shoreside Holiday Cottage Moray – Soundwaves sleeps 8. Beautiful Shoreside Holiday Cottage on the Moray Firth with one of the best locations in Gardenstown. Named Soundwaves not only because of the sound of the waves outside the windows; but because of the worldwide hit Sailing sung by Rod Stewart was composed "inside this cottage" which enjoys uninterrupted sea views from every room. Pets Welcome !
Scottish Sea View Cottage – Whale Cottage sleeps 7. Beautiful detached cottage so close to the sea you actually feel within it. Whale Cottage sits gable end onto the sea wall and at high tide the waves lap within feet of the cottage. There are sea views from most rooms and if you are lucky the odd passing whale or dolphin. Pets Welcome !
List 108 Romantic Holidays in the Cairngorms – Acron Bothy sleeps 2. Perfect for Romantic Holidays in the Cairngorms and self-catering in Aberdeenshire this beautiful well equipped Holiday Cottage on the edge of the Cairngorm's is the ideal breakaway for couples – seeking peace and quality time in the countryside, and for the more serious walkers and country lovers seeking a quality holiday accommodation on a budget. Sorry no Pets
List 8 Sea View Log Cabins – Maryhill – sleeps 4 and 6. Two scandinavian Pine Log Cabins situated within working farm land, surrounded by Idyllic Scottish countryside. Offering a remote feel yet close to the Moray Firth's Finest Beaches and picture postcard villages. at 600 feet above Sea Level the Log Cabins enjoy magnificent Sea Views over the Moray Firth and Highlands of Scotland. Sorry no Pets
Seaside Cottage Cullen – 237 Seatown sleeps 6. Detached Cottage ideal for Beach Holidays in Cullen just a short walk from the Beach and harbour. This beautiful cottage has partial sea views and a long sandy beach is directly across the road from the cottage. Cullen Golf Course is just at the end of the beach. The cottage itself has stunning views of the Moray coastline from both upper bedrooms. Pets Welcome !
The West Coast and Islands
For Sea Eagles, Deer, Otters, Seals, Whales and Buzzards.
Moray, Grampian & Perthshire The West Coast and Islands The Northern Highlands Central and West Highlands
Isle of Skye Self Catering Crofters Cottage sleeps 4 to 6. Detached former croft cottage on North West Isle of Skye "accessed by toll free road bridge" on the spectacular Waterish peninsular. This cottage enjoys many Luxuries including free WIFI, Jacuzzi bath, Full Electric Heating, Supplementary Wood burner and Conservatory "North West facing" with breathtaking unrestricted views of Loch Bay, the Atlantic Ocean and the Inner and Outer Hebrides Islands, and maybe a wee glimpse of the famous and mysterious Northern lights. Pets Welcome !
Isle of Harris Holiday Cottage – 19 Kintulavaig sleeps 6. Luxury detached Cottage in Leverburgh, Isle of Harris sleeping up to 6 people with Open Fire and Wood Burner. Offering you cosy accommodation and spectacular open views of the North Uist Islands, the Sound of Harris and Skye. Pets Welcome !
West Coast Lodges Scotland – Loch Sween sleeps 4. Remote Beach Chalets on the West Coast of Argyll situated close to the waters edge at the head of Loch Caolisport offering lovely views down the Loch. Teeming with wildlife and sandy beaches this area is also great for hill walking, fishing and beachcombing. Pets Welcome !
Oban Self Catering Waterside – sleeps 2, 4 and 6. Luxury Shoreside Apartments near Oban offering ultimate Luxury and living comfort with Sauna, Spa and Wood Stoves with spectacular views of The Isles of Jura, Mull and Colonsay in a Idyllic Waterside location near to Oban The gateway to the Highlands and Islands. Pets Welcome !
Isle of Mull Self Catering – Crannich sleeps 4. Luxury holiday Caravans, Glen Aros, Isle of Mull. Glen Aros is well known for it's large population of breeding eagles and Crannich Caravans are ideally situated within 150 acres of farmland in Glen Aros on the Isle of Mull, offering great walks, panoramic views of the glen, Loch Frisa and the river Aros, with the Morvern hills in the distance and the most fantastic sunsets. Pets Welcome !
Free advice and friendly help!
Open 09:00am to 10:30pm 7 days a week.
Really short of time and patience? Don't have time to telephone and browse this site further now?
Then please complete this short enquiry form below and we will e-mail you a FREE list of all available Self Catering Holidays in Scotland. Including hire rates, direct website links and booking information.
Please note, we DO NOT share your e-mail address with anyone!