Best Places to See Scottish Wildcats
Best Places to see Scottish Wildcats – how to uncover Scotland's best kept secret
Considered an Icon of the Scottish Wilderness the Scottish Wildcat is not a myth it is a genuine wild species of cat.
In the days of William Wallace and Rob Roy Mcgregor Scottish Wildcats were so common clans formed together under their images to fight for lands, possessions and independence. Today it is believed less than 400 remain in the wilds of Scotland with inter breeding sadly pushing the existence of these beautiful large mammal predators to extinction.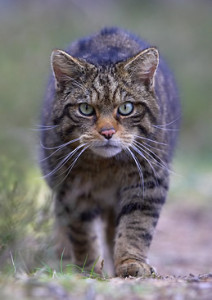 Housecats were not introduced to the British Isles until the Medeaval period, however the Scottish Wildcat made it's home in Scotland long before mankind & Loch Ness Monster Sightings ! adapting to the constant changing weather patterns, using Scotland's remote country terrain to its advantage.
Even in captivity they are infamously untameable, they may look like your Friendly Pet Cat, but in reality they are incredibly tough Hunter / Predators often known as "The Tiger of the Highlands"
In Celtic mythology, the wildcat was associated with rites of divination and other worldly encounters. Images of deity heads with cat-like ears have been found including that of the Irish figure of Cairbre Caitchenn (Cairbre Cat-Head), who was believed to have been the ancestor of one Irish tribe. Even the Picts venerated wildcats, having probably named Caithness (Land of the Cats) after them. According to the foundation myth of the Catti tribe, their ancestors were attacked by wildcats when first landing in Scotland. Their ferocity impressed the Catti tribe so much, that the wildcat became their symbol. A thousand years later, the progenitors of Clan Sutherland, equally impressed, adopted the wildcat on their family crest. The Chief of Clan Sutherland bears the title Morair Chat (Great Man of the Cats). The Clan Chattan Association (also known as Clan of Cats) is made up of 12 different clans, the majority of which display the wildcat on their badges.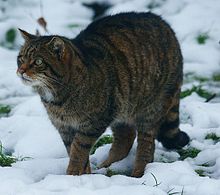 Compared to other feline members the wildcat is a small species and similar in appearance to a striped tabby cat, but with relatively longer legs, a more robust build, greater volume and long tail usually exceeding one-half of the animal's body length.
Its skull is more spherical in shape than that of the jungle and leopard cat. The ears are moderate in length, and broad at the base. The eyes are large, with vertical pupils, and yellowish-green irises.. Its dentition is relatively smaller and weaker than the jungle cat's. The Scottish Species size is usually the largest Males measuring up to 90 cm 36 inches in body length and up to 40 cm 16 inch in tail length, and weighing 5 up to to 8 kg 18 lb. Females are slightly smaller, measuring up to 77 cm 30 inch in body length and up to 35 cm 14 inch in tail length & weighing up to 5 kg 11 lb.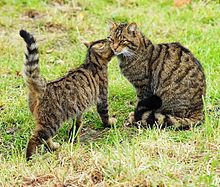 Both sexes have pre-anal glands, consisting of moderately sized sweat and sebaceous glands around the anal opening. Large-sized sebaceous and scent glands extend along the full length of the tail on the dorsal side. Male wildcats have pre-anal pockets located on the tail, which are activated upon reaching sexual maturity. These pockets play a significant role in reproduction and territorial marking. The species has two thoracic and two abdominal teats.
The wildcat has excellent night vision, having up to 100% higher retinal ganglion cell densities than a Housecat. It may have colour vision as the densities of its cone receptors are more than 100% higher than in the Housecat. Its sense of smell is highly tuned and it can detect meat at up to 200 metres. The wildcat's whiskers are white reaching up to 8 cm in length on the lips and can number up to 16 on each side. The eyelashes range from 5 to 6 cm in length, and can number up to 8 per side. Whiskers are also present on the inner surface of the wrist and can measure up to 4 cm.
The Scottish Wildcat Association
Is committed to helping this critically endangered species. They carry out a wide range of campaigns and projects designed to rebuild and conserve the wildcat population across the Scottish Highlands through active fieldwork, support of scientific research, fund Raising for the captive breeding programme and general public education about Scottish Wildcats.
Best Places to See Scottish Wildcats
The remote Countryside locations in the Western and Northern Highlands of Scotland are Best. Here is a list of our most Remote Holiday Cottages in areas where Scottish Wildcats have been recorded as seen over the past few Years
Cowal peninsula, Argyll and Bute Isle of Skye and the Western Isles Wester Ross and North Highlands The Beautiful Northern Coastlines
Borders loch Lomond, Trossachs Cairngorms, loch ness & Central
Cowal, Argyll and Bute
List 10 Self Catering Lodges Loch Eck – Whistlefield Lodges sleeps 4 and 5. Luxury Log Cabins by Loch Eck Argyll, (some with Sauna, Jacuzzi baths and WIFI) enjoying stunning Loch, Forest and Mountain Views with Red Squirrels and lot's of wildlife as company, walking distance from 14th century Inn – less than 90 minutes drive from Glasgow. Pets Welcome !
List 23 Shore Cottage West Coast – The old Turbine House sleeps 2. Remote Seaside Holiday Cottage on Argyll's West Coast. This 1 Bedroom detached Holiday Cottage just a stones throw from a sandy beach and rolling west highland hills offers the Remote Holiday Hideaway. Pets Welcome
List 60 Loch Awe Self Catering Lodges – sleeps 4, 6 and 8. Choice of 1,2 or 3 bedroom Log Cabin with Sauna on the banks of beautiful Loch Awe. Situated at the only crossing point on Loch Awe. Within walking distance of the famous Loch side Portsonachan Inn. The Lodges are just 90 minutes drive from Glasgow, 60 minutes drive from Oban 'Gateway to the Isles' and within walking distance of the Shore side Portsonachan Hotel providing good food and drink. Pets Welcome !
List 63 Lochside Cottage Loch Fyne – Beech Cottage sleeps 6. This Beautiful Remote Detached holiday Holiday Cottage nestles on the banks of Loch Fyne with elevated stunning Loch Views. Comfortably accommodating up to 6 people this cottage has 3 bedrooms. Full oil fired central heating is supplemented by a Homely Open Fire. Pets Welcome !
List 85 Remote Highland Country Cottage – Hillside sleeps 5. Offering an escape from Reality, Remote Detached Cottage, without central heating let alone electricity. However the cottage is beautifully constructed, maintained and insulated with thick stone walls and as much fresh mountain spring water as you need. Unlimited Fire wood is provided for the back boiler Stove and Open Fires, along with lamp oil & candles. A Gas cooker & back up heating is also provided. Pets Welcome !
List 104 Remote Scottish Holiday Cottage Argyll – Cove sleeps 4. Remote Detached Scottish Holiday Cottage on Argyll's West Coast, offering the Ultimate Remote Holiday Hideaway Cove Cottage is approx 1 mile from the Sea and sits within a large open garden in an elevated position with distant views of the Hills and Loch Coalisport. Perfect for Hill Walking and Wildlife Watching Holidays and families needing isolation. The West Coast of Argyll offers wonderful scenery with rocky outcrops, inlets, sandy beaches, islands and islets just crying out to be explored. Pets Welcome !
Cowal peninsula, Argyll and Bute Isle of Skye and the Western Isles Wester Ross and North Highlands The Beautiful Northern Coastlines
Borders loch Lomond, Trossachs Cairngorms, loch ness & Central
Sutherland Ross-shire and Wester Ross
List 25 Self Catering Northern Highlands – Sea View Cottage sleeps 6. Luxury former croft cottage in the Northern Highlands, Remote, Detached, Conservatory, Jacuzzi bath, Sauna, Full Central Heating, Open fire and WIFI. This restored former Croft Cottage has an enclosed garden and easily accessible by car, or public transport even in the winter. Offering spectacular elevated views of the North Sea, Mountains and Night skies. Centrally placed this cottage forms the perfect base for exploring all the Northern Highlands including the Black Isle, Loch Ness Caithness and an Orkney day trip. Pets Welcome !
List 69 See Aurora Borealis Scotland – Melvaig sleeps 4. Luxury detached Cottage sleeping 4 people just 80 yards from the seashore with private beach access located in the quiet crofting community of Melvaig, near Gairloch. Offering a chance to see the Northern Lights during the Autumn and Winter months along with stunning sunsets and stary skies. The cottage offers stunning views of Skye & the Western Isles. Pets Welcome !
List 94 Mountain View Cottage – Gairloch sleeps 6. Remote Detached Cottage amazing location the Beinn Eighe nature reserve, enjoy Stunning Mountain and distant Sea Views in this Luxury 4 star Holiday Cottage. This beautiful detached self catering holiday Cottage sits in a commanding location enjoying spectacular views of two of Scotland's most spectacular mountains Slioch and Beinn Eighe close to Kinlochewe Ross-shire. Pets Welcome !
List 49 Highland Log Cabins Inverness – Big Sky sleeps 6. Luxury Mountain Lodges with Wood Stoves set within 17 acres of meadows and birch woods at Drynie Park near to Muir of Ord offering you a peaceful and picturesque retreat less 10 miles from Inverness, far enough away to enjoy the peace and quiet. Pets Welcome !
Cowal peninsula, Argyll and Bute Isle of Skye and the Western Isles Wester Ross and North Highlands The Beautiful Northern Coastlines
Borders loch Lomond, Trossachs Cairngorms, loch ness & Central
The Beautiful Northern Coastlines
List 4 Self Catering Dunnet Head – Far North Cottage sleeps 6. This unique former Croft Cottage with large enclosed garden is the furthest North Detached Cottage on the Scottish mainland, enjoying spectacular open views of the Pentland firth, Scapa flow and Orkney Isles. This Beautiful cottage enjoys many luxuries including en-suite master bedroom, bathroom with observation skylight windows, 2 person Jacuzzi bath, Sauna and Free WIFI. Also front Conservatory for clear Sea, Night Sky and Eagle Watching. Full Electric heating, Coal / Wood Stove, further family bathroom with Jacuzzi bath. All bedrooms all with tv / dvd. This cottage forms the perfect base for exploring Caithness, Sutherland, the North Coast, Cape Wrath and Orkney. Pets Welcome !
List 8 Sea View Log Cabins – Maryhill – sleeps 4 and 6. Two scandinavian Pine Log Cabins situated within working farm land, surrounded by Idyllic Scottish countryside. Offering a remote feel yet close to the Moray Firth's Finest Beaches and picture postcard villages. at 600 feet above Sea Level the Log Cabins enjoy magnificent Sea Views over the Moray Firth and Highlands of Scotland. Sorry no Pets
List 44 Log Cabin with private Hot Tub – Gardenstown sleeps 2 to 4. Secret retreat Log Cabin sleeping with it's own Private Hot Tub set in deep countryside, within private grounds of 3/4 acre with stunning 360 degree picturesque views over the Aberdeenshire countryside. This stunning Log Cabin lies within 2 miles of the lovely picturesque coastal village of Gardens town and Pennan made famous for the film with Bert Lancaster The Local Hero. 1 Pet Welcome !
Cowal peninsula, Argyll and Bute Isle of Skye and the Western Isles Wester Ross and North Highlands The Beautiful Northern Coastlines
Borders loch Lomond, Trossachs Cairngorms, loch ness & Central
Isles of Skye and the Western Isles
List 70 Isle of Skye Self Catering – Ardranach sleeps 2. Detached cottage with charm and character sleeping 2 people. Nestling close to the shores of Loch Snizort on the Isle of Skye this cosy former crofting cottage is a gorgeous place to stay. The cottage has an oil fired Rayburn in the kitchen ensuring a warm welcome at any time of year, off-road parking and is located just ten minutes drive from shops, banks and fuel in Portree the island capital. Pets Welcome !
List 11 Isle of Skye Self Catering Crofters Cottage sleeps 4 to 6. Detached former croft cottage on North West Isle of Skye "accessed by toll free road bridge" on the spectacular Waterish peninsular. This cottage enjoys many Luxuries including free WIFI, Jacuzzi bath, Full Electric Heating, Supplementary Wood burner and Conservatory "North West facing" with breathtaking unrestricted views of Loch Bay, the Atlantic Ocean and the Inner and Outer Hebrides Islands, and maybe a wee glimpse of the famous and mysterious Northern lights. Pets Welcome !
List 55 Isle of Mull Self Catering – Crannich sleeps 4. Luxury holiday Caravans, Glen Aros, Isle of Mull. Glen Aros is well known for it's large population of breeding eagles and Crannich Caravans are ideally situated within 150 acres of farmland in Glen Aros on the Isle of Mull, offering great walks, panoramic views of the glen, Loch Frisa and the river Aros, with the Morvern hills in the distance and the most fantastic sunsets. Pets Welcome !
Cowal peninsula, Argyll and Bute Isle of Skye and the Western Isles Wester Ross and North Highlands The Beautiful Northern Coastlines
Borders loch Lomond, Trossachs Cairngorms, loch ness & Central
The Borders loch Lomond and Trossach's
List 105 Country Holiday Cottage Dumfries – Burnbrae sleeps 6. Offering a beautiful Country Holiday Cottage in Dumfries with Central Heating, Wood Stove, WIFI and all modern Luxury set in a beautiful rural location within a converted farm steading. Sorry no Pets.
List 26 Borders Group Self Catering – Glebe House sleeps up to 14. A fabulous country home in the Scottish Borders, offering the highest standard of self catering accommodation. Within the fantastic Northumberland National Park, and set amongst the rolling Cheviot Hills, Glebe House is a far cry from the pressures of daily life. This vacation rental property is a beautiful 5 bedroom country mansion on two floors set in manicured gardens on the banks of the Kale river. It enjoys magnificent south facing views of the Cheviot Hills. Pets Welcome !
List 28 Borders Self Catering Lodges – The Spinney sleeps 2 and 4. Luxury Log Cabins enjoying an excellent location in the heart of the countryside near Jedburgh in the heart of the Scottish Borders. Nestling in the foothills of the Cheviots and set in mature gardens with private parking ideal for guests seeking quality self-catering accommodation. Pets Welcome !
Cowal peninsula, Argyll and Bute Isle of Skye and the Western Isles Wester Ross and North Highlands The Beautiful Northern Coastlines
Borders loch Lomond, Trossachs Cairngorms, loch ness & Central
Cairngorms, loch ness and Central
List 72 Large House by Loch – Corrievarkie Lodge sleeps 17. Large Spacious Holiday House by Loch Ericht in the Cairngorms with Wood Stove and all Luxury's perfect for Fishing and Large Groups Self Catering up to 17 people, offering the Great Highland Escape. Pets Welcome !
List 99 River Deveron Fishing Holidays – Inverkeithny near Huntly sleeps 4 and 6. Luxury Log Cabins ideal for Fishing Holiday's on the River Deveron, all modern Luxury including, Central Heating, Stoves and BBQ's set amongst delightful countryside with lovely River Deveron views at the Northern end of the Cairngorms. Pets Welcome !
List 108 Romantic Holidays in the Cairngorms – Acron Bothy sleeps 2. Perfect for Romantic Holidays in the Cairngorms and self-catering in Aberdeenshire this beautiful well equipped Holiday Cottage on the edge of the Cairngorm's is the ideal breakaway for couples – seeking peace and quality time in the countryside, and for the more serious walkers and country lovers seeking a quality holiday accommodation on a budget. Sorry no Pets
List 50 Loch Ness Log Cabins – Bearnock Estate Glen Urquhart, sleeps 2 and 4. Luxury 5 star Log Cabins with spectacular views across lush countryside in Glen Urquhart, Loch Ness and set in the heart of the spectacular Scottish Highlands, close to world famous Loch Ness and within easy reach of a whole host of attractions, activities and amenities. Pets Welcome !
List 16 Cairngorms Self Catering – Bluefolds Cottages sleeps 5, 6 and 8. Luxury remote self catering cottages near Glen Livet in the Cairngorms national park with stunning countryside and mountain views. Pets Welcome !
List 33 Loch Ness Self Catering Cottages – Bearnock Estate – sleeps 2, 4, 6 and 12. Choice of Luxury 5 star detached cottages with Oak floors, Jacuzzi baths in the Loch Ness region, with fantastic views, relax in Luxury and enjoy the views, explore the Great Glen or take a boat trip on Loch Ness. Pets Welcome !
List 35 Scottish Self Catering Castle Apartment – Drumtochty Castle Apartment sleeps 4. Offering a Luxury Scottish Self Catering Castle Apartment in North East Scotland within the Drumtochty Castle estate adjacent to the lovely Drumtochty Forest. Sorry no Pets.
Free advice and friendly help!
Open 09:00am to 10:30pm 7 days a week.
Really short of time and patience? Don't have time to telephone and browse this site further now?
Then please complete this short enquiry form below and we will e-mail you a FREE list of all available Self Catering Holidays in Scotland. Including hire rates, direct website links and booking information.
Please note, we DO NOT share your e-mail address with anyone!