Sunset View
19 Kintulavaig
Leverburgh Bay
Isle of Harris
HS5 3TX
Late availability weeks 19th, 26th August
Check Availability / Book Now
A comfortable detached single storey Holiday cottage on the Isle of Harris with Sea Views near the village of Leverburgh, all modern self catering comfort including Open Fire, Multi-fuel Stove and Full Central heating.
19 Kintulavaig Offers you cosy self catering cottage accommodation and spectacular open views of the North Uist's, the Sound of Harris and the Isle of Skye. The cottage is within easy access of the world famous Harris Golf club in Scarista, one of the world's finest settings for the game of golf where you can obtain a life time membership at this club for just £250. Also Obbe Fishing in Leverburgh. The best in fly fishing for wild salmon, sea trout and wild brown trout in the Western Isles of Scotland.
Availability and Secure online bookings please enter your dates below
Check Availability / Book NowGeneral Enquiries
3 Bedroom Detached single storey Cottage sleeps 6 people
Coastal village location Sea Views
Living room and diner with sea views
TV / DVD & CD Player
1 Double Bedrooms, 1 Twin Bedroom and 1 Bunk Bedroom
Family Bathroom with bath / shower over W/C and Washbasin
Fully fitted kitchen including Oven / Hob, Fridge Freezer, Microwave, Washer / Dryer
Free Broadband WiFi
Sun Porch
Sitting Room with Sofas and TV / DVD
Central Heating Open Fire and Wood Stove
Enclosed garden and driveway parking
Bedding and Towels
Pets Welcome, Inn village Shop and Restaurant 1 mile
Great place to see the Northern Lights, Most of Scotland's finest beaches are found on the Isle of Harris
Isle of Harris Cottage – Accommodation
Check Availability / Book NowGeneral Enquiries
Harris Cottage, Leverburgh is easily accessed via the A859 from Tarbert (where the Skye ferry arrives) and offers you extremely comfortable accommodation. The cottage is double glazed with total control electric heating throughout, its thick stone walls keeping the cold winters and oppressive summer heat waves away.
Living spaces all rooms are decorated and furnished to a very high standard.
The Living Room is equipped with Satellite television, DVD player and CD / Radio / Cassette player and lovely Open Fire allowing you to sit back, relax and take in the views after a day exploring the many attractions of the Western Isles. (small Video and CD library)
The kitchen is fully equipped with all the necessary modern equipment including cooker; oven; microwave; fridge freezer; toaster; kettle; washing machine; tumble dryer; iron and ironing board, pots, pans and cookware.
Double bedroom 1 The bed is styled with a contemporary metal frame. The furniture comprises a dressing table, and bedside tables and wardrobe.
Bunk bedroom 2 The bed is styled with a contemporary metal frame. The furniture comprises a dressing table, and bedside tables.
Twin Bedroom 3 Two single beds with dressing table, and chest of drawers and 2 bedside cabinets.
Bathroom The bathroom is equipped with a bath with overhead electric shower, wash hand basin and toilet.
Dining Room The dining room has a large table with six chairs, a feature Wood / Coal stove and views across to the Uist Islands perfect for enjoying some freshly caught fish or the world-famous Stornoway black pudding. Other essentials such as glasses, crockery, cutlery and a corkscrew are also provided for your convenience
Leverburgh and the Isle of Harris
Check Availability / Book NowGeneral Enquiries
This almost "tropical" Island location offers you total peace, tranquillity and Idyllic village life. Within this area you can take unlimited walks in all directions, see abundant wildlife, mountains, scenery and beautiful sunsets. You can sun bathe on deserted golden beaches and swim in surprisingly warm sea due to the tropical "gulf stream" passing through this Island. Within a few minutes walk from this cottage you have the benefit and pleasure of all the usual Scottish village amenities.
Leverburgh has an abundance of wildlife from sharks and dolphins to Golden eagles and Corncrakes. You can also see Otters, Seals, Porpoises, Gannets, Peregrines, Arctic Terns, Cormorants, Buzzards. You can experience the wonder of wildlife watching at sunset in the Sound of Harris…local guides can take you on an evening sail from Leverburgh pier to one of the inhabited islands off shore.
Local Area Information
"The Anchorage Restaurant" Tel 01859 520 225 (Approx 10 minute walk) the nearest Petrol station, Post Office, Grocery store, seafood shop, tourist information, Craft and Gift shop and Medical centre are all in Leverburgh village. The nearest hotel / inn is the Rodel Hotel (3 miles) www.rodelhotel.co.uk (fishing permits available here)
The nearest large town is the capital Stornoway (65 miles), which has shops, supermarkets, restaurants, swimming pool, Leisure Centre, cinema, doctor / vet. The Rodel Church (4 miles), ferry to the North Uist Islands 1/2 mile, the nearest golf course is Stornoway (65 miles). The Callanish standing stones (70 miles) Fishing permits available locally. Seaside, beachside and hillside walks…on your door step or just round the corner, there is also a slipway and harbour for boats at Leverburgh pier 1 mile.
A further sample of the Isle of Harris beaches
Harris and Lewis are now easily reached via the "toll free" Isle of Skye road bridge and the Caledonian MacBrayne car ferry from Uig (Skye) to Tarbert (Harris). Throughout the year there is a 3 days a week return crossing and in the summer months there is a 6 days a week return crossing, including two very pleasurable Saturday crossings in each direction taking less than 2 hours.
The good news is this return journey now costs less than £50 each way for a car or 4 x 4 due to a new subsidy
"Advance booking recommended" Caledonian MacBrayne Ferries & Fares Please note there are no sunday ferries.
Welcome to Harris, Lewis and the Western Isles
The Outer Hebridean Islands of Lewis & Harris lie on the western edge of the British Isles, off the north west coast of Scotland. A holiday here gives a glimpse of a unique culture with its own language and traditions, influenced by Celtic and Viking settlers. A kaleidoscope of wild and wonderful windswept landscapes, The Callanish Stones, Harris Tweed and lilting Gaelic melodies evoke the freedom and timelessness of a bygone age. Harris and Lewis are a world apart from the Scottish mainland. Life goes on at an easy pace, city life urgency disappears and there is a wonderful feeling of freedom and peace. Harris and Lewis are beautiful islands of contrast with spectacular scenery and a unique unspoilt atmosphere. In the west are vast expanses of white sand whilst the north and east are rugged, rocky places The landscape is indented with hundreds of little lochs and on a clear day you can see over to the Isle of Skye.
Culture, Wildlife and Nature
The landscape and history of Harris, together with the hospitality of its people provide a wonderful escape from the pressures of modern life. With luck you may even see otters, seals, eagles or dolphins. Deer tend to keep to the high ground during the summer, there are many colourful wild flowers to be seen on the machair. The main town of Lewis is Stornoway, a busy ferry and fishing port with good shopping and restaurant facilities. Lewis and Harris have many places to visit of historic and archaeological interest, particularly the famous, spectacular 5,000 year old Standing Stones at Callanish and also the Rodel Church in South Harris.
Whether you see Harris on foot or from a bus or car "Always take a camera with you"
An evening in or out
Choose from wonderful evening views and sunsets from the comfort of your living room, to beachside strolls, this most Northern location guarantees very long summer evenings and very early sunrises. Eat in and take advantage of a well equipped kitchen, or eat out in the local Inn or Restaurant. If you fancy being spoilt in the comfort of the cottage you can order a gourmet meal from Lena (07786 685156) who prepares delicious dishes from fresh and local ingredients and delivers them to the cottage Or you may just chill out in the lounge in front of the open fire after a hard day of relaxation and leisure.
The best time to see the Northern Lights
One of the advantages of the cottages Northerly location and the absence of street lamps presents regular sightings of the Northern lights "Aurora Borealis". With good timing you have a good chance of experiencing one of the world's most magnificent natural phenomena: the Northern Lights. The Northern night sky dancing with red, yellow, green, blue and violet streamers, arcs and rays. The best time to see the Northern lights is in the months of October, November, December and January between 10 pm and 3 am. If you don't see the Northern Lights, then at least you'll see the stars – many, many more than you'll see from anywhere less remote. The longer you look up, the more stars will appear!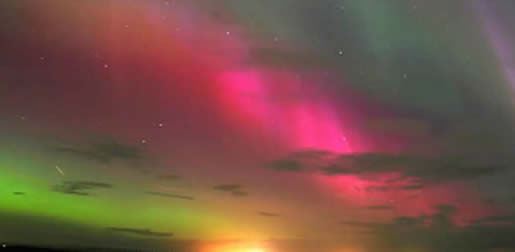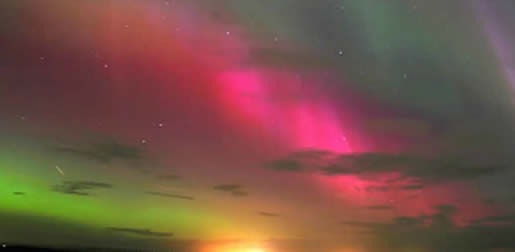 Activities on your Doorstep
Check Availability / Book NowGeneral Enquiries
There is so much to offer whether you enjoy walking, fishing, golf or just lying on a sandy beach. The scenery is magnificent and varied ranging from rugged rocky hills to gentle orchid strewn meadows, from mountainous sand dunes and unsurpassed beaches bordering blue green seas to Atlantic breakers on rocky coast lines.
The famous Harris tweed is made all over both Harris and Lewis. It can be bought in many of the islands' shops and also direct from the weavers at Luskentyre or Plocrapool. For those without a car, one can hire bikes (01859 520319) or there is a very good bus service covering most of the island which is available Monday to Saturdays.
Golf courses are situated at Scarista and there is also an eighteen hole course in Stornoway.
For those interested in fishing, permits are easily available locally to fish for Salmon and Sea Trout, or better still try their luck for free in many freshwater lochs where wild Brown Trout abound and of course there is always the sea.
Fantastic Days out to the Isle of Lewis
Check Availability / Book NowGeneral Enquiries
Great Bernera and The Callanish Standing stones
Within easy reach of the Isle of Harris is Great Bernera within Loch Roag on the north-west coast of Lewis linked by toll free road bridge. The main settlement on the island is Breaclete (Scottish Gaelic: Breacleit), home to a small museum. Since 1962, the island has been owned by Prince Robin de la Lanne-Mirrlees, a former Queen's Herald, who is recognised as Laird of Bernera. Bernera is also known for its Iron Age (or possibly Pictish) settlement at Bostadh, discovered in 1992 and now covered by sand to preserve it. A replica Iron Age house matching those now buried is sited nearby. The island was the location of the Bernera Riot, where crofters resisted the Highland clearances. The main industry on Bernera today is lobster-fishing, with a fish processing plant at Kirkibost. There are still some weavers but it is no longer one of the main industries. The island now boasts a museum, a shop, post office and also petrol pumps. The present Chancellor of the Exchequer, Alistair Darling owns a converted blackhouse on the island, and has ancestral connections with the area through his mother.
While visiting Great Bernera you should also visit The Callanish Stones situated near the village of Callanish on the west coast. Dating from around 2000 BC, the 13 primary stones form a circle about 13 m in diameter, with a long approach avenue of stones to the north, and shorter stone rows to the east, south, and west (possibly incomplete avenues). The overall layout of the monument recalls a distorted Celtic cross. The individual stones vary from around 1 m to 5 m in height, with an average of 4 m, and are of the local Lewisian gneiss. The first written reference to the stones was by Lewis native John Morisone, who in c. 1680 wrote that "great stones standing up in ranks […] were set up in place for devotione". The tallest of the stones marks the entrance to a burial cairn where human remains have been discovered. Pottery finds suggested a date of 2200 BC for the erection of the circle. It has been speculated, among other theories, that the stones form a calendar system based on the position of the moon.

The Gearrannan Black House village
This amazing gem can be accessed in just over 1 hour from the Isle of Harris, The Gearrannan Blackhouse Village is situated on the west coast of Lewis, next to an Atlantic Bay and surrounded by traditional crofting landscape. The restored village with some 21st century residents! has an authentic working museum within one of the restored cottages. The houses are built by drystone masonry with thatched roofs and are the last group of traditional dwellings to survive in Lewis, there is also a Museum cafe and shop on site.
Panorama of the black house village and interior images of a real black house
Port Ness and the Butt of Lewis Lighthouse
While visiting the Gearrannan Blackhouse Village it is well worth a trip up to Port Ness and the Butt of Lewis in the far North West of Lewis, after taking in the many amazing beaches and sandy coves on the journey there, you will reach in easy stages Port Ness and it's lovely harbour and beautiful sandy beaches. 2 miles to the west of here you can also reach by safe tarmac track the "Butt of Lewis" point and lighthouse offering spectacular views out to the North Sea similar to those of Cape Wrath and Dunnet Head
Port Ness Harbour and views of the beaches, the Butt of Lewis and it's lighthouse
Tarbert and Stornoway
There is plenty to see and do in your most small town and ferry port Tarbert, well stocked facilities ranging from Hairdressers, greengrocer, general store, post office, crafts stores and tourist information to fish and chip takeaway, tea rooms, restaurants and hotels.
Further afield is the principal town of the outer Hebrides Stornoway where you will find supermarkets, high street stores, restaurants, craft shops, banks, leisure centres and just about every other facility you would expect to find in a large town. Stornoway is a very busy fishing port with fresh fish landed by the hour, the town also has it's own airport, 18 hole golf course, castle and gardens where you can often see seals and porpoises swimming in the harbour.
Tarbert Ferry port (Harris) and views of Stornoway, it's castle and Harbour Stornoway Harbour
General Enquiries
Check Availability / Book NowGeneral Enquiries
Owners Direct Website for – Kintulavaig Leverburgh Bay Isle of Harris
Hire charges only include all Heating, Electricity, Towels and Bedding.
Pet Friendly – Yes this cottage is pet friendly by prior arrangement only, clean well-behaved dogs are welcome. A supplement of just £10 per pet per week booking to cover extra cleaning is required, please ask for further details.
See More Cottages on Skye & Western Isles ?
General Booking enquiry – please note this does not constitute a booking
'Property Reference '2'