Loch Bay Waternish North West Isle of Skye
Offering beautiful detached Holiday Cottage accommodation on the Isle of Skye with stunning Sea Views, Stove, WIFI, Conservatory Jacuzzi bath and optional extra Hot Tub.
The Isle of Skye is renowned for its Fresh Air, Clear Skies, Mountains & spectacular scenery. This remote Cottage offers comfortable Self Catering & Spectacular Sea Views from its North West Facing Conservatory.
Although the cottage has a remote feel it has easy touring access to all of the Isle of Skye. Within walking distance there is a friendly Loch side Inn and Restaurant, within 6 miles lies the village Dunvegan with all amenities including a 2 General Stores, Bakery, Garage, Post Office, Filling Station and of course Dunvegan Castle. The cottages Remote Northern position makes it perfect for Wildlife Lovers and better still for Sky watchers, particularly those wishing to catch a Glimpse of the Northern Lights !
Cottage, Sleeps up to 6, Traditional Detached, Rural Location, Elevated Sea Views, Conservatory, Fridge / Freezer, Dishwasher, Washing / Dryer, Car Parking, TV / DVD, WIFI, Hot Tub (£90 Supplement) Jacuzzi bath, Central Heating, Multi Fuel Stove, Bedding and Towels, Pet Friendly, Pub / Inn 1 mile, Great location to see the Northern Lights.

Locality of Loch Bay and Waternish

Your Accommodation Local Area Information Enquiries + Bookings Travel Directions Local Events Guide Local Activities Fantastic Day Trips Guest Book

Within this lovely area you can enjoy numerous walks along beautiful shorelines as well as the local Waternish forest walk. See wildlife including whales, porpoises, seals, Golden Eagles, Corncrake and Great Skua's and an extraordinary array of unique art and craft enterprises from the Skye Skyns exhibition tannery and shop to Dunhallin Crafts, the Hallistra Pottery and Shilasdair Yarns knitwear. Waternish is brimming with history and interests including Dun Hallin (an ancient iron age hill fort), the ruins of Trumpan Church and the scene of a great clan battle at Ardmore between the MacDonalds of Uist and the MacLeods of Dunvegan in 1578. There are also many fascinating walks such as that through Waternish Forest down to the black coral shores of Score Bay. The famous Dunvegan Castle and gardens are only 7 miles away. Boat trips can be taken from the castle to see the seals on the small islands in the loch.

"Local views of Loch Bay, Trumpan, Ardmore point and the Northern Lights seen from Cottage, Loch Bay Ardmore point, Waternish

The Northern Lights seen from Rowantree Cottage March 2015

Welcome to Skye the Island and Lochalsh

One of the largest and best known Scottish islands, Skye is particularly famous for its mountain scenery. Many people come here to climb or walk in the Cuillin Mountains and the Quiraing. Here the stark rise of the jagged Cuillin ridge drops to the gentle white of a soft sand beach inlets, bays and islands create a complex lacework pattern with the sea. Tiny villages and historic keeps are familiar and fascinating. And time means nothing, because beneath every footstep lies 500 million years of history. Discover the compelling past, the dynamic future and through the essence of this remarkable land create unforgettable memories to live with you forever The Cuillin Hills, the Red Hills and Blaven have long been favorites with climbers and walkers. If you don't fancy the high places, the deeply indented coastline means you are never far from the sea.

The Beautiful Staffin beach looking North (right) and the colourful Portree Harbour (left)

Fantastic days out on the Isle of Skye

Your Accommodation Local Area Information Enquiries + Bookings Travel Directions Local Events Guide Local Activities Fantastic Day Trips Guest Book

Neist Point and its lighthouse

Well worth a visit and an easy 45 minute drive from Rowantree cottage is the spectacular Neist Point offering spectacular views over the Moonen bay to the outer Hebrides islands, with the chance of seeing whales, dolphins and porpoises. The area round the point teems with sea-birds including black guillemots, gannets, razorbills and shags. Neist Point is also home to several species of rare and unusual plant, including alpine plants such as saxifrages. The sheltered bays of Neist Point are excellent places to fish, with at least a dozen species of fish being caught in Moonen Bay. The descent to the lighthouse is steep but safe with a concrete pathway and railings and is highly recommended for the anybody without any serious health issues, the rock formations around this point are similar to those of the giants Causeway in Northern Ireland and Staffa off the Isle of Mull.

Panoramas of Neist point

Talisker Whisky Distillery

One of the most popular choices for a day out on the Isle of Skye is a trip to Talisker whisky distillery Tel 01478 614308, it is the only distillery on the Isle of Skye, set on the shores of Loch Harport with dramatic views of the Cuillins. This alluring, sweet, full-bodied single malt is so easy to enjoy, and like Skye itself, so hard to leave. The distillery offers guided tours whisky nosing and has lovely gift shop and is a must for all whether you enjoy whisky or not

The Talisker Whisky distillery beside Loch Harport is well worth a visit"

Beautiful Talisker bay and Coral Beach

There are a handful of excellent beaches on Skye, so if the weather is good after you have visited Talisker distillery and you are looking for a beautiful cove it is well worth visiting Talisker Bay, accessed via a lovely tree lined track, a small hamlet and open track finally reaching the bay (approx 3/4 mile walk) This wonderfully isolated sandy bay is one of the most beautiful beaches in Scotland and you may well decide to return or spend the rest of the day here on a warm sunny day

One of the jewel's in Skyes crown "Talisker bay" and it's lovely tree lined walk"

There is also the beautiful Coral Beach near Dunvegan (Approx 15 minutes from the cottage) one of the gems on Skye. Coral Beach offers a combination of good accessibility and white sand making it a great place to go on a sunny day. Despite it's name and the presence of gulf climate on Skye, the beach is "not made of Coral" and is actually composed of pieces of desiccated, sun bleached algae. Even on a sunny day there are lot's of places to hideaway for the crowds for Beach games and BBQ'S.

Another jewel is Coral Beach near Dunvegan "Panorama and make up"

The Isle of Raasay

A trip to the Isle of Raasay is also recommended for the walker and tourist alike Raasay (or Ratharsair in Gaelic) is an island between the Isle of Skye and the mainland of Scotland. It is separated from Skye by the Sound of Raasay and is accessed by ferry from Sconser. The ferry operated by Caledonian Mcbrayne is a short 15 minute crossing and runs regularly throughout the day, the island has a small fishing community of around 150 people and along with outstanding scenery its most prominent features are the extinct volcano Dun Cann 443 metres and Beinn na Leac 319 metres and a number of deserted villages

"The Isle of Raasay looking from Sconser (left) and some of it's it's lovely scenery (right)

Dunvegan Castle

Just 6 miles away from Rowantree Cottage is Dunvegan Castle the seat of the Macleod of MacLeod, chief of the major arm of the Clan MacLeod. It is reputed to be the oldest continuously inhabited castle in Europe. Unlike many other Scottish castles (which have come into state ownership or that of the National Trust), Dunvegan remains in the private ownership of the MacLeod family. The castle houses a number of family and clan relics; chief among them is the famous Fairie Flag of Dunvegan and the Dunvegan Cup. Legend has it that this magical flag was given to the clan by the queen of the fairies in reward of a favour they had done her, and that waving it would enlist the fairies help in time of need. The flag is said to have been waved on two occasions, with a single use remaining. The flag is displayed in the castle's drawing room, mounted in a picture frame. It is in a state of considerable decay.

Boat trips to see the seals

Along with visiting Dunvegan castle you can also either carefully climb over the rocks….or take pleasure boat trips from the castle to see it's local inhabitants "the seals" you will usually find them sunbathing / or having a fresh water shower!! on the rocks in the bay.

Trotternish & the magical Faerie Glen

A short drive to the North East leads you to the Trotternish peninsula, offering fantastic views of the Isle of Lewis and the smaller inner Hebridean Islands of Raasay and Rona from the Northern West tip. Here you can visit the excellent Skye Museum of Island life and enjoy Ross-shire's dramatic Coastline from the Staffin Kilt Rocks along with lot's of Sea Eagles and wildlife. Many people go to Trotternish to walk the Quiraing based around the outstanding Old Man of Storr. Of particular interest in this region is the Faerie Glen near Uig. Its bizarre conical mounds and mini lochs make it similar to a miniature Highland landscape of grassy, cone-shaped hills, streams and pools formed during the last ice age. Here you can be a "miniature mountaineer" or hill walker for a few hours without the aches and pains, climbing miniature peaks and ridges. You will see lot's of wildlife and birds living in this amazing terrain. There is also stone circle and a beautiful brook, the perfect spot to picnic in sunny weather.

"The magical Faerie Glen in frosty December"

Culture, Wildlife and Nature

Wildlife abounds on this whole Island, with birds from the tiny Goldcrest to magnificent Golden Eagle, mammals from Pygmy Shrew to Red Deer and fish from Saithe to Salmon. If you are lucky you might catch sight of the elusive Otter playing on the shore. The wide range of geology and topography provides habitats for many wild flowers.

Eagles of all varieties can be seen everywhere on the Isle of Skye including from Rowantree Cottage (left) Apart from in flight their favorite resting, posing positions tend to be fence posts, roof tops & road signs (Right)

Sometimes referred to in Gaelic poetry and song as Eilean a' Cheò (The Misty Isle), Skye is renown for its natural beauty, history and wildlife.

As you travel around the Island it's not unusual to hear snatches of Scottish Gaelic, the indigenous language of the area. Gaelic culture and heritage pervade the atmosphere, each part of the Island having its own tales of times past and plans for the future.

Whether you're a potential first time visitor or one of the many people who are drawn back to Skye time and again we hope you will find our information and links useful.

"Candid sheep at Neist point (left) and the spectacular Cuillin mountains (right)

Activities on your doorstep

Your Accommodation Local Area Information Enquiries + Bookings Travel Directions Local Events Guide Local Activities Fantastic Day Trips Guest Book

Due to its popularity with tourists, you will find many craft shops and cottage museums. As for sports, you can visit the swimming pool in Portree, play golf at Sconser and Skeabost or go pony trekking. Water sports available on the island include diving, canoeing, windsurfing and yachting. Skye is also the ideal place for fishing and bird watching. But if it's whisky you want, why not visit the Talisker Distillery or the world renowned Stein Inn, an easy and very enjoyable 10 minute walk from Rowantree Cottage

Evenings out and local area information

The nearest inn is the Stein Inn www.steininn.co.uk (open all year round with Free WIFI) and restaurant www.lochbay-seafood-restaurant.co.uk/restaurant.htm (March to October) both approx 10 minutes walk from the cottage.

There is a local fresh fishmonger and fresh fruit and veg wholesaler who normally calls at Rowantree cottage every Tuesday or Wednesday offering the catch of the day!

Other Local attractions / activities include the SkyeSkyns exhibition tannery and shop. Dunhallin Crafts, the Hallistra Pottery and Shilasdair Yarns knitwear also Dandelion Designs craftshop and gallery. For the more adventurous, there is also a Dive Centre and the excellent boat trips are a must for anyone in love with the coastal scenery and marine.

The nearest Petrol station, shops, tourist information, Bakery, Post Office museum and castle are in Dunvegan (7 miles). The nearest large town is Portree (21 miles), which has shops, supermarkets, restaurants, swimming pool, Leisure Centre, cinema, doctor / vet. The nearest golf course is Sconser (32 miles). The Cuillin hills (30 miles) Fishing permits available locally. Seaside, beachside and hillside walks…on your door step or just round the corner, there is also a slipway and harbour for small boats at Stein approx 3/4 mile.

Boat trips to see Seals, Whales, Dolphins, Otters and lot's of Seabirds are available from the Jetty at Stein, Waternish with experienced local skipper Gordon MacKay Tel 01470 592219 boatrips@divers-eye.co.uk. Further information on the Isle of Skye available on www.skye.co.uk and The Road to the Isles.

"Fantastic views" of the Minch and Outer Hebrides Islands from this cottage"

Isle of Skye Self Catering – Accommodation

Your Accommodation Local Area Information Enquiries + Bookings Travel Directions Local Events Guide Local Activities Fantastic Day Trips Guest Book

Rowantree Cottage is accessed via single track road and offers you extremely comfortable accommodation. The cottage is double glazed with total control central heating, its thick stone walls keeping the cold winters and oppressive summer heat waves away.

Living Space relaxation in this area, perhaps settling into a good book (small book Library provided) and comfortably furnished with 2 large sofas, this lovely warm well lit room is complemented with a Wood / Coal Burning Stove. Also Sky TV / DVD and Freeview channels, the window from here looks onto the back Garden where you will see lots of resident Rabbits and Sea Eagles often sitting on the fence posts.

The Bathroom features a standard size relaxing bath with overhead shower, toilet and wash basin.

Both upstairs Bedrooms

(accessed by steep stairs) the Twin bedroom and Double bedroom have restricted headroom but are well insulated and have double glazed Velux sky light windows to enjoy sea views, bedside cabinets and drawer space. The Double Bedroom also has an independent VCR Player with small Library.

Conservatory for spectacular sea views and panorama you can "lounge in the front facing Conservatory" enjoying amazing Seascape and skyscape Views, the often changing weather patterns painting several different pictures from dawn till dusk – culminating in the world famous Isle of Skye sunsets.

The Downstairs master bedroom after an active day in the fresh air, stretch out on the master bedroom king-size bed. This room now equipped with TV / DVD and Freeview channels, with ample hanging and drawer space and spectacular sea views

For the eco-friendly and those who don't like dishwashers ! Washing up at Rowantree is often remarked to be the most amazing experience – as the centre photo above bottom right demonstrates !

Various views of and from the cottage
Guest Book Sample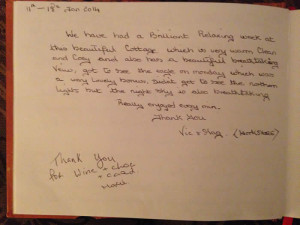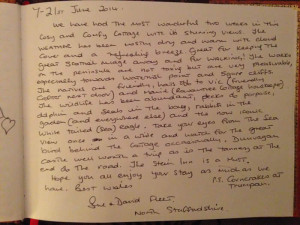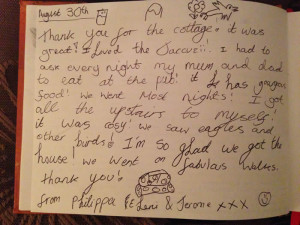 The best time to see the Northern Lights on the Isle of Skye
One of the advantages of this cottages Northerly location and the absence of street lamps presents regular sightings of the Northern lights "Aurora Borealis". With good timing you have a good chance of experiencing one of the world's most magnificent natural phenomena: the Northern Lights. The Northern night sky dancing with red, yellow, green, blue and violet streamers, arcs and rays. The best time to see the Northern lights is in the months of October, November, December and January between 10 pm and 3 am. If you don't see the Northern Lights, then at least you'll see the stars – many, many more than you'll see from anywhere less remote. The longer you look up, the more stars will appear !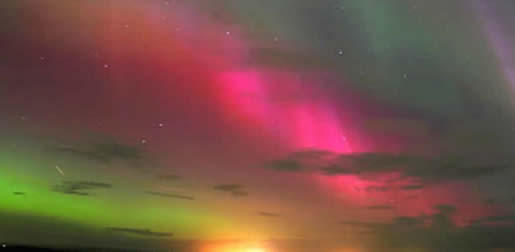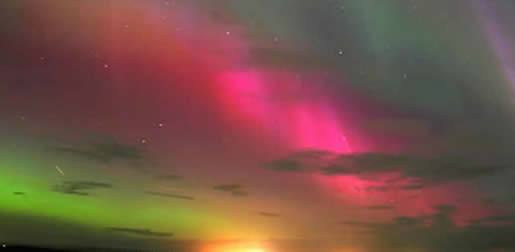 Bookings and Enquiries
Your Accommodation Local Area Information Enquiries + Bookings Travel Directions Local Events Guide Local Activities Fantastic Day Trips Guest Book
Owners Direct Website for – Loch Bay Cottage Waternish Isle of Skye
Availability and Secure online bookings please enter your dates below
Lowest Season weeks from £350, Highest Season weeks £710, Christmas / New Year POA
Pet Friendly – Yes up to 2 clean well-behaved dogs are welcome. A supplement of £10 per pet per week booking is required
The Hire charges only include all Heating, Electricity, Towels and Bedding.
See More Cottages on Skye & Western Isles ?
General Booking enquiry – please note this does not constitute a booking
General Booking enquiry – please note this does not constitute a booking