Caliscotia Cottage
Balkeerie
Perthshire
DD8 1SR
The delightful detached Perthshire Holiday Cottage offers cosy self catering with large gardens, peace and quiet and lovely countryside views.
The tiny Perthshire hamlet of Balkeerie lies on the border of Perthshire and Angus and is within easy reach of Dundee (30 mins) and the unique County town of Forfar (20 mins) and Perth (30 mins) There are also three excellent golf courses in Alyth (15mins) and three championship courses in Blairgowrie (23 mins). The renowned courses of St Andrews and Gleneagles are 1 hour's drive.
For the highly active there is even access to the Glenshee ski slopes and the popular climbing and walking areas of Glen Doll and Glen Clova. Also close by is Pitlochry famous for its Theatre, stunning mountain scenery and tranquil lochs. You can also visit many distilleries and castles on stunning day trips to Braemer, Balmoral, Scone Palace and Drumtochty to name but a few.
Availability and Secure online bookings – please enter your dates below
Detached Cottage, Traditional, Sleeps 4, Rural Location, Countryside Views, Fridge / Freezer, Washing Machine, Car Parking, TV / DVD, WIFI, Pay Phone, Central Heating, Enclosed Garden, Conservatory, Pubs / Inns nearby, All Bedding and Towels.
Perthshire and Angus
Your Accommodation Local Activities Enquire / Book Now Travel Directions Loch Ness & Nessie PerthshireFantastic Day Trips The Whisky Trail
Perthshire is one of the best holiday destinations in Scotland and the UK, choose from Golf, cycling, hill walking, angling to many more activities available in Perthshire making it an ideal destination for the family. The Key towns include Perth, Crieff, Aberfeldy and Pitlochry and fantastic castles such as Balmoral and Braemar to stately homes such as Scone Palace.

The local towns in this region
Forfar is the nearest town for shopping, Tesco, Asda, Lidl and Aldi are all represented. The nearest shops / post offices are equidistant at Meigle or Newtyle both less than 10 minutes drive. There are several cafe's and hotels in each direction. For real retail therapy the House of Bruar is a must. Glamis Castle is 10 minutes drive from the cottage and a must on everyone's itinerary there are a host of other Castles and Palaces to visit including Scone Palace on the outskirts Perth. The small town of Kirriemuir, the childhood home of J M Barrie, author of Peter Pan is well worth a visit, also famous for it's Gingerbread !
Also Close by Pitlochry is the tourist centre of Highland Perthshire and is a delightful Victorian town nestling in the Perthshire Highlands amidst some of the most beautiful scenery in Europe, The present town is relatively new by Perthshire standards dating mainly from the mid 19th Century. Queen Victoria visited in 1844 and it quickly grew into the tourist town of today and has been a popular holiday resort for over a hundred years and provides a stunning sight for those approaching the town from the south. Famous for its Festival Theatre, salmon ladder and woollens shops, Pitlochry is centrally placed for exploring the scenic beauties of the Perthshire Highlands. In Pitlochry itself, don't miss the Dam Visitor Centre and Salmon ladder, with its beautiful setting. Learn the secrets of malt whisky making at Blair Atholl and Edradour distilleries, or learn to throw your own pot at Pitlochry Pottery. The Pitlochry area is superb for walks with an integrated network of well-signposted forest trails, guided walks and designated mountain bike routes.
The Atholl Palace Hydro with its white turrets sits elegantly above the thickly wooded hills around. Pitlochry is as lively by night as by day. Pitlochry Festival Theatre's season runs from May to October, and at its peak you can see seven plays in six days. Concerts and other entertainments are also staged here and at other local venues. Round off a memorable day by watching the sunset over the picture-postcard Queen's View, where there is also a Visitor Centre.

Some of Scotland's finest salmon and trout angling is enjoyed hereabouts, particularly on the River Tay. Here the salmon don't actually jump up the ladder but swim through interconnecting pipes. An observation chamber allows visitors to watch the salmon underwater through a large plate glass window.
The Blair Atholl whisky distillery in Pitlochry was founded in 1798. In 1821 the post office was opened, later than in most Perthshire villages. In 1835 the MacNaughton family opened water powered wool mills which produced tweed cloth from raw wool. The first modern highland games took place in 1852. The combination of the forested hills, lochs & rivers and the coming of the railway in 1863 guaranteed Pitlochry's success as a Victorian resort. In 1878 a Hydropathic resort opened. It possibly has a higher proportion of hotels and guesthouses than any other town of comparable size. In 1947 the town became a burgh. Between 1947-50 an extensive hydro-electric scheme was built upstream of the town with the lowest dam and power station being that on the River Tummel at Pitlochry itself. In addition to the scenery and dam, there is the Festival Theatre built in 1981, 2 distilleries, nearby Blair Castle at Blair Atholl with summer horse trials, Killiecrankie (battle 1689) and a wide selection of tourist shops and restaurants. Just north of Pitlochry is the House of Bruar retail complex offering quality Scottish shopping on a grand scale.
Further afield
A little further north lies the dramatic Pass of Killiecrankie scene of the famous battle, with a visitor centre operated by the National Trust for Scotland and the falls of bruar near blair atholl…..Site of the Battle of Killiecrankie in 1689 where the first shots in the Jacobite cause were fired. In Blair Atholl, see the white-turreted Blair Castle with its superb collections of paintings and armoury, then learn about more humble ways of life at the Atholl Country Collection, the Blair Atholl Mill, a working oatmeal mill, or at the Clan Donnachaidh Centre at Bruar. Emerging from the north end of Loch Garry, the River Garry flows southeast for 22 miles (35 km) through Atholl in highland Perth and Kinross before joining the Tummel 2 miles (3 km) northeast of Pitlochry. On its course through the Pass of Drumochter and on to the Pass of Killiecrankie, the river falls nearly 300m (1000 feet) and skirts the settlements of Calvine, Blair Atholl and Killiecrankie. Described by Queen Victoria as "very fine, rolling over large stones, and forming perpetual falls", the principal tributaries of the Garry are the Edendon, Ender, Bruar, Tilt, Allt Girnaig and Errochtry. Nearby Moulin has a more ancient history. The Earl of Atholl granted Moulin Church to Dunfermline Abbey in 1180. In 1511 Moulin became a burgh of barony. The Kirk was rebuilt in 1613 and the Moulin Arms dates from 1695. In common with much of Perthshire.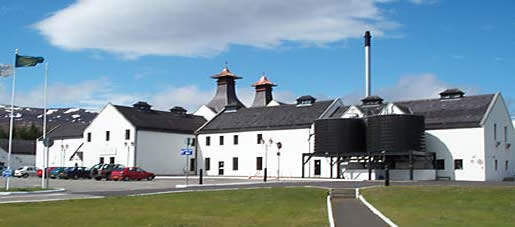 Dalwhinnie Whisky Distillery
On your doorstep and well worth a visit is Dalwhinnie distillery, producing Single malt Scotch whisky, classified among the Highland Single Malts. The distillery was founded with the name of the town in the late 1890s. The site was chosen for its access to clear spring water from Lochan-Doire-Uaine and abundant peat from the surrounding bogs. Set in splendid mountain scenery, Dalwhinnie is the highest distillery in Scotland. The name Dalwhinnie means meeting place, which refers to the meeting of ancient cattle drovers' routes through the mountains.
Here you can see the distillers at work, harnessing the snow fed waters of the Allt an t' Sluic, fresh from their journey through moorland heather, producing a full-bodied malt with a surprisingly delicate taste. You can savour a complimentary dram of Dalwhinnie during your visit, You'll find the doors of the distillery in the mountains open to visitors all year round with restricted hours in the snowy depths of the highland winter.

Activities on your doorstep
Your Accommodation Local Activities Enquire / Book Now Travel Directions Loch Ness & Nessie PerthshireFantastic Day Trips The Whisky Trail
Perthshire is full of magical places and probably the most exciting way to discover them is just to set off in the car and explore! Glasgow and Edinburgh are both under an hour away from our holiday cottages
The Cairngorm National Park is largest in Britain and encompasses the Cairngorm and the Grampian Highlands and possesses many of the highest peaks in Scotland. Our four self catering holiday cottages have an unrivalled location in remote, rural Glenlivet, Grampian. Glenlivet is a must see destination with a huge range of wildlife, beautiful rivers; the Avon and the Livet; varied walks by rivers or on hills and mountains and not forgetting the quiet roads which makes driving a joy.
the fabulous "Arrochar Alps" being typical examples. There are 20 Munros (mountains above 3,000ft) the highest is Ben More at 1,174m. 20 Corbetts (mountains between 2,500ft and 3,000ft). There about 50 rivers and large burns. 22 large lochs and numerous smaller lochs and many forests and woodlands.It is also a living, working landscape which has been influenced by people for generations and is visited and enjoyed by many for its recreational value.
There is something for everyone to enjoy in Scotland's first National Park including low level walking, cycling, sailing, hill walking and for the more adventurous, canyoning. Whatever the weather.
The Bruar Falls are just 3 miles to the west of Blair Atholl the River Bruar cascades down through rocky chasms and over great slabs of granite. Visited by Robert Burns. The Pass of Killiecrankie and the Soldier's Leap a Splended wooded gorge with the famous Soldier's Leap – a 54ft jump made by one of Mackay's soldiers to escape from the Highlanders.

Comrie Earthquake House – Built in 1874 to house one of the earliest seismometers in the world. Scottish Tartan Museum – Over 1300 tartans. Look up your name and discover which tartan you could wear. Drummond Trout Farm & Fishery – Tel : 01764-670500 Feed the fish, enjoy the views and wildlife or catch your supper. Almost guaranteed a catch! Crieff Auchingarrich Wildlife Centre – Tel : 01764-679469 Lovely wildlife centre set in 100 acres of beautiful Perthshire hills. Great for small children.
Crieff's park is also aA great day's enjoyment for all the family. There is the Hermitage – Mixed conifer and lovely deciduous woodlands with a folly built in 1758, near Dunkeld. Muthill – Folk Museum A museum depicting life in the village from bygone days. Killin – Ben awers Perthshire's highest mountain (3984ft) with views from the Atlantic to the North Sea. Kinross – RSPB Vane Farm On the southern banks of Loch Leven discover the many variety of migratory birds.
Two miles south of Perth there is the 333 acre wood with magnificent views and plenty of wildlife. The Black Watch Regimental Museum – Tel : 01738-621281 Housed in Balhousie Castle, Perth. Perth Mart Visitors Centre – Tel : 01738-474170 Highland Farm Life Show and Animal Farm adjacent to the famous Perth Auction Market. Aberfeldy Water Mill- Mill Street, Aberfeldy. Tel : 01887 820803 A working water mill built in 1825. Cluny House Gardens – Cluny House, Aberfeldy. Woodland garden with many specimen trees, shrubs and rhododendrons. Caithness Glass – Tel : 01738-637373 Watch skilled glassmakers turn molten glass into handcrafted paperweights
Self Catering Perthshire Cottage – Accommodation
Your Accommodation Local Activities Enquire / Book Now Travel Directions Loch Ness & Nessie PerthshireFantastic Day Trips The Whisky Trail
Cosy Cottage accommodation in Perthshire
This comfortable, cosy self catering cottage is fully double glazed and centrally heated throughout, it's thick stone walls keeping the sometimes oppressive Summer heat waves away.
The living room is furnished with quality traditional furnishings from a cottage 3 seater settee, relaxing armchair, coffee table TV and DVD player, WIFI and Pay phone and of course the focal point of the homely feature fire place.
The Double bedroom with a traditional Scottish double bed ample hanging and drawer space. The twin bedroom with two full size single beds, ample hanging and drawer space. The bathroom with shower over bath, WC and Wash Hand Basin
The kitchen fully equipped with all utensils, Washer / Dryer, large Fridge Freezer, electric cooker and larder. Other essentials such as glasses, crockery, cutlery and a corkscrew are also provided for your convenience.
The conservatory has magnificent views over the valley of Strathmore to the glens beyond. Caliscotia also has Gardens to front and rear with ample parking.
Famous Scottish Castles
Within this region there are literally dozens of Castles to visit from Ballindalloch Castle near Aberlour on the river Spey to Balmoral a beautiful drive over the mountains to Royal Deeside where you are spoilt for choice with Drum, Crathes, Craigevar or castle Fraser. Between Forres and Nairn is Brodie and Cawdor Castles and to the east of Dufftown is the ruined Huntly castle and close to Turiff is Fyvie castle above with its 5 towers and 5 centuries of history, further a field castles such Balmoral, Braemar, Crathes and of course castle Urquhart on Loch Ness or cities such as, Elgin, Forres and Inverness are easily accessible.

Fantastic day Trips within 2 or 3 hours of Perthsire
Your Accommodation Local Activities Enquire / Book Now Travel Directions Loch Ness & Nessie PerthshireFantastic Day Trips The Whisky Trail
Fort William
To the southern end of the Great Glen on the shores of Loch Linnhe and Loch Eil is Fort William the largest town in the west highlands of Scotland. It is close to the beautiful Glen Nevis, Ben Nevis and Nevis Ski Range, the highest mountain and ski area in the British Isles. It has full skiing and snowboarding facilities, ski/board hire and instruction and Gondola runs all year round. The town is a major tourist centre with Glencoe just to the south, and Glenfinnan to the west, on the Road to the Isles. It is an important centre for hill walking and climbing due to its proximity to Ben Nevis and other mountains. It is also well known for its famous Downhill Mountain Bike Track and its connection to the Great Glen Way. From June to October you can take a day trip on Jacobite steam train from Fort William to Mallaig, passing over the famous Glenfinnan viaduct seen on the "Harry Potter" films.

Aviemore & Loch Ness
Just a short trip away is the fantastic resort of Aviemore with a multitude of activities ranging from skiing in the Winter, to walking, climbing, mountain biking, fishing, Deer stalking…..and for the less active a most pleasurable trip on the Aviemore & Strathspey steam railway or a pleasure cruise or boat trip on Loch Ness to the West.
In the 1960s Aviemore was transformed for ever by large developments for the tourist industry. The Aviemore Centre was opened in 1966, by Sir Hugh Fraser – House of Fraser. Regular visitors to Aviemore, include Prince Charles and Princess Anne whom attended the Royal Hunt Balls hosted in the Aviemore Centre's Osprey Rooms. The very popular BBC TV show "It's A Knockout", was hosted within the complex at least twice. Within the Centre there is an international competition standard ice skating and curling rink, home to the Aviemore Blackhawks and Aviemore Blues hockey teams, a Santa Claus theme park featuring a resident Santa 365 days a year, a theatre, a cinema, many bars, restaurants, nightclubs and discotheques, crazy golf, many shops including "Cairdsport" (run by local man Sandy Caird, who brought the first ski shop and ski school to Aviemore) within the ice rink complex, fountains, a dry ski slope, a swimming pool and a go-kart track.
The Cairngorm Mountain Ltd Ski Area, tel: +44 (0)1479 861261 is notable for being near the freely grazing reindeer herd at Glen More, the only one in the UK. The resort has variable quality of snow and weather conditions. Aviemore also has a railway station is on the Highland Main Line with regular services to Perth, Edinburgh and Glasgow, it is also the southern terminus of the lovely Strathspey Railway, a heritage steam and diesel railway, currently being extended to Grantown-on-Spey.
CairnGorm Mountain Ltd, Cairn Gorm Ski Area, Aviemore PH22 1RB tel: +44 (0)1479 861261, fax: +44 (0)1479 861207 email: info@cairngormmountain.org www.cairngormmountain.com

Wildlife and Nature
The region is fantastic for viewing birds, wildlife and wild flowers. After you have enjoyed the resident rabbits, sheep, buzzards, deer and abundant Flora and fauna which make this region a veritable honey pot for nature enthusiasts and wildlife lovers. You can also enjoy unpolluted lochs, seas and rivers, extensive native woodland and varied mountain terrain, the habitat is rich in wildlife. Admire majestic birds of prey, such as the Red Kite and the Golden Eagle; observe the native red squirrels and pine martins; or take a boat trip to spot bottle-nosed dolphins. you can explore further within this area and see Stags, Rut and Mountain Hare and with winter good timing Stoat visitors including Fieldfare, Redwing, Snow Bunting, Waxwing and Brambling.

Loch Ness and Nessie
Your Accommodation Local Activities Enquire / Book Now Travel Directions Loch Ness & Nessie PerthshireFantastic Day Trips The Whisky Trail
To the North West Loch Ness the largest body of Freshwater in Britain over 25 miles long and more than 300 metres deep in part, is home to Scotland's best kept secret the Loch Ness Monster "Nessie"One of the most discussed and controversial subjects to this day. In 525 AD the first recorded entry of a sighting was made by St. Columba. Modern day sightings ranging from the sensational 1934 R K Wilson "Surgeons" picture…recently suggested to be a hoax, but even more recently indicated to be a hoax theory within a hoax. To the genuine cine film sequences taken by Dick Raynor and Tim Dinsdale in 1960's. Whatever Dinsdale did film that day convinced him…he gave up his Job and family life to spend the rest of his life (the next 25 years) looking for "Nessie". There were also others like Roy Mackal and Robert Rines of the Academy Of Applied Science with underwater images of a possible head, neck and torso in the 1970's, plus a regular supply of Sonar and Radar readings to this day picking up strong mid-water contacts in the Loch. There are modern everyday people with nothing more obvious to gain exept than "loss of respect" ranging from local Policemen, Bank Managers, Businessmen, Fishermen, Aero engineers, Monks and of course tourist's with eye witness accounts and further photo evidence.

The Loch Ness Monster
There have also been many hoaxers and show men to add to the confusion. Scientists alike, do not dispute that large creatures are living in the Loch, but cannot say exactly what they are, the Loch is fairly un-productive because of it's deep dark murky, peaty waters, visibility is virtually zero 3/4 metres down, a number of species of fish, such as Artic Char "once thought extinct" have adapted to hunting and feeding with out the use of eye sight and amazingly can be found living off plankton and smaller fish up to 100 metres deep in the Loch. Original calculations put the the tonnage of fish living in the Loch at around 3 tons, hardly enough to support any larger creature! more recent surveys indicate an actual tonnage of over 25 tons. But dont go to the Loch Ness and Great Glen region to specifically see Nessie for real in the flesh as you may end up disapointed, do come to this region to enjoy the scenery and beauty and do pay a visit to at least one of the Loch Ness Monster exhibitions in the local village Drumnadrochit.

The Whisky Trail and the Highland Games
Your Accommodation Local Activities Enquire / Book Now Travel Directions Loch Ness & Nessie PerthshireFantastic Day Trips The Whisky Trail
Within an easy day trip you can explore all of the Cairngorms National Park, this spectacular region is part of the Moray Malt Whisky Trail. Sample whisky nosing and tasting in Dufftown, enjoy historic Scottish castles, idyllic fishing villages or beautiful empty beaches in Moray coast. The Cairngorms is Britain's largest national Park and has the largest area of arctic mountain landscape in the UK at its heart, with diverse communities around it. It is home to 17,000 people and 25% of Britain's threatened birds, animals, and plants. It includes moorlands, forests, rivers, lochs and glens. Annual Whisky Festivals are: the Spirit of Speyside Whisky Festival in late April – and the Autumn Speyside Whisky Festival late September. The Glenfiddich distillery is open to the public (free) while close by is the picturesque ruined Balvenie Castle with it's renaissance facade maintained by Historic Scotland. Other local distilleries to visit and whiskies to taste include Macallan, Glen Grant, Glenfarclas, the Glenlivet (free tours), Aberlour and Cardhu. Every year Scotland invites people from all over the world to attend Highland Gatherings and Highland Games. The Gatherings are usually held in late August early September throughout Scotland and perhaps the most famous and finest Highland Games anywhere are in Braemar. It features the finest Pipe Bands, pipers, Highland dancers, and athletes in a beautiful setting surrounded by hills. The patron of the Gathering is Her Majesty the Queen.

General Enquiries
Your Accommodation Local Activities Enquire / Book Now Travel Directions Loch Ness & Nessie PerthshireFantastic Day Trips The Whisky Trail
Owners Direct Website for – Caliscotia Cottage Balkeerie Perthshire – Listed since 2011
Lowest Season Weeks from £310, Mid Season weeks £360, Highest Season Weeks £410
Hire charges only include all Heating, Electricity, Towels and Bedding.
Pet Friendly – Yes this cottage is pet friendly by prior arrangement only, clean well-behaved dogs are welcome. A supplement of just £10 per pet per week booking to cover extra cleaning is required, please ask for further details.
See More Cottages Loch Ness & Cairngorms ?
General Booking enquiry – please note this does not constitute a booking